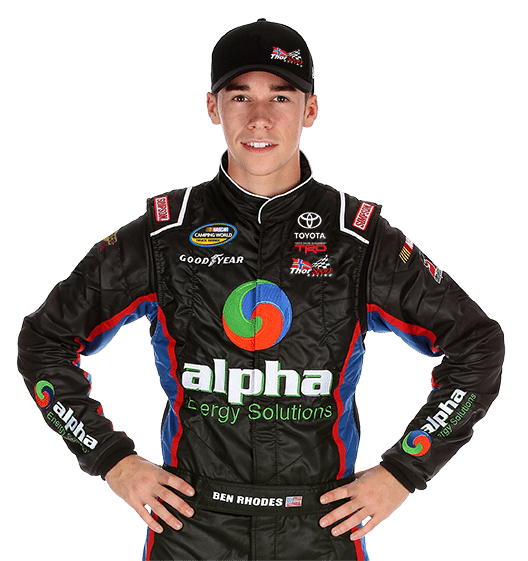 Team Information:
Crew Chief: Kevin Bellicourt
Manufacturer: Toyota
Engine: Triad Racing Technologies
2016 Driver Point Standings: 12th
2016 Owner Point Standings: 13th
Sounding Off – Ben Rhodes:
You've had a few starts at Bristol Motor Speedway in both the Trucks and K&N Pro Series East. Is Thunder Valley a place you like to race?
"It's so much fun. I love racing at Bristol, and it's one of the cooler tracks that we get to go to. In the sense that you can stand in the infield and you're looking up at the trucks. You can run all the way up by the wall, and on the bottom. It's kind of interesting for me because we don't experience that anywhere else but Bristol and Dover, so it's kind of a specialized track. I'm really glad that I have the laps around Bristol that I do, in a truck. That experience taught me so much, and has prepared me for this race so much more than just running K&N. There's a difference in tires and the way the track rubbers up. I feel really confident about this race just because I have those prior laps."


We're halfway through your rookie season. How would you summarize 2016 from Ben Rhodes' seat? 
"Man, I would give myself a B+. I think a B+ because there's been about four races this year where we were in a position where we 'coulda-shoulda-woulda' won, some of them are my fault, other ones trying to save a truck for the next weekend, other ones just trying to do the right thing, and then another one being in the wrong place at the wrong time. So, I think a B+. I feel like there's stuff early in the season that I could've done a lot better, but as we've gone on, I've corrected that, and I've made improvements to my driving style, and took better care of our equipment, and now it's really turned around, especially at Gateway and Iowa. I look forward to just keeping that momentum going for the rest of the year."


News & Notes:
Chassis Chatter…The No. 41 ThorSport Racing team will unload chassis No. 49 for Wednesday night's UNOH 200 at Bristol Motor Speedway (BMS). This is the same chassis Rhodes piloted at Martinsville Speedway (16th), Iowa Speedway (4th), and Gateway Motorsports Park (2nd) earlier this season.
Thunder Valley Stats… Rhodes, who will be making his 17th career NASCAR Camping World Truck Series (NCWTS) start on Wednesday night has two career starts at BMS – one NCWTS start (2014) and two starts in the K&N Pro Series East (2013 & 2014).
Welcome Aboard… Regal Cinemas, a leading motion picture exhibitor owning and operating one of the largest theatre circuits in the United States, will make their debut on board the No. 41 Toyota Tundra at BMS for Wednesday night's UNOH 200.
Rookie Stripe… Rhodes is currently fourth in the Sunoco Rookie of the Year standings after 12 of 23 races this season.
Race Rewind – Pocono… Making his track debut at Pocono Raceway, Rhodes started third, ran as high as second, and finished 11th.
Rhodes Bristol NCWTS Stats:
Starts: 1

Started: 9th

Finished: 9th

Laps Led: 0

Laps Completed: 200 of 200 (100%)
Rhodes Bristol K&N East Stats:
Starts: 2

Poles: 1 (2014)

Top-5 Finishes: 1

Top-10 Finishes: 2

Laps completed: 257 of 257 (100%)

Laps Led: 130 (2014)

Start: 11.0

Finish: 6.0
Rhodes' 2016 NCWTS Stats:
Starts: 12

Poles: 1 (Martinsville, 2016)

Top-5 Finishes: 2

Top-10 Finishes: 4

Laps Completed: 1792 of 1876 (95.5%)

Laps Led: 51

Start: 8.7

Finish: 13.0
Rhodes' Career NCWTS stats:
Starts: 16 since 2014

First full-time season: 2016

Poles: 1 (Martinsville, 2016)

Top-5 Finishes: 3

Top-10 Finishes: 7

Laps Completed: 2543

Laps Led: 51

First start: Martinsville (8th)

Best finish: 2nd (Gateway, 2016)

Start: 8.6

Finish: 12.5
Race Information:
Date: Wednesday, August 17
Time: 8:30pm ET on FOX Sports 1, and MRN Radio
Track: .533-mile oval
Distance: 200 laps/106.6 miles