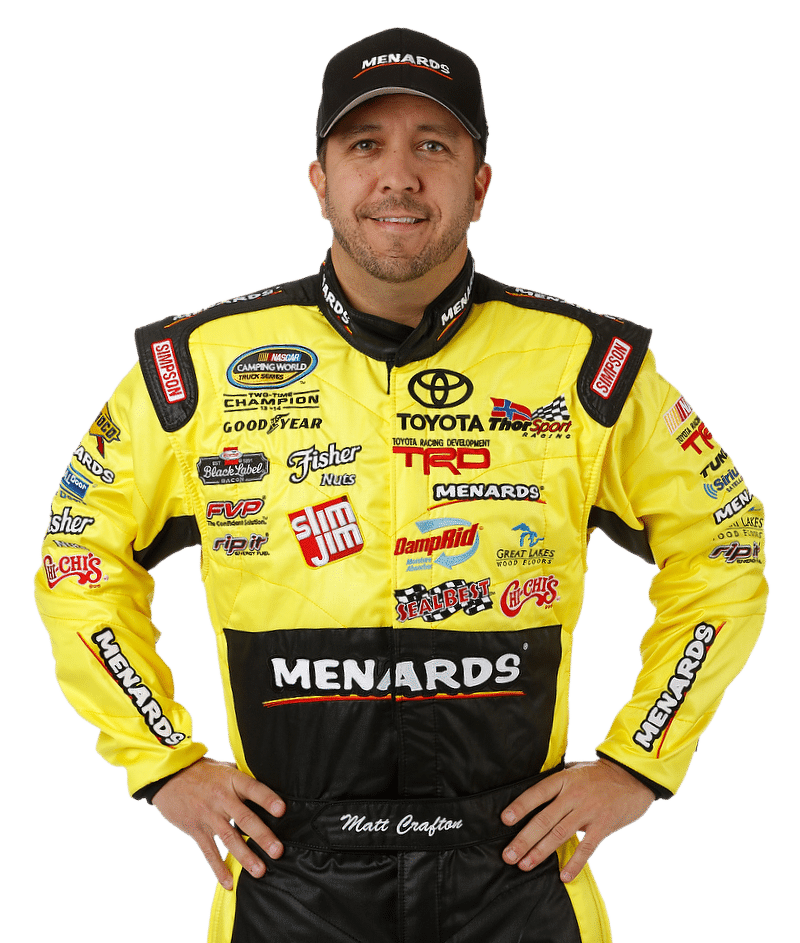 Team Information:
Crew Chief: Carl "Junior" Joiner
Manufacturer: Toyota
Engine: Triad Racing Technologies
2016 NCWTS Driver Point Standings: 2nd
2016 NCWTS Owner Point Standings: 2nd
Sounding Off – Matt Crafton:
Bristol is quite possibly the quickest race that you run all year. How important is qualifying?
"Oh absolutely. You fly around that place; you get it done real quick. Last year was one of the more heartbreaking races that I've had there, to be honest. We were leading it, and I felt I had a pretty comfortable lead, and then we had a yellow for whatever reason. We thought we were gonna win it. Then when it started raining, I was leading the race, and then when we went back green after the rain, I think it was like 7 to go, 10 to go, something right in there, if that. On that restart, the fuel just didn't pick-up in the fuel cell. I went thru the gears and I took-off okay, and then just before the start/finish line it laid over on its nose, and we ended up finishing seventh. We had a truck very, very capable of winning. Bristol is on the bucket list for a win, that would be very cool." 


Is the outside lane the preferred lane at Bristol for trucks?
"I think that's about the only lane. I mean it's such a huge momentum race track, and it's very interesting because during practice we'll run the middle and then we'll slowly migrate up there, and try to get some rubber on it. Then we'll start looking for that ground, basically right where that concrete has been ground right up top, about 3 feet from the fence, and you just run around there. That's where the most grip is, and that's where you make all your time. That's the place to be, it's kind of like Martinsville, but just the opposite. Either be on the bottom, or be on the top."
News & Notes:
Chassis Chatter… The No. 88 ThorSport Racing team will unload chassis No. 48 for Wednesday night's UNOH 200 at Bristol Motor Speedway (BMS). This is the same chassis Crafton piloted to his first win of the 2016 season at Dover International Speedway, and an eighth-place finish at Iowa Speedway earlier this season.
Thunder Valley Fast Facts… Crafton will make his 14th career start in the 19th annual UNOH 200 at BMS on Wednesday night. In fact, the ThorSport Racing driver has more starts (13), has the most top-10 finishes (8), and has completed more laps (2614) than any other active series driver at BMS.
In The Loop – Bristol… According to NASCAR's Loop Data Statistics, Crafton ranks second in Green Flag Passes (241), and Laps in the Top 15 (1415) at BMS.
Chase Status… Crafton is currently second in the 2016 NCWTS driver point standings after 12 races this season. As one of two drivers with multiple wins in 2016, the two-time NCWTS champion is all but guaranteed a spot in the eight driver chase which kicks off at New Hampshire Motor Speedway in Loudon on September 24.
In The Loop – 2016… According to NASCAR's Loop Data statistics, Crafton ranks first in the following categories; Average Running Position (6.7), Fastest Laps Run (213), Laps in the Top-15 (1771), Mile Leaders (565.54), and Percentage of Laps Run on the Lead Lap (1966). The two-time champion ranks second in Driver Rating (107.4), and Laps Led (398).
Bristol Rewind – 2015 … Crafton started sixth, led the field twice for 39 laps, and finished seventh in the 2015 UNOH 200 at BMS.
Race Rewind – Pocono… Making his seventh start at Pocono Raceway, Crafton started 20th, ran as high as third, and finished 12th.
Major Milestone…The Tulare, California native extended the NCWTS record for consecutive starts to 373 in the Pocono Mountains 150 at Pocono Raceway, passing four-time NCWTS champion Ron Hornaday, Jr with 360 starts in the 2015 NCWTS season finale at Homestead-Miami (Fla.) Speedway. Crafton made his series debut at Auto Club Speedway in November 2000, and enters his 16th full-time season in the NCWTS, and his 15th full-time season with ThorSport Racing in 2016.
Crafton's Bristol Stats:
13 starts since 2003

2614 of 2621 laps completed (99.7%)

39 laps led (2015)

Top-5 Finishes: 3

Top-10 Finishes: 8

Best Start: 5th (2003)

Best Finish: 2nd (2009)

Average start: 15.8

Average finish: 9.9
Crafton's 2016 NCWTS Stats:
Starts: 12

Wins: 2

Top-5 Finishes: 4

Top-10 Finishes: 9

Poles: 1 (Atlanta)

Laps Led: 394

Laps Completed: 1845 of 1876 (98.3%)

Start: 10.8

Average Finish: 9.8
Crafton's Career NCWTS Stats:
Starts: 373 since 2000

13 wins

93 top-five finishes

219 top-10 finishes

12 poles

57,913 laps completed

2083 laps led

Average start: 12.8

Average finish: 11.4