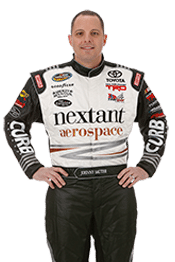 Team Information:
2015 Driver Point Standings: 4th (-16)
2015 Owner Point Standings: 5th
Crew Chief: Doug George
Sandusky, Ohio (May 4, 2015) – There have been 14 different winners in 14 NASCAR Camping World Truck Series (NCWTS) races at Kansas Speedway in Kansas City, KS. Johnny Sauter, driver of the No. 98 Nextant Aerospace/Curb Records Toyota Tundra, is fortunate enough to be one of those drivers. In what proved to be a "spin-to-win" perfect tandem with Ron Hornaday, Jr., Sauter was able to bring home his second career NCWTS win in 2010, just one day after his 32nd birthday. Five years later, after celebrating his 37th birthday on May 1, Sauter's only birthday wish is to be the first repeat winner at Kansas Speedway.
In six starts at Kansas Speedway since 2009, Sauter has one win, three top-five and four top-10 finishes. In fact, according to NASCAR'S Loop Data Statistics, Sauter ranks first among driver's entered in Friday night's Toyota Tundra 250 in the following categories; Average Running Position (8.12), Driver Rating (100.9), Fastest Laps Run (61), and Laps Led (112). Furthermore, six of Sauter's 10 NCWTS victories have come at intermediate tracks, including his last win at Michigan International Speedway in Brooklyn, MI
Just one week after his 37th birthday, Sauter, who is fourth in the championship point standings, would like nothing more than to get back to victory lane in the "Sunflower State" and do his part to re-write the NASCAR history books.
Sounding Off – Johnny Sauter:
"We haven't performed at a capacity we are capable of this year, but we have been able to make the most of situations and bring home decent finishes. Daytona was well, Daytona. We were involved in a wreck, went a lap down, got it back, and finished 10th. I believe I finished the best I've ever finished at Atlanta (6th), even though we made wholesale changes on the truck during the race. We struggled to find balance all day at Martinsville and managed to finish fourth. The intermediate tracks, like Kansas have been good for us in the past. We ran really well at Kansas last year, qualified third, and ran inside the top-five until we had to pit for a loose lug nut, putting us back there mid-pack, and ultimately we were involved in a wreck."
News & Notes:
Chassis Chatter… The No. 98 ThorSport Racing team will unload chassis No. 39 for Friday night's Toyota Tundra 250.
And Then There Were Three… Congratulations to Johnny Sauter and his wife Cortney. The couple is expecting the arrival of their third child in September!
Happy Belated Birthday… Sauter celebrated his 37th birthday on Friday, May 1.
Racing in Wisconsin… With a five week break in the NCWTS schedule, Sauter was able to get back to his roots – short track racing in Wisconsin. Just two days after his birthday, Sauter won the Joe Shear Classic late model race at Madison International Speedway in Oregon, WI on Sunday, May 3.
Previous Race Recap…  Sauter started ninth and finished fourth in the Kroger 250 at Martinsville Speedway.
Sauter's NCWTS Stats at Kansas Speedway:
Six starts since 2009
880 of 967 laps completed (91.0%)
112 laps led
One win (2010)
Three top-five finishes
Four top-10 finishes
Best start: third; (2010, 2011 & 2014)
Average start: 6.5
Average finish: 10.3
According to NASCAR's Loop Data Statistics, Sauter ranks:

Second in Average Running Position: 8.12
Second in Driver Rating: 100.9
Second in Fastest Laps Run: 61
Second in Laps in the Top 15: 821
Second in Laps Led: 112
Sauter's Kansas Speedway NCWTS Performance Profile:
| | | | | | |
| --- | --- | --- | --- | --- | --- |
| Date | Started | Finished | Laps | Status | Led |
| April, 2009 | 12 | 9 | 132/132 | Running | 0 |
| May, 2010 | 3 | 1 | 167/167 | Running | 101 |
| June, 2011 | 3 | 2 | 167/167 | Running | 11 |
| April, 2012 | 14 | 24 | 162/167 | Running | 0 |
| April, 2013 | 4 | 5 | 167/167 | Running | 0 |
| May, 2014 | 3 | 21 | 85/167 | Crash | 0 |
Johnny Sauter's 2014 Highlights:
Finished fourth in the NCWTS driver point standings
Sixth consecutive full-time season driving for ThorSport Racing
Earned a win at Michigan International Speedway in Brooklyn, extending his win streak to six consecutive seasons
Earned eight top-five and 16 top-10 finishes
154 laps led
Average finish: 9.3
Sauter's Career Truck Series Stats:
155 starts since 2003
10 wins
57 top-five finishes
89 top-10 finishes
Five poles
23,373 laps completed
1159 laps led
Average start: 10.7
Average finish: 10.9
Race Information:
Date: Friday, May 8, 2015
Time: 8:30 p.m. ET on FOX Sports 1
Track Details: 1.5-mile
Distance: 167 laps/250.5 miles
Team Website: www.ThorSport.com
Driver Website: www.Johnny-Sauter.com
Sponsor Website: www.NextantAerospace.com www.Curb.com
Twitter: @ThorSportRacing, @JohnnySauter