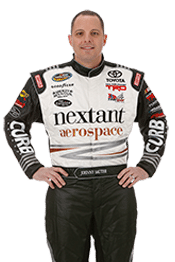 Stats:
Started: 7th
Finished: 3rd
Laps: 167/167
Status: Running
Driver Points: 4th (-22)
Owner Points: 5th
Kansas City, KS (May 9, 2015) – Friday night's NASCAR Camping World Truck Series (NCWTS) Toyota Tundra 250 at Kansas Speedway in Kansas City, KS was a race won on fuel mileage. Johnny Sauter and his ThorSport Racing team took the gamble to stay out in the final laps of the 167-lap event, but came up short, crossing the stripe in the third position behind race winner and teammate, Matt Crafton. Sauter's top-five result marked the Wisconsin native's fourth top-five finish in seven starts at the Midwestern track.
Starting seventh, Sauter battled a "loose" Toyota Tundra throughout Friday night's NCWTS event. Crew chief Doug George brought the No. 98 Nextant Aerospace/Curb Records Toyota Tundra to pit road three times under caution at laps 42, 67 and 111, respectively. Running as high as second, Sauter maintained a position inside the top-five over the final 50 laps.
As the laps started winding down in the Toyota Tundra 250, fuel mileage became the hot topic up and down pit road. George encouraged Sauter to start saving fuel following the last stop, but the No. 98 machine started experiencing motor issues with less than five laps remaining in the event. In an effort to save the motor and fuel, George encouraged Sauter to back-off and coast on the final lap. The No. 98 Nextant Aerospace Toyota Tundra would cross the stripe in the third position behind race winner, Matt Crafton.
Sauter's third-place finish marks his fourth top-five finish at Kansas, and his best finish of the 2015 season.
Quote:
"We certainly didn't have the best Toyota Tundra tonight but we were able to hang on and steal a good finish out of it. I told the boys with about five laps to go that we weren't running out of fuel, but something didn't feel right. When those guys started running out of fuel I just backed off and was able to cruise to the line and get a top-finish out of it."
Notes:
Johnny Sauter finished third in Friday night's Toyota Tundra 250 at Kansas Speedway, his fourth top-five finish at the 1.5-mile track
Sauter ran as high as second, and as low as 11th, but maintained an Average Running Position of 5.77
In 2015, Sauter has two top-five and four top-10 finishes
The ThorSport Racing driver remains fourth in the 2015 NCWTS driver point standings after four races
Sauter's ThorSport Racing teammate, Matt Crafton, won the 15th annual event and Sunoco Rookie of the Year contender, Cameron Hayley finished 5th. This is the first time in ThorSport Racing's history that all three trucks finished inside the top-five
In 156 career starts, Sauter has 10 wins, 58 top-five and 90 top-10 finishes
Up next: NC Education Lottery 200 at Charlotte (N.C.) Motor Speedway on Friday, May 15