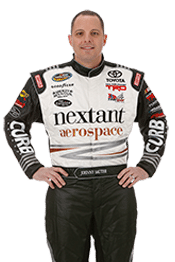 Team Information:
2015 Driver Point Standings: 4th (-43)
2015 Owner Point Standings: 5th
Crew Chief: Doug George
Sandusky, Ohio (July 6, 2015) – Kentucky Speedway in Sparta, site of Thursday night's UNOH 225, is known for its bumpy surface and hot summers, but that won't slow Johnny Sauter down. The No. 98 Nextant Aerospace/Curb Records Toyota Tundra driver, driver, who is currently fourth in the NASCAR Camping World Truck Series (NCWTS) standings, is in hot pursuit of his first win of 2015, and the 1.5-mile track in the "Bluegrass State" could be just the place to get back to victory lane.
In nine races this season, the series has visited five intermediate-style tracks. Sauter, who has four top-five finishes to his credit this season, has scored three of his top-five finishes on intermediate tracks – Kansas Speedway in Kansas City, KS (3rd), Gateway (Ill.) Motorsports Park (3rd), and Texas Motor Speedway in Fort Worth (4th). Across all five starts, the ThorSport Racing driver has an average finish of 6.3.
With eight starts at Kentucky Speedway since 2009, including one top-five and four top-10 finishes, you can be sure that the NCWTS veteran will be a hot ticket for the win on Thursday night.
Sounding Off – Johnny Sauter:
"I'm excited to get back to Kentucky; it's been a good race track for us. I know it looks like a mile-and-a-half, but it races totally different. There is just something about the race track that is so unique. I don't know if it's how they built the track or whatever, but the way the banking picks you up, and loads you up in the turns, it just feels different. It's kind of flat in three and four, and it's just a totally different animal from the driver's seat, and being as rough as it is changes that a little bit too. It's just a unique place. Kentucky is just totally different."
"The front straightaway is totally round – you never do get a chance to go straight. Turn one you can drive in way deeper than you think you can, and then the banking will pick you up. Then in three and four you try it again and you about spin out – it's really flat over there."
News & Notes:
Chassis Chatter… The No. 98 ThorSport Racing team will unload chassis No. 42 for Thursday night's UNOH 225 at Kentucky Speedway.
Intermediate Track Success… The NCWTS has visited five intermediate tracks this season; Atlanta, Kansas, Charlotte, Texas and Gateway. Sauter, who has four top-five finishes this season, has scored three top-five finishes on intermediate tracks; Kansas (3rd), Gateway (3), and Texas (4th)
2015 Season Review… In nine NCWTS starts in 2015, Sauter has completed 1519 of 1521 (99.9%) laps attempted, and has led 18 laps en route to four top-five and seven top-10 finishes.
Previous Race Recap…  Sauter started the American Ethanol 200 at Iowa Speedway from the 20th position, and led the field for 14 laps, but a combination of pit strategy and debris from a late-race accident caused heavy damage to the splitter of the No. 98 machine, relegating the ThorSport driver to a 17th-place finish.
Sauter's NCWTS Stats at Kentucky Speedway:
8 starts since 2009
1135 of 1186 laps completed (95.7%)
53 laps led
One top-five finish
Four top-10 finishes
Best start: First (2011)
Best finish: Second (2010)
Average start: 7.8
Average finish: 11.9
According to NASCAR's Loop Data Statistics, Sauter ranks:

Second among Laps in the Top 15: 954
Second in Laps Led: 53
Fifth in Driver Rating: 95.1
Sixth in Average Running Position: 9.92
Johnny Sauter's 2014 Highlights:
Finished fourth in the NCWTS driver point standings
Sixth consecutive full-time season driving for ThorSport Racing
Earned a win at Michigan International Speedway in Brooklyn, extending his win streak to six consecutive seasons
Earned eight top-five and 16 top-10 finishes
154 laps led
Average finish: 9.3
Sauter's Career Truck Series Stats:
161 starts since 2003
10 wins
60 top-five finishes
93 top-10 finishes
Five poles
24,404 laps completed
1177 laps led
Average start: 10.8
Average finish: 10.8