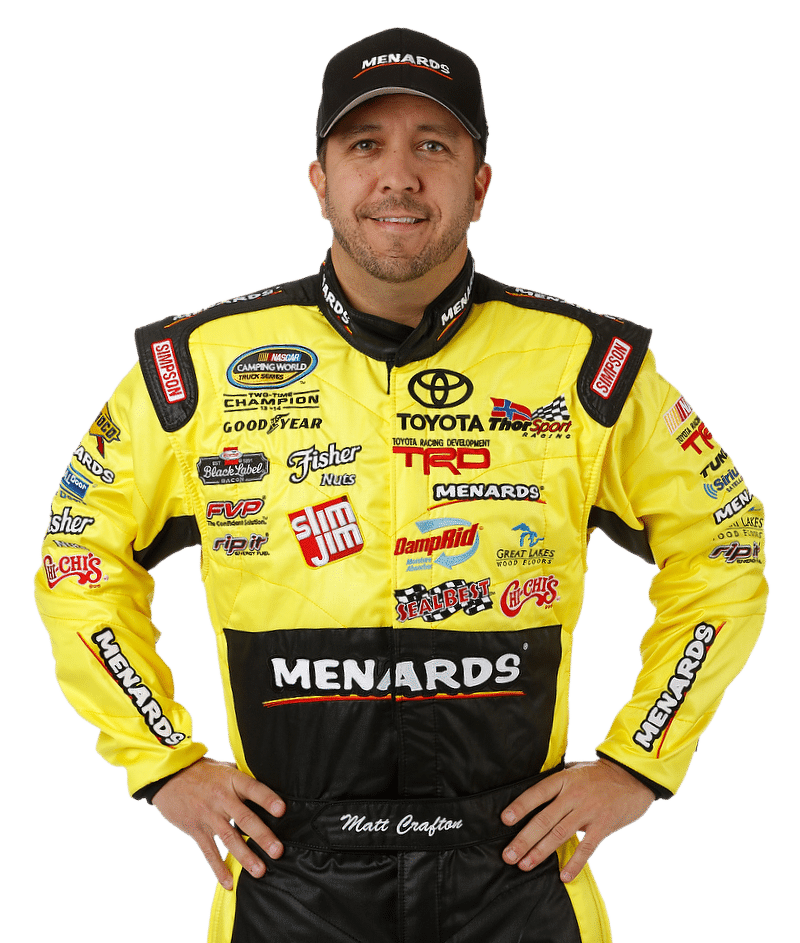 Team Information:
Crew Chief: Carl "Junior" Joiner
Manufacturer: Toyota
Engine: Triad Racing Technologies
2016 Chase Standings: 3rd
2016 NCWTS Owner Point Standings: 3rd
Sounding Off – Matt Crafton:
What can you take away from Daytona earlier this season and apply to Talladega this weekend, or are they completely different animals?
"I think they are completely different animals. Each time we go there, it seems like they race a little bit different. There hasn't been a change in the rules packages, but it just seems like we learn stuff, try stuff, and every time it's different. I'm sure it will be chaos, like it usually is, again this year."
How mentally draining, as a driver, is a restrictor plate race?
"The mental aspect is just unbelievable. You try to play out every scenario – trying to put yourself in the right position, which we do every week, but Talladega, and Daytona are just so much worse."
News & Notes:
Chassis Chatter… The No. 88 ThorSport Racing team will unload chassis No. 40 for Saturday's NASCAR Camping World Truck Series Fred's 250 at Talladega Superspeedway. This chassis was last seen at Daytona International Speedway earlier this season. Crafton started sixth, and finished 10th.
Talladega Stats… Crafton will make his 11th NCWTS start at Talladega Superspeedway on Saturday. In 10 previous starts since 2006, Crafton has led 50 laps en route to one top-five (2010), and three top-10 finishes. In fact, the ThorSport Racing driver is the only active series driver to compete in all 10 NCWTS races at the 2.66-mile superspeedway, has completed more laps (889) and has the most lead lap finishes (8) than any other active series driver.
Superspeedway Stats… Crafton has 26 combined superspeedway starts between Daytona and Talladega. His success includes 57 laps led en route to two top-five, and 10 top-10 finishes.
Talladega Rewind – 2015… Crafton started seventh, led the field three times for a race-high 43 laps, but a chain of events starting at lap 67 including overheating, running out of fuel on his way to pit road, and damage from the "big one" would relegate the veteran driver to a 24th-place finish.
The Chase is On… Crafton, a two-time NCWTS champion, is one of eight drivers to make the inaugural Chase, and is currently ranked third in the 2016 Chase standings after two of three races in Round 1. Saturday's 94-lap event is the last race in Round 1, and the top-six drivers will transfer to Round 2 of the Chase, which kicks off at Martinsville Speedway on October 29.  
In The Loop – 2016… According to NASCAR's Loop Data statistics, Crafton ranks first in the following categories; Average Running Position (7.8), Fastest Driver Early in a Run, Fastest Laps Run (232), and Laps in the Top-15 (2418). The ThorSport Racing driver ranks second in Driver Rating (102.5), Fastest Drivers Late in a Run, Green Flag Speed, and Laps Led (425).
Race Rewind – Las Vegas… Making his 16th NCWTS start at Las Vega Motor Speedway, Crafton started second, and finished eighth.
Major Milestone…The Tulare, California native extended the NCWTS record for consecutive starts to 379 in the DC Solar 350 at Las Vegas Motor Speedway passing four-time NCWTS champion Ron Hornaday, Jr with 360 starts in the 2015 NCWTS season finale at Homestead-Miami (Fla.) Speedway. Crafton made his series debut at Auto Club Speedway in November 2000, and enters his 16th full-time season in the NCWTS, and his 15th full-time season with ThorSport Racing in 2016.
Crafton's Talladega NCWTS Stats:
Starts: 10 since 2006

Laps Completed: 889-950 (93.6%)

Laps Led: 50

Top-5 Finishes: 1

Top-10 Finishes: 3

Best Start: 3rd (2014)

Best Finish: 4th (2010)

Average start: 15.0

Average finish: 16.2
Crafton's 2016 NCWTS Stats:
Starts: 18

Wins: 2

Top-5 Finishes: 6

Top-10 Finishes: 13

Poles: 1 (Atlanta)

Laps Led: 421

Laps Completed: 2513 of 2714 (92.6%)

Average Start: 10.4

Average Finish: 11.1
Crafton's Career NCWTS Stats:
Starts: 379 since 2000

Wins: 13

Top-5 Finishes: 95

Top-10 Finishes: 223

Poles: 12

Laps Completed: 58,581

Laps Led: 2110

Average start: 12.8

Average finish: 11.5
Race Information:
Date: Saturday, October 22, 2016
Time: 1:00pm ET on FOX Sports 1, MRN Radio & SiriusXM Channel 90
Track: 2,66-mile superspeedway
Distance: 94 laps/250.04 miles