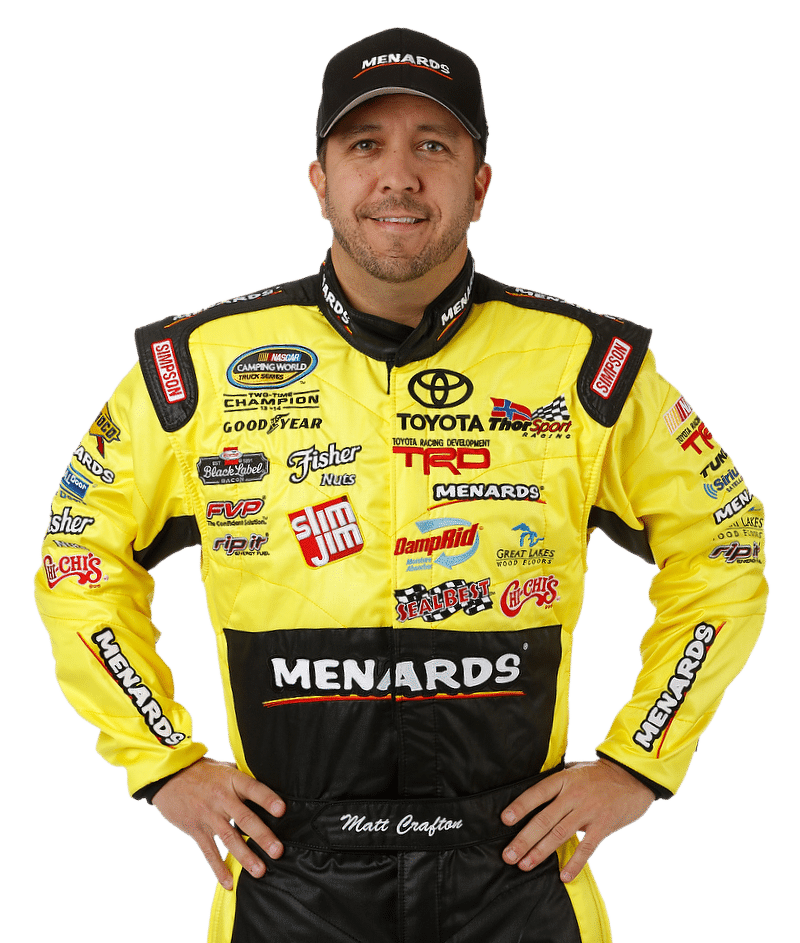 Team Information:
Crew Chief: Carl "Junior" Joiner
Manufacturer: Toyota
Engine: Triad Racing Technologies
2016 NCWTS Driver Point Standings: 2nd (-9)
2016 NCWTS Owner Point Standings: 2nd
Sounding Off – Matt Crafton:
They say it's hard to be perfect in all three corners at Pocono. Is there one that you would feel more comfortable if you got through it a little better than the other two?"Yeah, turn three. I mean at the end of the day if you can make turn three your best corner, because it's such a long front straightaway, you'll gain a lot of time. That's where a majority of your passing goes on, is down that front straightaway. Getting that big run off of turn three, to set everybody up for the front straightaway, is very key. My first year there was my third place finish, and ever since then I've gotten a little bit worse, for whatever reason."
Do you remember your first lap at speed there, and what was it like diving down into Turn 1, and then having to do it again at the tunnel turn, at speed, for the first time?"Oh yeah, I can remember it like it was yesterday to be honest. Turn 1, it's a little intimidating because I mean you go down there and you stand on the brakes and then you go down the tunnel turn and it is just crazy to see that corner. TV doesn't do it justice to how sharp that corner actually is, and how flat it is. And in the trucks, I mean when we qualify, you can actually hold it wide open if you've got enough nerve to, and your truck's handling well enough. We had a pretty good qualifying run last year, I think we qualified third, and we were really, really close to the pole. I mean it ran very good. It's crazy, turns one and two are very nerve-wracking, turn three is just one of your more flat turns, you're going a lot slower there, but turns one and turn two are just pretty unbelievable to get into."
News & Notes:
Chassis Chatter… The No. 88 ThorSport Racing team will unload chassis No. 51 for Saturday's Pocono Mountains 150 at Pocono Raceway. This is the same chassis Crafton piloted to a 30th-place finish, due to a late-race accident, at Atlanta Motor Speedway in February after earning the pole and leading the field for a race-high 76 laps, and to an eighth-place finish at Kentucky Speedway earlier this season.
Tricky Triangle Facts… Crafton will make his seventh career start in the 7th annual Pocono Mountains 150l at Pocono Raceway on Saturday. In fact, the ThorSport Racing driver is one of four drivers who have run all six NCWTS races, is tied with Johnny Sauter for the most Top-five Finishes (2), has the most Top-10 finishes (4), and is one of three drivers who have the most Lead Lap Finishes (5).
In The Loop – Pocono… According to NASCAR's Loop Data Statistics, Crafton ranks first in Laps in the Top 15 (267), 11th in Average Running Position (11.5), and 11th in Driver Rating (85.8).
Chase Status… Crafton is currently second in the 2016 NCWTS driver point standings after 11 races this season. As one of two drivers with multiple wins this season, the two-time NCWTS champion is all but guaranteed a spot in the eight driver chase which kicks off at New Hampshire Motor Speedway in Loudon on September 24.
In The Loop – 2016… According to NASCAR's Loop Data statistics, Crafton ranks first in the following categories; Average Running Position (6.5), Fastest Laps Run (213), Laps in the Top-15 (1723), Laps Led (398), Mile Leaders (565.54), and Percentage of Laps Run on the Lead Lap (1816). The two-time champion ranks second in Driver Rating (109.0).
Pocono Rewind – 2015 … Starting a track-best third, Crafton was involved in a lap five incident in Turn 3 and spent 57 laps behind the wall, relegating the two-time and defending series champion to a 28th-place finish.
Race Rewind – Eldora… Making his fourth start at Eldora Speedway in the NCWTS, Crafton started 22nd, ran as high as third, and finished 10th in the 4th annual event at the "Big E."
Major Milestone…The Tulare, California native extended the NCWTS record for consecutive starts to 372 in the Aspen Dental Eldora Dirt Derby at Eldora Speedway, passing four-time NCWTS champion Ron Hornaday, Jr with 360 starts in the 2015 NCWTS season finale at Homestead-Miami (Fla.) Speedway. Crafton made his series debut at Auto Club Speedway in November 2000, and enters his 16th full-time season in the NCWTS, and his 15th full-time season with ThorSport Racing in 2016.
Crafton's Pocono Stats:
6 starts since 2013

289 of 345 laps completed (83.8%)

1 lap led (2014)

Top-5 Finishes: 2

Top-10 Finishes: 4

Best Start: 3rd (2015)

Best Finish: 3rd (2010)

Average start: 10.2

Average finish: 10.8
Crafton's 2016 NCWTS Stats:
Starts: 11

Wins: 2

Top-5 Finishes: 4

Top-10 Finishes: 9

Poles: 1 (Atlanta)

Laps Led: 394

Laps Completed: 1785 of 1816 (98.3%)

Start: 9.9

Average Finish: 9.6
Crafton's Career NCWTS Stats:
Starts: 372 since 2000

13 wins

93 top-five finishes

219 top-10 finishes

12 poles

57,853 laps completed

2083 laps led

Average start: 12.8

Average finish: 11.4
Race Information:
Date: Saturday, July 30, 3016
Time: 1:00pm ET on FOX Sports 1, and MRN Radio
Track: 2.5-mile tri-oval
Distance: 60 laps/150 miles