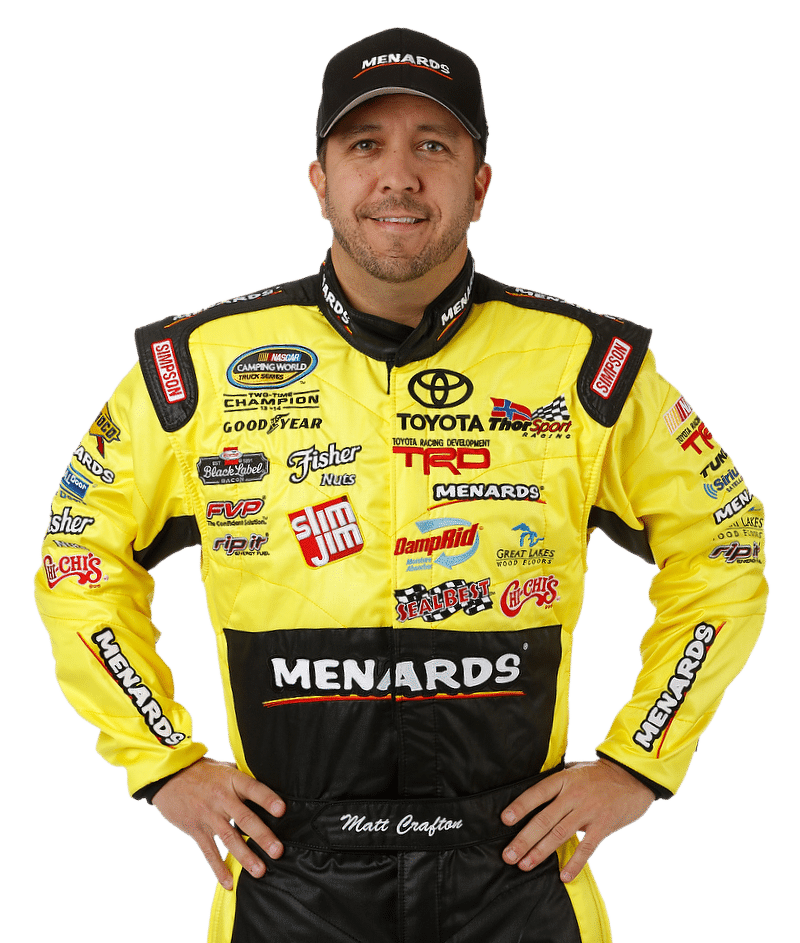 Team Information:
Crew Chief: Carl "Junior" Joiner
Manufacturer: Toyota
Engine: Triad Racing Technologies
2016 NCWTS Driver Point Standings: 6th
2016 NCWTS Owner Point Standings: 6th
Sounding Off – Matt Crafton:
You won early in the season, and virtually locked yourself into the Chase. As a veteran what are your thoughts with three races remaining until the cut-off?
"It will be interesting going down to the final three races. There are so many guys on the edge – you're gonna have to win to get in. My teammate, Hayley, Rhodes, even Rico, they all have a shot. They've had their moments of brillance – led laps, and been strong, but they will have to win to get in. I just hope the desperation to win, to get in the Chase, doesn't take out a bunch of trucks in the process. I've never seen so many trucks get torn up like I have this year. Each race we run is so important to lock yourself into the Chase."
You've been pretty strong at Michigan in the past. You were the pole sitter last year, and finished sixth and second in the last two Truck Series races there. Has the track aged at all?
"Yeah, without a doubt. It definitely isn't aging like some of these race tracks are. I mean, they've come such a long way with asphalt now. It doesn't take three or four years for it to show the age like it used to. I think the racing's gotten a little bit better. The groove is widening out, the inside lane is a little bit faster now, and there is some passing. The first year we were there was really bad, and you couldn't move two feet out of the groove. You were slippin' and slidin' and it was really scary at that moment. But it's gotten a little bit better, for sure, and hopefully we'll put on another great show this weekend."
News & Notes:
Chassis Chatter… The No. 88 ThorSport Racing team will unload chassis No. 54 for Saturday's Careers for Veterans 200 at Michigan International Speedway (MIS). This is the same chassis Crafton piloted to his first win of the 2016 season at Charlotte Motor Speedway, and two runner-up finishes at Kansas Speedway, and Texas Motor Speedway earlier this season. In three starts in 2016, this chassis has led the field for 237 laps.
Michigan Minute… Crafton will make his 15th career start at MIS on Saturday. In fact, the ThorSport Racing driver has more starts (14), the most Pole Awards (2), has completed more laps (1282), and has the most lead lap finishes (10) than any other active series driver.
In The Loop – Michigan… According to NASCAR's Loop Data Statistics, Crafton ranks ninth in Average Running Position (10.9), seventh in Driver Rating (91.7), second in Fastest Laps Run (39), second in Laps in the Top 15 (824), and third in Laps Led (29).
Chase Status… Crafton is currently sixth in the 2016 NCWTS driver point standings after 13 races this season, but third in the NCWTS Chase. As one of two drivers with multiple wins in 2016, the two-time NCWTS champion is all but guaranteed a spot in the eight driver Chase which kicks off at New Hampshire Motor Speedway in Loudon on September 24.
In The Loop – 2016… According to NASCAR's Loop Data statistics, Crafton ranks first in the following categories; Fastest Laps Run (217), Laps in the Top-15 (1836), and Mile Leaders (565.54). The two-time champion ranks second in Average Running Position (7.9), Driver Rating (103.5), and Laps Led (398).
Michigan Rewind – 2015 … Crafton started on the pole, ran as high as second, and overcame a broken windshield, and spin in Turn 4 late in the 100-lap event to finish sixth.
Race Rewind – Bristol… Making his 14th career start at BMS, Crafton started 17th, ran as high as eighth, and finished 30th, due to an engine problem on the Menards Toyota Tundra.
Major Milestone…The Tulare, California native extended the NCWTS record for consecutive starts to 374 in the UNOH 200 at Bristol Motor Speedway, passing four-time NCWTS champion Ron Hornaday, Jr with 360 starts in the 2015 NCWTS season finale at Homestead-Miami (Fla.) Speedway. Crafton made his series debut at Auto Club Speedway in November 2000, and enters his 16th full-time season in the NCWTS, and his 15th full-time season with ThorSport Racing in 2016.
Crafton's Michigan Stats:
14 starts since 2002

1282 of 1404 laps completed (91.3%)

Poles: 2 (2011 & 2015)

30 laps led (2015)

Top-5 Finishes: 3

Top-10 Finishes: 5

Best Finish: 2nd (2014)

Average start: 11.1

Average finish: 15.3
Crafton's 2016 NCWTS Stats:
Starts: 13

Wins: 2

Top-5 Finishes: 4

Top-10 Finishes: 9

Poles: 1 (Atlanta)

Laps Led: 394

Laps Completed: 1915 of 2076 (98.3%)

Start: 11.2

Average Finish: 11.5
Crafton's Career NCWTS Stats:
Starts: 374 since 2000

13 wins

93 top-five finishes

219 top-10 finishes

12 poles

57,983 laps completed

2083 laps led

Average start: 12.8

Average finish: 11.5