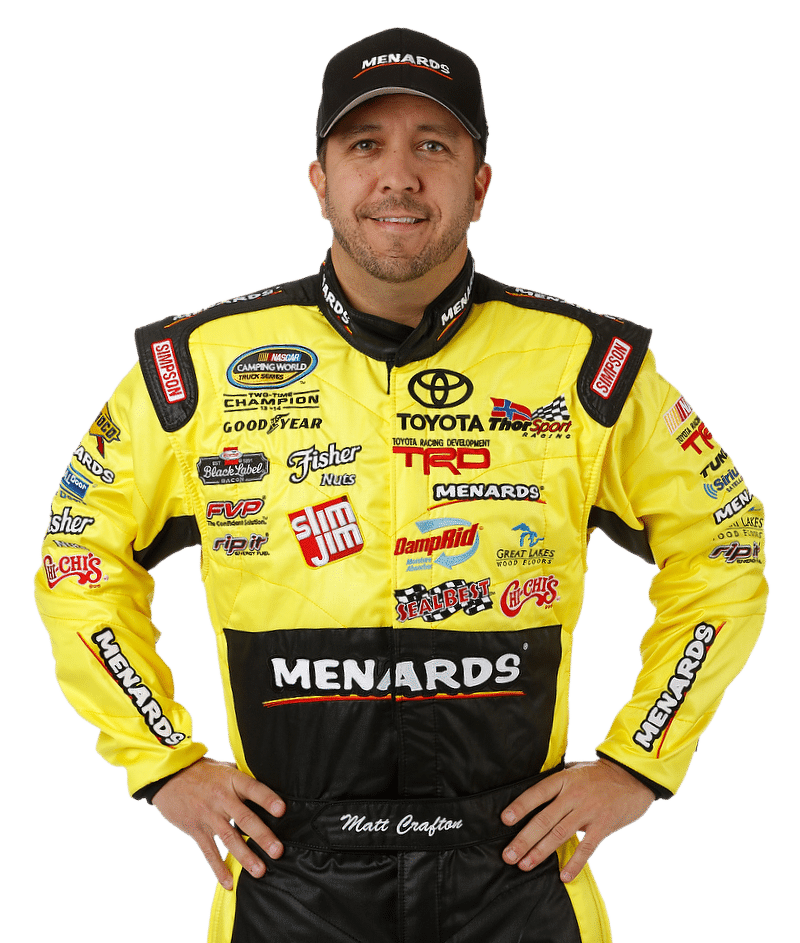 Team Information:
Crew Chief: Carl "Junior" Joiner
Manufacturer: Toyota
Engine: Triad Racing Technologies
2016 NCWTS Driver Point Standings: 1st (+11)
2016 NCWTS Owner Point Standings: 1st
Sounding Off – Matt Crafton:
What are the keys to getting around Gateway Motorsports Park?
"Restarts are so critical, and you have to do, what you have to do, but at the same time you don't need to wreck somebody to get a win. Last year, I just got wrecked on kind of a bad decision that somebody made. The year before that (2014), we had, I felt, an even better truck, a really, really dominant truck, and blew a right front tire while leading. That was a heartbreak. I love going to Gateway, I know I keep saying that, but some of the next few race tracks are some of my favorite race tracks that we're going to. Gateway reminds me of the old Phoenix, very similar. The corners are very different. The corners of 1 and 2 are definitely a little tighter than the old Phoenix, but it has banking, and it's a tighter corner. Turns 3 and 4 are a lot flatter, and you never can have a truck that's going to handle perfectly at both ends, so it's one of those deals where you have to figure out which end you want be the best."
News & Notes:
Chassis Chatter… The No. 88 ThorSport Racing team will unload chassis No. 43 for Saturday's Drivin' for Linemen 200 at Gateway Motorsports Park (GMP). This is the same chassis Crafton piloted to a seventh-place finish at Martinsville (Va.) Speedway earlier this season, but rebuilt completely for this race. In fact, this chassis was just brought out of the paint booth before the fire broke out at ThorSport Racing on June 13. The team was able to get it out of the building, along with all the parts and suspension, and have been rebuilding it in truck chief's Jeriod Prince's grandfather's house in Sandusky, Ohio.
"Show-Me" State Stats… Among active series drivers, Matt Crafton has the most starts at GMP (12), has completed the most laps (1888), has led the most laps (60), has the most top-10 finishes (7), and has the most lead lap finishes (8).
Chase Status… Crafton is currently first in the 2016 NCWTS driver point standings after seven races this season, with an 11-point lead over second-place William Byron. As one of two drivers with multiple wins this season, the two-time NCWTS champion is all but guaranteed a spot in the eight driver chase which kicks off at New Hampshire Motor Speedway in Loudon on September 24.
In The Loop – 2016… According to NASCAR's Loop Data statistics, Crafton ranks first in the following categories; Average Running Position (5.73), Driver Rating (116.7), Fastest Drivers Late in a Run, Fastest Laps Run (196), Laps in the Top-15 (1287), Laps Led (398), and Mile Leaders (565.54).
Gateway Rewind – 2015 … The ThorSport Racing driver started third, led the field three times for 49 laps, and was involved in a late-race incident with the No. 8 truck with 10 laps remaining, and was relegated to a 21st-place finish.
Race Rewind – Iowa… Crafton started ninth, ran consistently inside the top-10, and finished eighth.
Major Milestone…The Tulare, California native extended the NCWTS record for consecutive starts to 369 in the Speediatrics 200 at Iowa Speedway, passing four-time NCWTS champion Ron Hornaday, Jr with 360 starts in the 2015 NCWTS season finale at Homestead-Miami (Fla.) Speedway. Crafton made his series debut at Auto Club Speedway in November 2000, and enters his 16th full-time season in the NCWTS, and his 15th full-time season with ThorSport Racing in 2016.
Crafton's Gateway Stats:
12 starts since 2001

1888 of 1936 laps completed (97.5%)

60 laps led

Top-5 Finishes: 1 (2010)

Top-10 Finishes: 7

Best Start: 3rd (2015)

Average start: 12.9

Average finish: 11.8
Crafton's 2016 NCWTS Stats:
Starts: 8

Wins: 2

Top-5 Finishes: 4

Top-10 Finishes: 7

Poles: 1 (Atlanta)

Laps Led: 394

Laps Completed: 1337 of 1356 (98.6%)

Start: 8.1

Average Finish: 7.6
Crafton's Career NCWTS Stats:
Starts: 369 since 2000

13 wins

93 top-five finishes

217 top-10 finishes

12 poles

57,405 laps completed

2083 laps led

Average start: 12.8

Average finish: 11.4