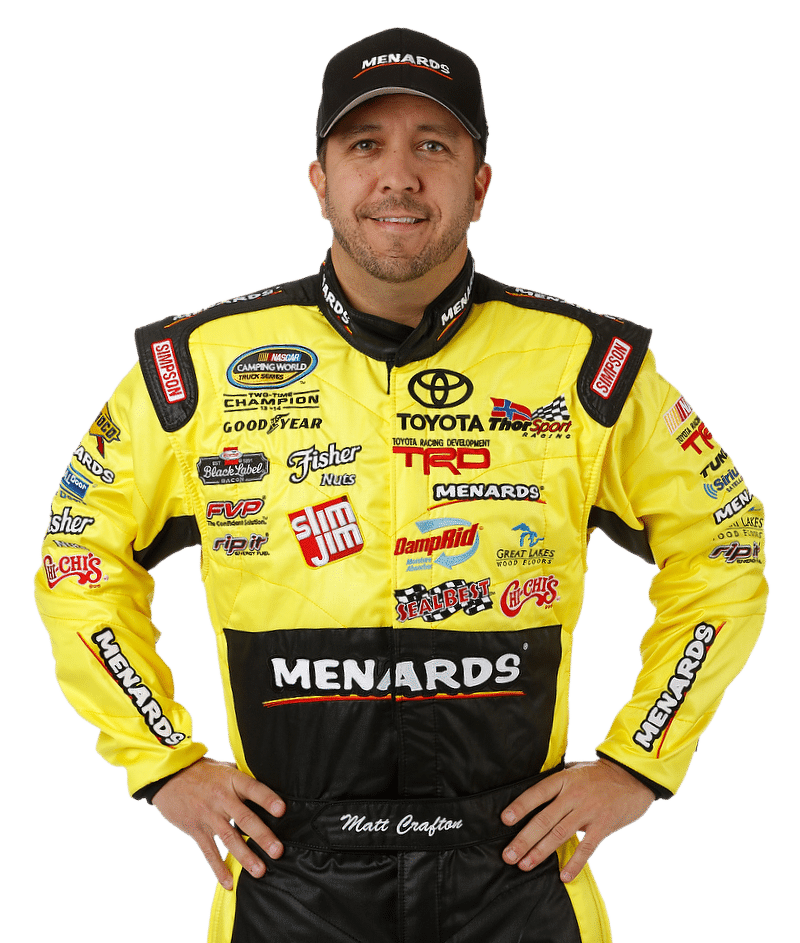 Team Information:
Crew Chief: Carl "Junior" Joiner
Manufacturer: Toyota
Engine: Triad Racing Technologies
2016 NCWTS Driver Point Standings: 1st
2016 NCWTS Owner Point Standings: 1st
Sounding Off – Matt Crafton:
What makes Charlotte unique compared to other Intermediate tracks you run?
"Charlotte is a multi-groove track. Even though it has fairly new asphalt, you can move around quite a bit, and that's what makes it so much fun. The track always puts on a great show for the fans. It's always fun for me to go back there, because it's the place where I got my first NASCAR Camping World Truck Series victory."
Everyone talks about how Charlotte is affected by temperature. How hard is it to find the right setup with the constant temperature variations every time you hit the race track?
"Oh, it's huge. It's definitely the most demanding race track in terms of change from day to night. We practice during the day and race at night. Charlotte changes more than any race track we go to, so it's important not to over adjust in practice."
News & Notes:
Chassis Chatter… The No. 88 ThorSport Racing team will unload chassis No. 54 for Friday night's NC Education Lottery 200 at Charlotte Motor Speedway (CMS). This chassis was built new in 2016, and last seen at Kansas Speedway. Crafton started 13th, and finished second.
Intermediate Icon… No current NASCAR Camping World Truck Series (NCWTS) driver is better at Intermediate tracks than Crafton. Dating back to 2014, Crafton has finished in the top-10 in 17 of the last 19 races at ovals measuring 1.5 or 1.54 miles. Included in that stretch are six wins, and four runner up finishes.
Charlotte Shake Down… Among active series drivers, Crafton has the most starts (13), has the most top-10 finishes (10), has completed the most laps (1732), and has the most lead lap finishes (12).
You'll Never Forget Your First… CMS is the site of Crafton's career first win in the NCWTS Crafton started eighth, led 10 laps, and brought home his first career win in more than seven seasons driving for ThorSport Racing.
Chase Birth… Following his 12th career NCWTS win at Dover, and the first at the Monster Mile on Friday, Crafton clinched a spot in the series first round of the chase, which kicks off at New Hampshire Motor Speedway on September 24.
In The Loop – 2016… According to NASCAR's Loop Data statistics, Crafton ranks first in the following categories; Average Running Position (5.958), Driver Rating (111.9), Fastest Drivers Late in a Run, Fastest Laps Run (93), Laps in the Top-15 (800), and Laps Led (217).
Charlotte Rewind – 2015 … Crafton started ninth, led the 32-truck field three times for 24 of the 134 laps, and finished third.
Race Rewind – Dover… Crafton started fifth, when qualifying was cancelled due to weather, took the lead at lap 123 of 200, and went on to lead the final 78 laps en route to his first win in 16 starts at the Monster Mile.
Major Milestone…The Tulare, California native extended the NCWTS record for consecutive starts to 366 in the JACOB Companies 200 at Dover, passing four-time NCWTS champion Ron Hornaday, Jr with 360 starts in the 2015 NCWTS season finale at Homestead-Miami (Fla.) Speedway. Crafton made his series debut at Auto Club Speedway in November 2000, and enters his 16th full-time season in the NCWTS, and his 15th full-time season with ThorSport Racing in 2016.
Damp Rid… DampRid® is the all-natural way to absorb excess moisture in the air that can cause stale air, musty odors and damage your household possessions. DampRid's crystals absorb the moisture in the air to create and maintain the optimal humidity level in your home, cabin, boat, car — or wherever moisture is a problem. For more information, visit www.DampRid.com.
Crafton's Charlotte Stats:
13 starts since 2003

1732 of 1757 laps completed (98.6%)

53 laps led

Wins: 1 (2008)

Five top-five finishes

10 top-10 finishes

Best start: 2nd (2014)

Average start: 11.6

Average finish: 8.2
Crafton's 2016 NCWTS Stats:
Starts: 5

Wins: 1

Top-5 Finishes: 2

Top-10 Finishes: 4

Poles: 1 (Atlanta)

Laps Led: 214

Laps Completed: 836 of 855 (97.8%)

Start: 7.0

Average Finish: 10.0
Crafton's Career NCWTS Stats:
Starts: 366 since 2000

12 wins

91 top-five finishes

214 top-10 finishes

12 poles

56,904 laps completed

1903 laps led

Average start: 12.8

Average finish: 11.5