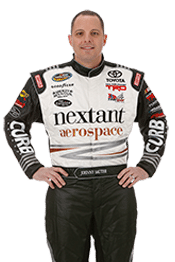 Team Information:
2015 Driver Point Standings: 4th
2015 Owner Point Standings: 4th
Crew Chief: Doug George
Sandusky, Ohio (October 20, 2015) –  Johnny Sauter, driver of the No. 98 Nextant Aerospace/Curb Records Toyota Tundra, will be making his seventh start in Saturday's NASCAR Camping World Truck Series (NCWTS) race at Talladega (Ala.) Superspeedway on Saturday. The Necedah, Wisc. native, who is currently in his seventh full-time season with ThorSport Racing is currently fourth in the championship point standings, and he's looking for his first win of the 2015 season. As a 2013 winner at the 2.66-mile superspeedway, Sauter's hopes are high of finishing out the season strong and making history following the 94-lap event. As one of only three drivers with a win in six consecutive NCWTS seasons, Sauter is looking to join the ranks of Truck Series driver and owner champions, Todd Bodine, Kyle Busch, and Ron Hornaday, Jr., who have wins in seven consecutive seasons.
While there are seven days of the week, seven colors of the rainbow, seven notes on a musical scale, seven seas and seven continents, there are only five races remaining on the 2015 NCWTS schedule. If seven can prove to be lucky for Sauter in his seventh start at Talladega, in his seventh full-time season with ThorSport Racing, then he will be the fourth driver to claim a victory in seven consecutive seasons in the NCWTS following the fred's 250 on Saturday.
Sounding Off – Johnny Sauter:
"Last year, I think we were either first or second in the point standings going into this race. Unfortunately, I had a bolt go through the radiator, which blew the motor up, and ended our race early. You just never know what you're going to get with this race. You almost always expect to crash there. Over the last few seasons we've either won at Talladega or had some really solid finishes. Last year was a fluke deal, but you just never know what can happen there. You could mind your manners all day, get shuffled back to 20th, and still end up with a top-three finish. I think it's the same for everyone, a crapshoot."
News & Notes:
Chassis Chatter…The No. 98 ThorSport Racing team will unload chassis No. 25 for Saturday's fred's 250 powered by Coca-Cola. This particular chassis was last seen at Daytona (Fla.) International Speedway earlier this season. Sauter started 19th and finished 10th.
2015 Season in Review… In 18 NCWTS starts in 2015, Sauter has completed 2722 of 2726 laps attempted (99.9%), and led 118 laps en route to seven top-five and 13 top-10 finishes. The ThorSport Racing driver has an Average Start of 11.6 and an Average Finish of 8.3 with a Best Start of third at Chicagoland Speedway in Joliet, and a Best Finish of third at Kansas Speedway in Kansas City and Gateway Motorsports Park in St. Louis.
Previous Race Recap…Sauter started 13th, led 13 laps, and finished 12th in the Rhino Linings 350 at Las Vegas Motor Speedway earlier this month.
Sauter's Looking For Number Seven… Sauter is one of three drivers with a win in six consecutive NCWTS seasons, and the ThorSport Racing driver is looking to make it seven in 2015. In fact, only three drivers have been able to accomplish the feat in the series 20-year history (Todd Bodine, Kyle Busch, and Ron Hornaday, Jr.).
Sauter's NCWTS Stats at Talladega:
Six starts since 2009

499 of 570 laps completed (87.5%)

Eight laps led

One win (2013)

Three top-five finishes

Best start: 4th (2014)

Average start: 17.0

Average finish: 11.0
Johnny Sauter's 2014 Highlights:
Finished fourth in the NCWTS driver point standings

Sixth consecutive full-time season driving for ThorSport Racing

Earned a win at Michigan International Speedway in Brooklyn, extending his win streak to six consecutive seasons

Earned eight top-five and 16 top-10 finishes

154 laps led

Average finish: 9.3
Sauter's Career Truck Series Stats:
170 starts since 2003

10 wins

63 top-five finishes

99 top-10 finishes

Five poles

25,607 laps completed

1277 laps led

Average start: 10.8

Average finish: 10.7
Race Information:
Date: Saturday, October 24, 2015
Time: 1:00 p.m. ET on FOX Sports 1
Track Details: 2.66-mile superspeedway
Distance: 94 laps/250.04 miles