Sounding Off – Ben Rhodes:
"The repaving process has been interesting to watch, especially in the Monster Energy and XFINITY Series races that took place earlier this year. I'm definitely looking forward to being back, and experiencing it for myself, but there are a host of new challenges that come along with that. My crew chief and I have gone back to the drawing board to figure out what's going to be best for the race track. It seems similar to Kentucky Speedway now – with the mismatched banking, and the new asphalt – so we're hoping to take a few notes from that, and apply it this weekend at Texas Motor Speedway."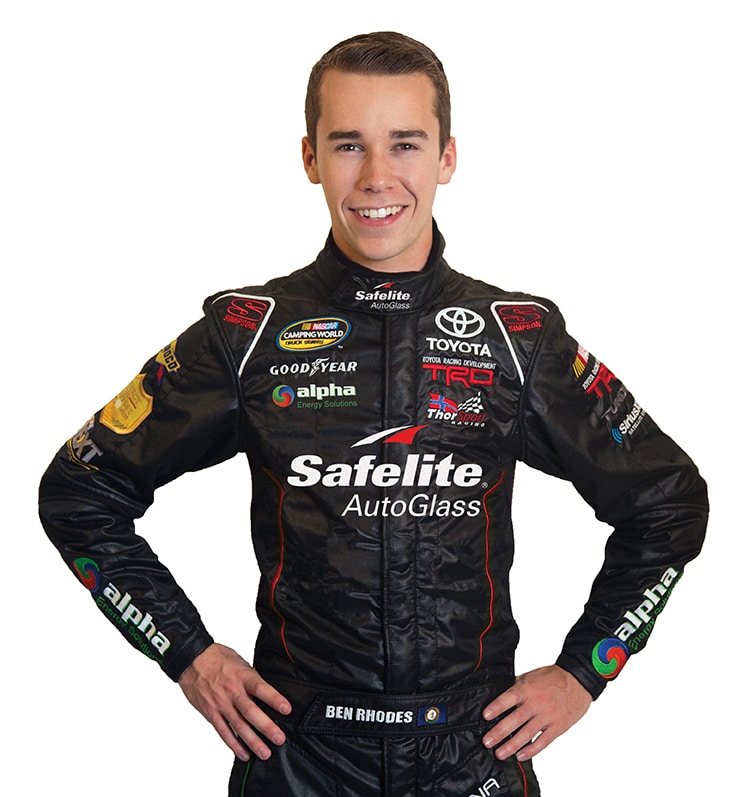 News & Notes:
Chassis Information…The No. 27 ThorSport Racing (TSR) team will utilize chassis No. 35 for Friday night's WinStarGamingOnline.com 400 at Texas Motor Speedway (TMS) in Fort Worth. This is the same chassis Rhodes piloted last month at Kansas Speedway in Kansas City, KS. The ThorSport Racing driver led the field for 25 laps, and looked poised for his first career win, until a bolt punctured the radiator and ultimately blew up the motor, relegating the Safelite AutoGlass driver to a 23rd-place finish. This is also the same chassis teammate Matt Crafton drove to victory lane at Kansas Speedway in 2015.
Intermediate Track Success… In 12 career NASCAR Camping World Truck Series (NCWTS) starts on an Intermediate-style track (1.5-miles to 1.54-miles in length), Rhodes has led 25 laps en route to one top-five (Atlanta), and two top-10 finishes.
In the Loop – 2017… According to NASCAR's Loop Data statistics, Rhodes ranks third in the following categories after six races this season; Average Running Position (7.595) and Driver Rating (100.4). The ThorSport Racing driver ranks fourth in the following categories; Fastest Laps Run (63), Laps in the Top-15 (778), and Laps Led (116).
Rearview Mirror – Dover… Making his third start at Dover (Del.) International Speedway, Rhodes started sixth, led the field once for a race-high 71 laps, and finished fourth in the 200-lap event. The top-five result was the Safelite AutoGlass drivers track-best finish, and season-best finish to date.
Catch Ben at Texas … Rhodes along with his TSR teammates will participate in the NCWTS autograph session on Friday, June 9 from 2:30-3:30pm ET at Gate 4 in the Fan Zone.
Team Stats:
Driver Point Standings: 4th
Owner Point Standings: 5th
Rhodes NCWTS Stats at Texas:
Starts: 2

Top-5 Finishes: 0

Top-10 Finishes: 0

Best Start: 8th (2016-2)

Best Finish: 11th (2016-1)

Laps Completed: 314 of 314 laps

Laps Led: 0

Average Start: 10.0

Average Finish: 13.0
Rhodes Career NCWTS stats:
Starts: 33 since 2014

First Full-time Season: 2016

First Start: Martinsville-1, 2014 (8th)

Poles: 1 (Martinsville-1, 2016)

Top-5 Finishes: 5

Top-10 Finishes: 11

Laps Completed: 4886

Laps Led: 171

Best Finish: 2nd; Gateway

Start: 9.6

Finish: 14.6
Texas Stages:
Stage 1 – 40 laps (concludes at lap 40)

Stage 2 – 40 laps (concludes at lap 80)

Stage 3 – 87 laps (concludes at lap 167)
Race Information:
Date: Friday, June 9
Time: 8:00pm ET on FOX Sports 1
Track: 1.5-mile oval
Distance: 167 Laps, 250.5 Miles