Sounding Off – Ben Rhodes:
There are five races remaining before the start of the NCWTS Chase. You are currently in the 2017 Chase, based on points, but do you feel the pressure to win now more than ever, to firmly secure your spot in the Chase? Do you think you can secure your spot this weekend at Pocono? 
"There is always pressure win. A lot of bad things have happened this year to put us in a bad situation, but that doesn't bother me. I know that we have fast Safelite Tundra's, and soon we will be in victory lane. We were definitely fast at Pocono last year. The biggest key to this race will be track position, and survival. In the last three races, bad things have happened to take us out of the race. This weekend, we just need to have good track position, rack up some stage points, and be there at the end. That is a winning combination."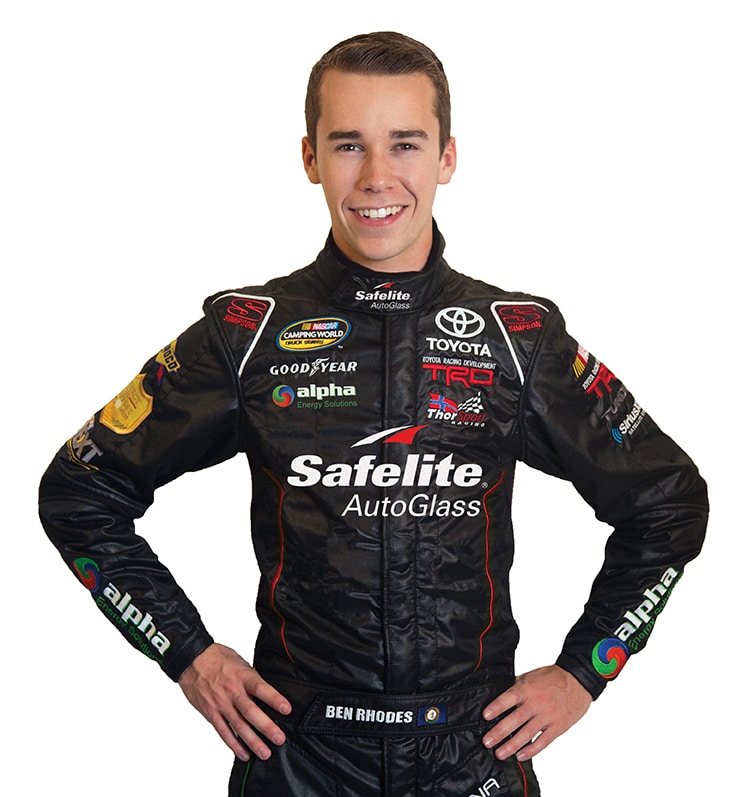 Team Stats:
Driver Point Standings: 7th
Owner Point Standings: 9th
2017 Stage Points: 85
2017 Playoff Points: 1 (Kentucky)
News & Notes:
Chassis Information…The No. 27 ThorSport Racing (TSR) team will utilize chassis No. 62 for Saturday's Overton's 150 at Pocono (PA) Raceway. This is the same chassis Ben Rhodes piloted earlier this season at Charlotte Motor Speedway (8th), and Atlanta Motor Speedway (4th).
Chase Status… Ben Rhodes has five races remaining on the 2017 NASCAR Camping World Truck Series (NCWTS) schedule to lock his No. 27 Safelite Tundra into NASCAR's first Chase Round of 8, which kicks-off at New Hampshire Motor Speedway on September 23. With the top-8 drivers moving on, the ThorSport Racing driver is currently in, on points. Rhodes is currently seventh, one point ahead of eighth-place, Ryan Truex.
First Timers… Two former Pocono Raceway NCWTS winners have earned their first series wins at the 2.5-mile Tricky Triangle; Elliott Sadler (2010), and Joey Coulter (2012). Rhodes, who will be making his second NCWTS start at Pocono on Saturday, is still looking for his first series win.
Take Me Back – Pocono, 2016… Making his track debut at Pocono Raceway, Rhodes started third, ran as high as second, and finished 11th.
Rally for the Ranch… On Thursday night, July 27, Rhodes will attend the 2017 Safelite AutoGlass Rally for the Ranch, honoring Tony Kanaan, and benefiting the Buckeye Ranch.
Rearview Mirror – Eldora… Making his second start at Eldora Speedway, Rhodes started seventh, and ran as high as fourth, but heavy damage, due to contact with the 02 machine at lap 40 of 150, relegated the ThorSport Racing driver to a 30th-place finish in the fifth annual event.
Catch Ben at Pocono… Rhodes, along with his ThorSport Racing teammates, will participate in the NCWTS autograph session from 10:00-10:45 a.m. ET on Friday, July 28 in the Chalet Village (Behind turn 3) at Pocono Raceway.
Rhodes 2017 NCWTS Stats:
Starts: 11

Laps Completed: 1576 of 1808 (87.2%)

Laps Led: 121

Best Start: 5th (Charlotte & Kentucky)

Best Finish: 4th (Atlanta & Dover)

Top-5 Finishes: 3

Top-10 Finishes: 5

Average Start: 8.7

Average Finish: 14.1
Rhodes Career NCWTS Stats:
Starts: 38 since 2014

First Full-time Season: 2016

First Start: Martinsville-1, 2014 (8th)

Poles: 1 (Martinsville-1, 2016)

Top-5 Finishes: 6

Top-10 Finishes: 13

Laps Completed: 5489

Laps Led: 176

Best Finish: 2nd; Gateway (2016)

Start: 9.3

Finish: 14.9
Pocono Stages:
Stage 1 – 15 laps (concludes at lap 15)

Stage 2 – 15 laps (concludes at lap 30)

Stage 3 – 30 laps (concludes at lap 60)
Broadcast Schedule – Pocono:
Friday, July 28:
12:00 p.m. – NCWTS Practice (FOX Sports 1)
2:00 p.m. – NCWTS Final Practice (FOX Sports 1)
Saturday, July 29:
10:00 a.m. – NCWTS Qualifying (FOX Sports 1)
1:00 p.m. – Overton's 150 (FOX)
Race Information:
Date: Saturday, July 29, 2017
Time: 1:00 p.m. ET on FOX and MRN
Track: 2.5-mile tri-oval
Distance: 60 Laps, 150 miles
Social: @PoconoRaceway, #Overtons150