Chatting with Ben Rhodes…
Phoenix is the last race to determine the Championship 4. Currently you're on the outside looking in. What's your "Game Plan" to make it into the Top-4 following Friday nights race? 
"To beat everyone else sounds simple, but it's going to be quite the challenge. ThorSport Racing has given me some unbelievably fast Safelite Toyota Tundra's in the past, so I know I can count on that same speed Friday night. My crew chief Eddie Troconis and I also communicate really well, so if I need changes I know he will be on top of it. It will come down to keeping this Safelite AutoGlass Tundra clean, having great pit stops, and running up front – especially ahead of the 19 – all night. I know we are more than capable of getting a win, and I'll do what it takes to make that happen."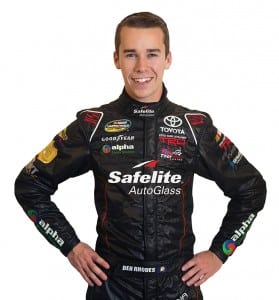 Team Stats:
Driver Point Standings: 5th
Owner Point Standings: 10th
2017 Playoff Position: 5th
Notes:
This Week's No. 27 Safelite AutoGlass Toyota Tundra… The No. 27 ThorSport Racing team will debut chassis No. 45 for Friday night's Lucas Oil 150 at Phoenix International Raceway (PIR). This is a proven ThorSport Racing chassis that will make its 2017 debut under the lights on Friday night.
Phoenix Profile… Rhodes will make his third career start at PIR on Friday night. The Safelite AutoGlass driver has a track-best start of fourth (2014), and a track-best finish of fifth (2014). In 2015 Rhodes started ninth and finished 14th.
Settling The Championship 4 Field at Phoenix… Rhodes, who is currently fifth in the 2017 NASCAR Camping World Truck Series (NCWTS) Playoffs, is a mere five points outside of the Championship 4 entering Friday night's elimination race at PIR. To lock himself in to the Championship 4, and compete for his first series title at Homestead-Miami Speedway next week, the Safelite AutoGlass driver will need to win, or leave PIR with a fourth-place finish in the driver point standings.
Beyond The Glass… In advance of the Lucas Oil 150 on Friday night, Rhodes will attend the "Best of Belron" (Southwest Region) competition on behalf of partner, Safelite AutoGlass, on Wednesday. Rhodes will MC a portion of the event, in which Safelite technicians compete in various areas including, but not limited to, windshield repair, and windshield replacement. Rhodes will also visit one of the largest Safelite AutoGlass call centers, located in Chandler, Arizona on Thursday. The facility, which opened in 2010, covers 86,000 square feet. Additionally, there will be more than 600 Safelite employees in the grandstands on Friday night, cheering on Rhodes and the No. 27 Safelite team.
2017 Season Stats… In 21 starts this season, the ThorSport Racing driver has earned one pole (Pocono), and led 160 laps en route to one win (Las Vegas), six top-five, and 12 top-10 finishes.
Truck Series Stats… In 48 NCWTS races, Rhodes has two poles, and has led 215 laps en route to one win, nine top-five, and 20 top-10 finishes.
Catch Ben at Phoenix… Rhodes will join his ThorSport Racing teammates for an autograph session on Friday, Nov. 10 from 1:00-1:45pm MST in the Fan Midway (next to the Busch Garage) at PIR. The session is first-come, first-serve.