Sounding Off – Ben Rhodes:
What does it mean to race at your hometown track, Kentucky Speedway this week?
"Kentucky Speedway is my home track. I love this track mainly for the fact that I can sleep in my own bed, go to the track, race, and then go back home to see my family. I've got my hometown crowd, and all my friends coming to see me. I think my sponsors have given out about 3500 tickets for the race, so we will have a huge cheering section Thursday night. It's just amazing to have that overwhelming support at your home track. I don't get that anywhere else. When we go somewhere else, it's the locals, or some of the fans that you've made along the way. In Kentucky, we get overwhelming support, and its neat to see that."
How do you feel about the new repave at Kentucky Speedway?
"I like the new surface, but I think it'll be better once it gets more worn out. I think the main thing is for them to keep doing what they're doing, and wear the surface out as much as they can. I like how it has a lot of grip, but it needs more space. The groove was too narrow last year, I thought. I'm hoping they'll work on the middle groove – maybe put a little more rubber on the bottom – really widen it out, and let us lay the rubber down on the bottom. I think that will be a good combination for us. Once it gets worn out, its going to be a really, really good race track. Its already a good racetrack, but once it gets worn out were going to be doing some really good racing there."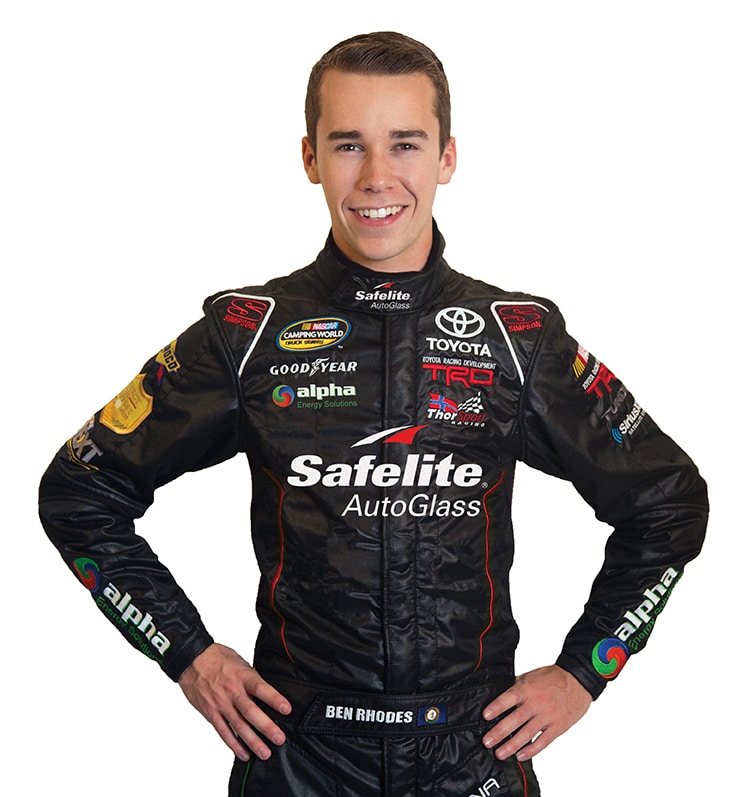 Team Stats:
Driver Point Standings: 5th
Owner Point Standings: 5th
News & Notes:
Chassis Information…The No. 27 ThorSport Racing (TSR) team will utilize chassis No. 35 for Thursday night's Buckle Up In Your Truck 225 at Kentucky Speedway in Sparta. This is the same chassis Rhodes piloted at Kansas Speedway in Kansas City, KS earlier this season, leading the field for 25 laps. The Safelite AutoGlass driver also piloted this particular chassis to a fifth-place finish at Texas Motor Speedway in Fort Worth last month.
Bluegrass State Stats… Rhodes has three previous starts at Kentucky Speedway; one in the NASCAR Camping World Truck Series (NCWTS) in 2016, one in the NASCAR XFINITY Series (2015), and one in the ARCA Racing Series (2014). In his NCWTS debut in 2016, Rhodes started ninth and finished 13th. The Louisville, KY native has also made several U.S. Legend Car starts on the frontstretch quarter-mile oval at the 1.5-mile speedway.
Hometown Hero… Rhodes, a Louisville, Ky. native, calls the Sparta, Ky. track, which is only 60 miles from his front door, home. Additionally, Rhodes will have a cheering section of about 3500 on Thursday night between his sponsors, partners, supporters, family, friends, and fans that will be attending the race.
All Rhodes Lead to Kentucky Speedway… Rhodes, who is currently half-way through the first Round of the 2017 NCWTS Chase, and currently fifth in the standings, has had a busy week leading up to Thursday night's 150-lap event at Kentucky Speedway. In addition to interviews, show truck appearances, the Safelite driver attended the Louisville City FC soccer game on Saturday, July 1. Rhodes participated in the coin toss, and even jammed with the Louisville Coopers band.
Ridin' with Rhodes… Rhodes will carry the shield from Louisville City FC Soccer Club, and Delta Dental of Kentucky, the oldest and largest dental carrier in the Commonwealth of Kentucky on his No. 27 Safelite AutoGlass Toyota Tundra Thursday night. With the added support, Rhodes hopes to earn his first career NCWTS victory, in front of his hometown crowd.
In the Loop – 2017… According to NASCAR's Loop Data statistics, Rhodes ranks third in Fastest Laps Run (99), fourth in Laps Led (116), fifth in Average Running Position (8.59) and Driver Rating (96.3), and sixth in Laps in the Top-15 (1219) after nine of 23 races this season.
Rearview Mirror – Iowa… Making his second start at Iowa Speedway, Rhodes started sixth, ran as high as third, and finished 14th in the 200-lap event.
Catch Ben at Kentucky… Rhodes, will be at the Safelite AutoGlass/Alpha Energy Solutions tent in the Fan Midway from 3:00-3:25 p.m., and will join his teammates at Toyota Pit Pass from 3:30-4:00 p.m. on Thursday at Kentucky Speedway. For a complete list of appearances throughout the race weekend, follow Ben on Twitter and Instagram: @BenRhodes.
Rhodes 2017 NCWTS Stats:
Starts: 9

Laps Completed: 1495 of 1508 (99.1)

Laps Led: 116

Best Start: 5th (Charlotte)

Best Finish: 4th (Atlanta & Dover)

Top-5 Finishes: 3

Top-10 Finishes: 5

Average Start: 9.3

Average Finish: 10.9
Rhodes Career NCWTS Stats:
Starts: 36 since 2014

First Full-time Season: 2016

First Start: Martinsville-1, 2014 (8th)

Poles: 1 (Martinsville-1, 2016)

Top-5 Finishes: 6

Top-10 Finishes: 13

Laps Completed: 5408

Laps Led: 171

Best Finish: 2nd; Gateway (2016)

Start: 9.5

Finish: 14.1
Kentucky Stages:
Stage 1 – 35 laps (concludes at lap 35)

Stage 2 – 35 laps (concludes at lap 70)

Stage 3 – 80 laps (concludes at lap 150)
Race Information:
Date: Thursday, July 6 2017
Time: 7:30pm ET on FOX Sports 1, SiriusXM & MRN
Track: 1.5-mile oval
Distance: 150 Laps, 225-Miles
Social: @KYSpeedway, #ThisIsSPARTA