Chatting with Ben Rhodes…
"We just need an overall good, solid run at Martinsville on Saturday. We need to finish in the top-five – a win would be nice to guarantee our spot in the Final Four at Homestead, but it's not necessary in this round – I think we can still play it safe, and get in on points. Right now we're in fifth-place, only two points behind third, so I know we can easily make up that margin. We did it in the first Round of 8, and I'm confident we can do it in this Round as well – I have no doubt in my mind that our Safelite Tundra won't be super fast. My ThorSport Racing team has put in a lot of work on not only this Tundra for Martinsville, but all the races that remain on the 2017 schedule. We just need a good run in Martinsville, and we'll be just fine heading into the Round of 4 at Homestead."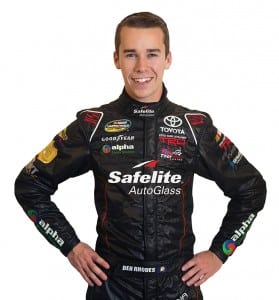 Team Stats:
Driver Point Standings: 5th
Owner Point Standings: 10th
2017 Playoff Position: 5th
Notes:
This Week's No. 27 Safelite AutoGlass Toyota Tundra… The No. 27 ThorSport Racing team will unload chassis No. 61 for Saturday's Texas Roadhouse 200 at Martinsville Speedway. This is the same chassis Ben Rhodes piloted to a 14th-place finish at Iowa Speedway (June, 2017), and a seventh-place finish at New Hampshire Motor Speedway (September, 2017).
Martinsville Stats… Rhodes has made four starts at the Martinsville Speedway "Paperclip." His success includes one pole (March, 2016), and one top-10 finish (February, 2014).
Round of 6… Rhodes transferred to the Round of 6 in the NASCAR Camping World Truck Series (NCWTS) Playoffs, which kicks off on Saturday at Martinsville Speedway, following his win at Las Vegas Motor Speedway last month. The Round of 6 will include three tracks – Martinsville Speedway, Texas Motor Speedway, and Phoenix International Raceway. The top-four drivers, following Phoenix on November 10, will transfer to the Round of 4 at Homestead-Miami Speedway, and a chance at the title.
2017 Season Stats… In 19 starts this season, the ThorSport Racing driver has earned one pole (Pocono), and led 160 laps en route to one win (Las Vegas), six top-five, and 11 top-10 finishes.
Truck Series Stats… In 46 NCWTS races, Rhodes has two poles, and has led 215 laps en route to one win, nine top-five, and 19 top-10 finishes.
Legendary Free Food… For each ticket purchased to the Texas Roadhouse 200 on Saturday at Martinsville Speedway, you will get a Free Cactus Blossom or Fried Pickle appetizer coupon, valid at any Texas Roadhouse location nationwide (expires 12/31/17).
Catch Ben at Martinsville… Rhodes will join his ThorSport Racing teammates for an autograph session on Friday, October 27 from 5:00-5:45pm ET in front of the main ticket office at Martinsville Speedway. Additionally, Rhodes will be at the Safelite AutoGlass/Alpha Energy Solutions display in the Fan Zone at Martinsville Speedway on Saturday, Oct. 28 from 8:30-9:15am and Sunday, Oct. 29 from 11:00-11:45am. For more information or to view Ben's complete Martinsville schedule visit: www.BenRhodes.com.