Sounding Off – Ben Rhodes:
"I feel like Chicagoland (Speedway) will be a lot like Atlanta (Motor Speedway), we're actually taking the same truck and setup from Atlanta there, and improving upon what we had. I'm excited for that. And, with all the things we've done this year – all the new setup changes, all the stuff we've been working on – I feel like we can add to what we had going for us in Atlanta – where we finished fourth – and we'll have the best of both worlds. Maybe we can go set another track record."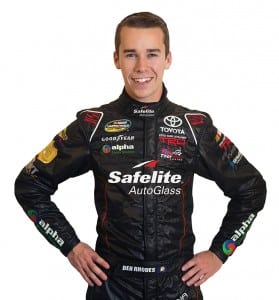 Team Stats:
Driver Point Standings: 5th
Owner Point Standings: 5th
2017 Stage Wins: 1 (Kentucky)
2017 Stage Bonus Points: 133
2017 Playoff Points: 1
News & Notes:
Chassis Chatter…The No. 27 ThorSport Racing (TSR) team will utilize chassis No. 62 for Friday's NASCAR Camping World Truck Series (NCWTS) Chicagoland 225 at Chicagoland Speedway. This is the same chassis Rhodes piloted earlier this season at Atlanta Motor Speedway (4th), Charlotte Motor Speedway (8th), and Pocono Raceway (started 1st, finished second).
Intermediate Stats…Rhodes has 11 starts on an Intermediate-size track in the NCWTS. Included in those starts are two top-five, and six top-10 finishes.
Playoff Status…Rhodes 2017 Playoff berth comes down to Friday night's NCWTS race at Chicagoland Speedway. Seven of the eight drivers have clinched their spot, and the Safelite AutoGlass driver is looking to lock his No 27 Toyota Tundra into the first round of 8, which kicks-off next week at New Hampshire Motor Speedway. Rhodes, who is currently seeded eighth in the Playoff standings, can clinch a spot with a win, or on points, if he scores at least 49 points in the Chicagoland 225 Friday night.
Take Me Back – Chicago, 2016… Making his track debut at Chicagoland Speedway in 2016, Rhodes started seventh, and finished 25th, due to a late-race accident on lap 113 of 151.
Rearview Mirror – Canada… Starting from the ninth position, Rhodes led the 32-truck field once, for one lap, finishing 10th in Stage 1, third in Stage 2, and 10th in the NCWTS 250 at Canadian Tire Motorsports Park.
Catch Ben at Chicagoland Speedway… Rhodes, along with his ThorSport Racing teammates, will participate in the Chicagoland Speedway autograph session on Friday, September 15 at 1:00-1:45 p.m. in the Infield Fan Zone.
Rhodes 2017 NCWTS Stats:
Starts: 15

Poles: 1 (Pocono)

Laps Completed: 2003 of 2235 (89.6%)

Laps Led: 123

Best Finish: 2nd (Pocono)

Top-5 Finishes: 5

Top-10 Finishes: 8
Rhodes Career NCWTS Stats:
Starts: 42 since 2014

First Full-time Season: 2016

First Start: Martinsville-1, 2014 (8th)

Poles: 2 (Martinsville-1, 2016 and Pocono, 2017)

Top-5 Finishes: 8

Top-10 Finishes: 16

Laps Completed: 5916

Laps Led: 178

Best Finish: 2nd; (Gateway, 2016 and Pocono, 2017)
Chicago Stages:
Stage 1 – 35 laps (concludes at lap 35)
Stage 2 – 35 laps (concludes at lap 70)
Stage 3 – 80 laps (concludes at lap 150)
Broadcast Schedule – Chicago:
Friday, September 15:
5:00 p.m. ET – NCWTS Qualifying (FOX Sports 1)

8:00 p.m. ET – NCWTS Setup (FOX Sports 1)

8:30 p.m. ET – Chicagoland 225 (FOX Sports 1)
Race Information:
Date: Friday, September 15. 2017
Time: 8:30 p.m. ET on FOX Sports 1
Track: 1.5-mile tri-oval
Distance: 150 laps/225 miles