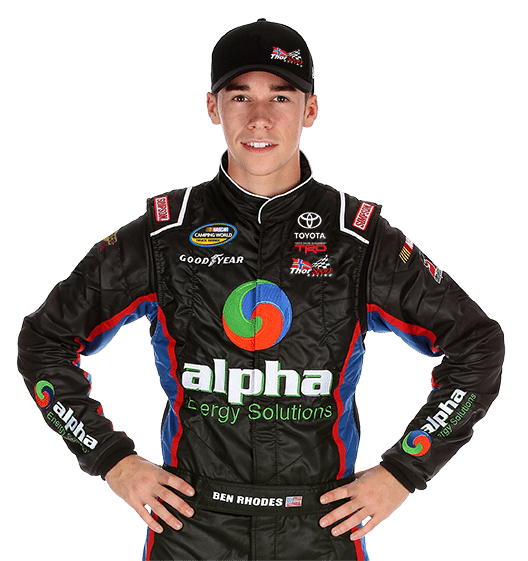 Team Information:
Started: 4th
Finished: 30th
Laps: 128/200
Laps Led: 0
Status: Running
2016 Driver Points: 13th
2016 Owner Points: 14th
Ben Rhodes Race Recap:
Ben Rhodes, driver of the No. 41 Regal Cinemas Toyota Tundra, made his second career NASCAR Camping World Truck Series (NCWTS) start at Bristol Motor Speedway (BMS) in Wednesday night's rain delayed UNOH 200. Showing speed in both practice sessions on Wednesday morning, Rhodes was able to back up his efforts in NASCAR's unique, three-round qualifying session on Wednesday afternoon, earning a track-best fourth-place starting position for the 19th annual event. Continuing to show speed throughout the race, Rhodes was able to maintain a position inside the top-five, running as high as second, before a problem under the hood of his Toyota Tundra, just past the halfway mark, relegated the No. 41 team to a 30th-place finish.
Quote:
"We had a really fast Regal Cinemas Tundra. It's just a shame we weren't able to get a finish that reflected it. Something happened with the engine, not really sure, but it just suddenly lost power. We brought it in here to diagnose the problem, to see what it may be. It's a shame – these guys worked really hard on the truck all month long, getting this thing ready for Bristol, and I really feel like we had a shot to win it tonight."
News & Notes:
The NASCAR Camping World Truck Series (NCWTS) had two practice sessions on Wednesday in preparation for the UNOH 200 at Bristol Motor Speedway. Ben Rhodes was 7th, and 9th, respectively, in both sessions.

Making his second start at BMS in the NCWTS, Rhodes started fourth, a track-best, ran as high as second, and finished 30th, due to engine problems.

In 13 starts in 2016, Rhodes has led 51 laps en route to two top-five (Iowa), and four top-10 finishes.

In 17 career NCWTS starts, Rhodes has one pole (Martinsville), and has led 51 laps en route to three top-five, and seven top-10 finishes.

Rhodes' ThorSport Racing teammates finished 24th (Hayley), 26th (Abreu), 32nd (Crafton).

Up Next: The Careers for Veterans 200 at Michigan International Speedway on Saturday, August 27.