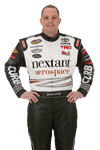 Team Information:
2015 Driver Point Standings: 7th
2015 Owner Point Standings: 10th
Crew Chief: Doug George
Sandusky, Ohio (February 24, 2015) – The NASCAR Camping World Truck Series will return to one of the fastest tracks on the NASCAR circuit – Atlanta (Ga.) Motor Speedway (AMS) – for the 14th annual Hyundai Construction Equipment 200 on Saturday, Feb. 28. The 130 lap race will mark the first time the series has visited the 1.54-mile quad oval since 2012.
Johnny Sauter, driver of the No. 98 Nextant Aerospace/Curb Records Toyota Tundra will make his fifth career start in "Hotlanta," and the Necedah, Wisc. native is looking for his first top-five finish at the South Georgia track. For a veteran driver that finishes in the top-five 36.6 percent of the time, a solid run with a proven chassis, is not out of question for the ThorSport Racing driver.
Sounding Off – Johnny Sauter:
"Atlanta is a tough one for me. It's a fun place, no question about it. The speeds will fall off from sticker tires to 20 laps into a run, which will be pretty big. Everyone will be slipping and sliding – running the bottom, middle and top – and it will be fun. I'm glad we have another race back-to-back this year with Daytona and Atlanta. It will keep the momentum going for the entire team."
News & Notes:
Chassis Chatter… Sauter will pilot chassis No. 45 for the 14th annual Hyundai Construction Equipment 200 at AMS. This chassis was last run at Las Vegas (Nev.) Motor Speedway in 2014. Sauter started 16th and finished 14th. This is also the same chassis that Sauter took to victory lane at Michigan International Speedway in Brooklyn in 2014.
Calling the Shots… Doug George has 155 career starts to his credit in the NCWTS including six starts at AMS. The veteran crew chief has earned two poles with drivers Kyle Busch (2009), and Ron Hornaday Jr. (2010) and one win with Kyle Busch (2009).
Nextant Aerospace takes flight in Atlanta… Cleveland, Ohio-based Nextant Aerospace, a Directional Aviation Capital company and the world leader in business aircraft remanufacturing, will make its first of 15 appearances on board the No. 98 Toyota Tundra of Johnny Sauter in Saturday evening's Hyundai Construction Equipment 200 at AMS.
Previous Race Recap… Sauter started 19th in the NextEra Energy Resources 250 at Daytona (Fla.) International Speedway, and ran as high as fourth before receiving damage in a lap 50 accident involving 12 trucks in Turn 3. The ThorSport Racing driver went a lap down and battled his way back to a 10th-place finish.
Sauter's NCWTS Stats At Atlanta Motor Speedway:
Four starts since 2009
496 of 520 laps completed (95.4%)
0 laps led
One top-10 finish
Best start: 6th (2012)
Best finish: 8th (2010)
Average start: 10.8
Average finish: 16.8
Sauter's Atlanta Motor Speedway NCWTS Performance Profile:
| | | | | | |
| --- | --- | --- | --- | --- | --- |
| Date | Started | Finished | Laps | Status | Led |
| March, 2009 | 16 | 18 | 128/130 | Running | 0 |
| March, 2010 | 9 | 8 | 130/130 | Running | 0 |
| September, 2011 | 12 | 29 | 108/130 | Running | 0 |
| August, 2012 | 6 | 12 | 130/130 | Running | 0 |
Johnny Sauter's 2014 Highlights:
Finished fourth in the NCWTS driver point standings
Sixth consecutive full-time season driving for ThorSport Racing
Earned a win at Michigan International Speedway in Brooklyn, extending his win streak to six consecutive seasons
Earned eight top-five and 16 top-10 finishes
154 laps led
Average finish: 9.3
Sauter's Career Truck Series Stats:
153 starts since 2003
10 wins
56 top-five finishes
87 top-10 finishes
Five poles
22,985 laps completed
1159 laps led
Average start: 10.7
Average finish: 11.0
Race Information:
Date: Saturday, Feb. 28, 2015
Time: 5:30 p.m. ET on FOX Sports 1
Track Details: 1.54-mile quad oval
Distance: 130 laps/200.2 miles
Practice: 2:30 p.m. ET/Friday, Feb. 27, FOX Sports 1
Qualifying: 10:30 a.m. ET/Saturday, Feb. 28, FOX Sports 1
Team Website: www.ThorSport.com
Driver Website: www.Johnny-Sauter.com
Sponsor Website: www.NextantAerospace.com www.Curb.com
Social Media: @ThorSportRacing, @JohnnySauter