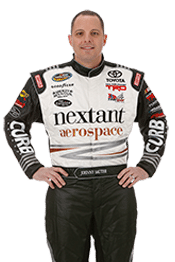 Stats:
Started: 8th
Finished: 7th
Laps: 98/98
Status: Running
Driver Points: 4th
Owner Points: 4th
Talladega, Ala. (October 24, 2015) – Making his seventh NASCAR Camping World Truck Series (NCWTS) start at Talladega (Ala.) Superspeedway, Johnny Sauter, driver of the No. 98 Nextant Aerospace/Curb Records Toyota Tundra, scored his 100th career top-10 finish, finishing seventh in Saturday afternoon's fred's 250.
Starting eighth, Sauter would get shuffled to the back of the pack early on in the 94-lap event, but began searching for a drafting partner to help him make his way back through the field. Nonetheless, a timely caution on lap 13 allowed the Necadah, Wisc. native the chance to pick up valuable track position, when crew chief Doug George made the call for fuel only during the first pit stop of the day.
Restarting the race from the 12th position, veteran spotter, Tab Boyd, quickly began helping Sauter maneuver his way through the field. As intensity picked up, the yellow flag waved again on lap 37, and George elected to bring the No. 98 Toyota Tundra down pit road for right side tires and fuel only. However, as Sauter was leaving pit road, the No. 05, of John Wes Townley, made contact with his driver-side door. However, the ThorSport Racing driver chose to maintain his track position, instead of coming back to the attention of his crew to assess the damage, restarting the race from the third position.
Continuing to run up front, among the leaders, Sauter informed the No. 98 crew that he had been "running wide-open" for the majority of the current green flag run, which could effect their fuel strategy. Eventually pulling down pit road under green, on lap 72, with a select few of the lead-pack trucks, the No. 98 Nextant Aerospace/Curb Records team packed the Toyota Tundra full of fuel to get Sauter through the remaining laps of the race.
After a pretty "clean" start to the race for the 32-truck field, a string of late-race caution flags, including the "Big One," which produced a lengthy red flag situation, would change the dynamic of the remaining laps. Able to avoid the nine-truck pile-up, basically unscathed, Sauter restarted seventh for the race's single attempt at a green-white-checkered flag finish. Trying to set himself up for a race-winning move in the closing laps, Sauter's final attempt came up just short, as the caution flag waved once more, ending the fred's 250.
Sauter's seventh-place finish, behind race winner, Timothy Peters, was his fourth top-10 at the 2.66-mile superspeedway.
Quote:
"Where you were in line during the race made all the difference. I just never got in a lane that was consistently moving, which was frustrating. It didn't help our cause to get to the front at all. That's just racing at Talladega Superspeedway though, you never know what to expect. Our Nextant Aerospace/Curb Records Toyota Tundra was good all day, we just couldn't seem to be in the right place at the right time."
Notes:
Johnny Sauter started eighth and finished seventh in the fred's 250 at Talladega Superspeedway on Saturday

Sauter has one win (2013), three top-five and four top-10 finishes in seven starts at the 2.66-mile superspeedway

In 2015, Sauter has seven top-five and 14 top-10 finishes

The ThorSport Racing driver maintained a fourth-place position in the 2015 NCWTS driver point standings following the event

In 171 career NCWTS starts, Sauter has 10 wins, 63 top-five and 100 top-10 finishes

Timothy Peters won the fred's 250 at Talladega Superspeedway followed by Brandon Jones (second), Mason Mingus (third), Erik Jones (fourth), and Tyler Reddick (fifth)

Up next: The Kroger 200 from Martinsville (Va.) Speedway on Saturday, October 31