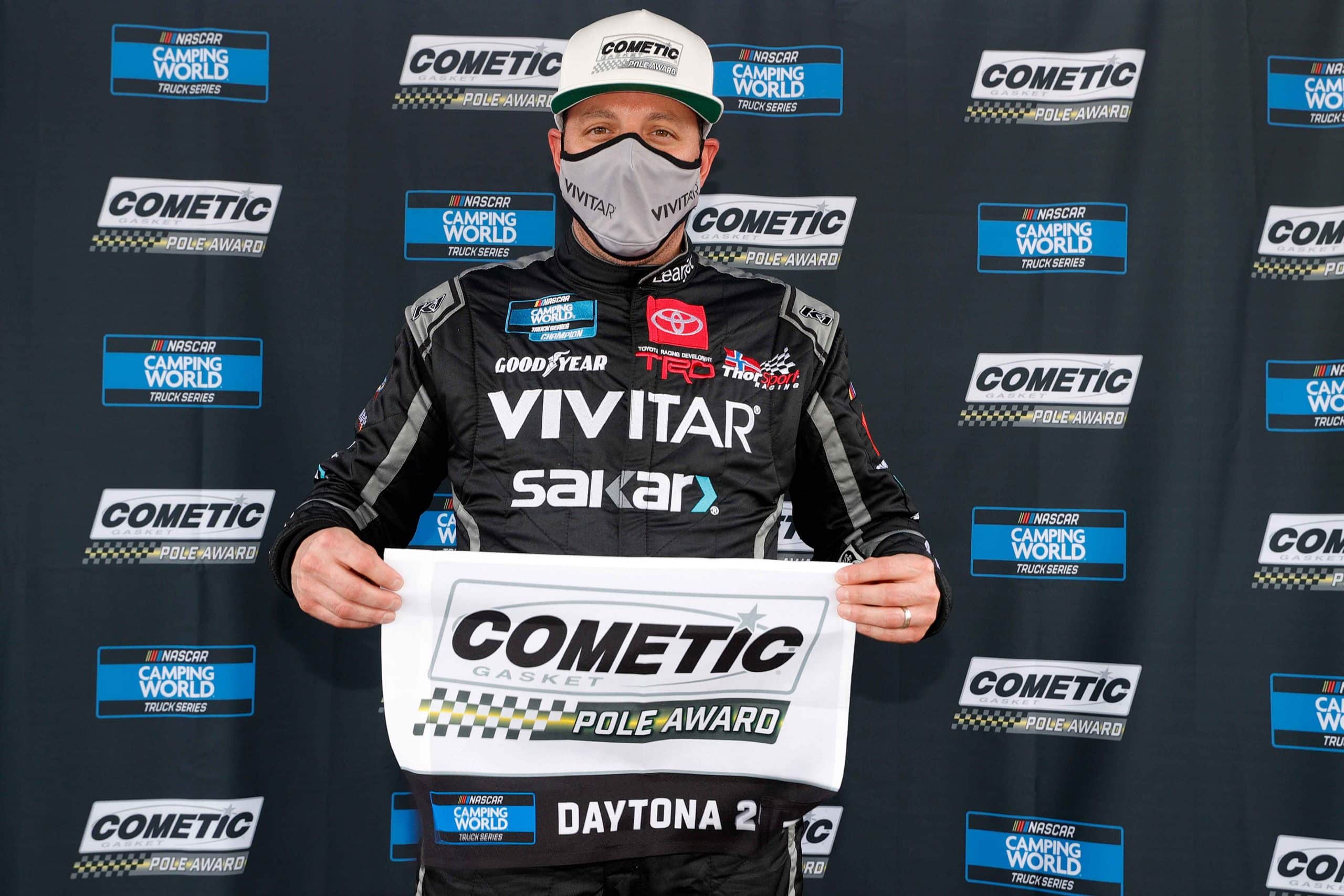 DAYTONA BEACH, Fla. – Johnny Sauter put down a 180.966 mph qualifying lap earning him the Cometic Gasket Pole Award for tonight's NextEra Energy 250 from Daytona International Speedway.
Grant Enfinger's No. 98 Champion Power Equipment/ Curb Records Tundra will roll off from the third starting position.
Matt Crafton's No. 88 Menards / Mold Armor will start from the 14th position and Ben Rhodes' No. 99 Bombardier Tundra rolls off from the 23rd starting position.
Tune in to the NASCAR Camping World Truck Series season-opener NextEra Energy 250 at 7:30 p.m. ET on FOX Sports 1, Motor Racing Network (MRN), and SiriusXM NASCAR Radio.
-TSR-
ABOUT THORSPORT RACING
ThorSport Racing, based in a state-of-the-art 100,000 square-foot facility in Sandusky, Ohio is the longest-tenured NASCAR Camping World Truck Series team, competing in the series since 1996. In its 26th season of competition, the Sandusky-based team has a combined four driver's championships – three in the Camping World Trucks and one in the ARCA Menards Series with Frank Kimmel, along with having 14 consecutive seasons with at least one win in Camping World Trucks win. For more information visit
www.thorsport.com
.
ABOUT TOYOTA
Toyota (NYSE:TM) has been a part of the cultural fabric in North America for more than 60 years, and is committed to advancing sustainable, next-generation mobility through our Toyota and Lexus brands plus our 1,800 dealerships.
Toyota has created a tremendous value chain and directly employs more than 47,000 in North America. The company has contributed world-class design, engineering, and assembly of more than 40 million cars and trucks at our 14 manufacturing plants, 15 including our joint venture in Alabama that begins production in 2021.
Through its Start Your Impossible campaign, Toyota highlights the way it partners with community, civic, academic and governmental organizations to address our society's most pressing mobility challenges. We believe that when people are free to move, anything is possible. For more information about Toyota, visit
www.toyotanewsroom.com
.
ABOUT MENARDS
With 280 stores in 14 Midwestern states, Menards has the tools, materials, and supplies for all your home improvement needs whether just needing a light bulb or can of paint to building a deck or new home. Menards is known throughout the home improvement industry as the low
price leader; it's no wonder their famous slogan – "SAVE BIG MONEY" – is so widely known
and easy to remember. Menards does things right – the company's strength and success can be seen in the well-stocked and maintained stores, the lowest prices in town, and the way guests are always treated like family in a hometown hardware store atmosphere.
ABOUT CHAMPION POWER EQUIPMENT:
Since 2003 Champion Power Equipment has earned a reputation for designing and producing the market's finest power equipment. From our original headquarters in Santa Fe Springs, California, Champion has expanded its North American footprint to include facilities in Jackson Tennessee, Milwaukee Wisconsin, and Toronto Canada. Today Champion's product line has expanded to include portable generators, home standby generators, inverter generators, engines, winches, and log splitters. With over 2.5 million generators sold in North America, Champion is a market leader in the power equipment field. For more information visit:
ChampionPowerEquipment.com
.
ABOUT SAKAR INTERNATIONAL
Sakar International, Inc. is a leading provider of consumer electronics and accessories. With a rich heritage of technology innovation since 1977, Sakar has developed a global presence by consistently evolving alongside technology to develop on-trend, cutting-edge products. Sakar licenses more than 40 major entertainment and corporate brands and has maintained a diverse portfolio of product offerings including: cellular accessories, youth electronics, digital cameras, karaoke machines, fitness, health & beauty, smart home, toy, wheeled goods, and much more. For more information, visit
www.Sakar.com/corporate
,
www.Vivitar.com
. Follow the company on social media on
Facebook
,
Twitter
,
YouTube,
and
Instagram
.
ABOUT BOMBARDIER
Bombardier is a global leader in aviation, creating innovative and game-changing planes. Our products and services provide world-class experiences that set new standards in passenger comfort, energy efficiency, reliability and safety.
Headquartered in Montréal, Canada, Bombardier is present in more than 12 countries including its production/engineering sites and its customer support network. The Corporation supports a worldwide fleet of approximately 4,900 aircraft in service with a wide variety of multinational corporations, charter and fractional ownership providers, governments and private individuals.