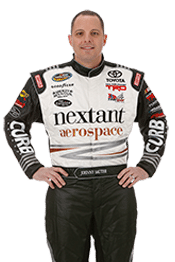 Team Information:
2015 Driver Point Standings: 4th
2015 Owner Point Standings: 4th
Crew Chief: Doug George
Sandusky, Ohio (September 14, 2015) –  The American Ethanol 225 at Chicagoland Speedway in Joliet, Ill. is not only the site of race No. 16 on the 2015 NASCAR Camping World Truck Series (NCWTS) schedule, the 1.5-mile D-shaped tri-oval is also the site of Johnny Sauter's first NASCAR Xfinity Series win in 2002. In fact, Sauter is one of only two drivers entered in Friday night's 150-lap event that has a win in the "Windy City."
Sauter, who will pilot the No. 98 Nextant Aerospace/Curb Records Toyota Tundra in the 7th annual event, is still looking for his first win of the 2015 season. The new dad, to Ms. Anne Louise Sauter, who was born on Thursday, September 3, is hoping he can find his way to victory lane on Friday night. If he can do so, the ThorSport Racing driver will extend his winning streak to seven consecutive NCWTS seasons. In fact, only three drivers have been able to do so in the 20-year history of the NCWTS (Todd Bodine, Kyle Busch, and Ron Hornaday, Jr.).
Sounding Off – Johnny Sauter:
"Chicagoland Speedway is one mile-and-a-half track that you don't ever feel like you're truly going straight down the straightaways. It's a really rough surface and it's progressively getting worse every year, making grip crucial. This track has kind of been an Achilles Heel for me. Last year I thought we had a great truck, started on the pole, led the first 30 laps thinking 'this is pretty good.' Then all of a sudden the wheels fell off the wagon, as they say. Handling is a premium and you have to make sure you've got it right, especially for the long haul."
News & Notes:
Chassis Chatter…The No. 98 ThorSport Racing team will unload chassis No. 42 for Friday night's American Ethanol 225 at Chicagoland Speedway. This chassis was last seen at Kentucky Speedway in Sparta (July). Sauter started fifth and finished 12th.
Windy City Stats… Sauter will be making his seventh start at Chicagoland Speedway on Friday night. In six previous starts the ThorSport Racing driver has led 26 laps en route to two top-five and four top-10 finishes.
2015 Season in Review… In 15 NCWTS starts in 2015, Sauter has completed 2252 of 2255 laps attempted (99.9%), and led 53 laps en route to five top-five and 11 top-10 finishes. The ThorSport Racing driver has an Average Start of 11.3 and an Average Finish of 8.7 with a Best Start of fourth at Texas Motor Speedway in Fort Worth and Gateway (Ill.) Motorsports Park, and a Best Finish of third at Kansas Speedway in Kansas City and Gateway.
Previous Race Recap…Sauter started a track-best ninth and finished a track-best sixth in the NCWTS 250 at Canadian Tire Motorsports Park (Aug.30), his second top-10 finish in threes starts at the 10-turn road course.
Sauter's NCWTS Stats at Chicago:
Six starts since 2009

902 of 904 laps completed (99.8%)

26 laps led (2014)

Two top-five finishes

Four top-10 finishes

Best start: 1st (2014)

Best finish: 4th (2010)

Average start: 9.8

Average finish: 10.2
Johnny Sauter's 2014 Highlights:
Finished fourth in the NCWTS driver point standings

Sixth consecutive full-time season driving for ThorSport Racing

Earned a win at Michigan International Speedway in Brooklyn, extending his win streak to six consecutive

seasons

Earned eight top-five and 16 top-10 finishes

154 laps led

Average finish: 9.3
Sauter's Career Truck Series Stats:
167 starts since 2003

10 wins

61 top-five finishes

97 top-10 finishes

Five poles

25,137 laps completed

1212 laps led

Average start: 10.7

Average finish: 10.8
Race Information:
Date: Friday, September 18, 2015
Time: 8:30 p.m. ET on FOX Sports 1
Track Details: 1.5-mile D-shaped Tri-oval
Distance: 150 laps/225 miles