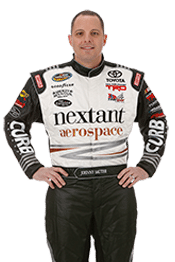 Team Information:
2015 Driver Point Standings: 4th
2015 Owner Point Standings: 5th
Crew Chief: Doug George
Sandusky, Ohio (July 28, 2015) – Johnny Sauter, driver of the No. 98 Nextant Aerospace/Curb Records Toyota Tundra will make his sixth start at Pocono (Pa.) Raceway in Saturday afternoon's Pocono Mountains 150. In five starts at the the 2.5-mile Long Pond, Pa. track, Sauter has two top-five finishes. At a track the Necedah, Wisc. driver considers, "not his favorite," the NASCAR Camping World Truck Series (NCWTS) veteran earned a track-best start of sixth, and a track-best finish of second at the "Tricky Triangle" in 2014. As one of only five drivers to compete in all five races at Pocono Raceway, Sauter aims to improve on his previous result, and bring home his first win of the 2015 NCWTS season on Saturday afternoon.
Sounding Off – Johnny Sauter:
"Pocono isn't my favorite. It's an interesting place, it's unique. Our race is really short, and I think that adds an interesting element to our race versus some of the other races there. I would expect, judging off what I've experienced this year, that track position will be ultra important. You will probably see some guys make some green flag pit stops early in the race, when they know they can make it the rest of the way on fuel. You will probably see two tire pit stops; running the entire race on their left sides. I can see it being a track position race more than anything."
"The tunnel turn has been my achilles heel for whatever reason. Turn 1 is easy, and I have a good feel for that. The tunnel turn however has just been hard for me to get a hold of. Turn 3 is a pretty common corner, I guess you could say. You have to make sure to get a good exit because you have the long straightaway, so you're not bogged down. Turn 3 is a flat-track corner, but you're going a lot faster getting into that corner than you would be anywhere else, so it changes it up a little bit. There's nothing else you can relate the tunnel turn to, as far as race tracks we go to, it just so unique."
News & Notes:
Chassis Chatter… The No. 98 ThorSport Racing team will unload chassis No. 45 for Saturday's Pocono Mountains 150. This chassis was last seen at Texas Motor Speedway in Fort Worth (June). Sauter started fourth and finished fourth. This particular chassis was also run at Atlanta (Ga.) Motor Speedway (March). Sauter started 13th and finished sixth.
Off-Weekend Fun… Sauter won the 2015 Larry Detjens Memorial race on Saturday, July 25 at State Park Speedway in Wausau, WI. Congrats Johnny!
2015 Season Review… In 11 NCWTS starts in 2015, Sauter has completed 1817 of 1820 (99.8%) of laps attempted, and has led 18 laps en route to four top-five and seven top-10 finishes.
Pocono Possibilities… ThorSport Racing, Toyota, and Triad Racing Technologies are looking for their first wins at Pocono Raceway in the NCWTS.
Previous Race Recap…Sauter started seventh and finished 22nd in the 3rd Annual 1-800-Car-Cash Mud Summer Classic at Eldora Speedway.
Sauter's NCWTS Stats at Pocono:
Five starts since 2010
254 of 276 laps completed (92.0%)
0 laps led
Two top-five finishes
Best start: 6th (2014)
Best finish: 2nd (2014)
Average start: 12.0
Average finish: 13.2
According to NASCAR's Loop Data Statistics, Sauter ranks:

16th in Average Running Position
15th in Driver Rating (76.0)
Fifth in Laps in the Top 15 (161)
Sauter's Eldora Speedway NCWTS Performance Profile:
| | | | | | |
| --- | --- | --- | --- | --- | --- |
| Date | Started | Finished | Laps | Status | Led |
| 2010 | 12 | 14 | 55/55 | Running | 0 |
| 2011 | 16 | 4 | 53/53 | Running | 0 |
| 2012 | 13 | 27 | 28/50 | Running | 0 |
| 2013 | 13 | 19 | 54/54 | Running | 0 |
| 2014 | 6 | 2 | 64/64 | Running | 0 |
Johnny Sauter's 2014 Highlights:
Finished fourth in the NCWTS driver point standings
Sixth consecutive full-time season driving for ThorSport Racing
Earned a win at Michigan International Speedway in Brooklyn, extending his win streak to six consecutive seasons
Earned eight top-five and 16 top-10 finishes
154 laps led
Average finish: 9.3
Sauter's Career Truck Series Stats:
163 starts since 2003
10 wins
60 top-five finishes
93 top-10 finishes
Five poles
24,702 laps completed
1,177 laps led
Average start: 10.7
Average finish: 10.8