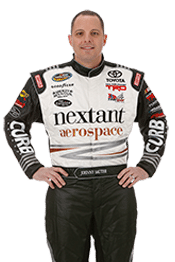 Team Information:
2015 Driver Point Standings: 4th (-40)
2015 Owner Point Standings: 6th
Crew Chief: Doug George
Sandusky, Ohio (June 1, 2015) – When looking up dominance at Texas Motor Speedway (TMS) in the dictionary, you will find ThorSport Racing's name, specifically, Nextant Aerospace driver, Johnny Sauter. In 13 NASCAR Camping World Truck Series (NCWTS) starts at the Fort Worth track, Sauter has two wins, which include a 2012 sweep of both the June and November NCWTS races, two poles, 224 laps led, five top-five and 10 top-10 finishes. His success at the 1.5-mile track has him leading active NCWTS drivers entered in the 35th annual event with the most wins, and scored within the top-two in the following categories; Driver Rating, Fastest Laps Run, Laps in the Top 15 and Laps Led.
With sub-par runs in the last two NCWTS races of the season at Charlotte (N.C.) Motor Speedway and Dover (Del.) International Speedway, Sauter is looking forward to getting back to a mile-and-half track where he scored his season-best, third place finish at Kansas Speedway in Kansas City, KS earlier this year. In fact, six of Sauter's career wins have come at intermediate race tracks, including his last series win at Michigan International Speedway in Brooklyn (August, 2014).
At a venue where the ThorSport Racing driver has more wins than any other driver entered, Sauter can't think of a better time to get back on track, and back to victory lane than Friday night's WinStar World Casino 400k.
Sounding Off – Johnny Sauter:
"Texas is just one of my favorite racetracks, plain and simple – we swept it in 2012. The bumps in Turns 1 and 2 are more pronounced and have given the track a lot of character. In the past, you were able to straddle them and get by there, but now I feel like the bumps are moving out, and its widened out the groove a little bit. Turns 3 and 4 are 'racey' and you can run all over. The track has gotten older, has a lot of character and you can run the whole track, but I prefer the bottom groove. If the balance is right, you can run wide open – when it's right it's the best place to race. Texas is just a place we've run so well at – won races, have numerous top-five finishes so it's a good track for us."
News & Notes:
Chassis Chatter…The No. 98 ThorSport Racing team will unload chassis No. 45 for Friday night's Lucas Oil 200 at Texas Motor Speedway. This chassis was last raced at Atlanta (Ga.) Motor Speedway in March. Sauter started 13th and finished sixth.
Previous Race Recap… Starting 16th, Sauter searched for balance in his Toyota Tundra throughout the 200-lap, Lucas Oil 200 at Dover (Del.) International Speedway. Running as has high as third, and as low as 21st, due to pit strategy, the ThorSport Racing driver was able to secure his fifth top-10 finish of the 2015 NCWTS season, finishing 9th.
Sauter's NCWTS Stats at Texas:
13 starts since 2005
2060 of 2060 laps completed (100%)
224 laps led
Five top-five finishes
10 top-10 finishes
Best start: First (June 2009, 2013)
Best finish: First (June & November 2012)
Average start: 10.1
Average finish: 6.9
According to NASCAR's Loop Data Statistics, Sauter ranks:

Third in Average Running Position: 6.48
Second in Driver Rating: 110.1
Second in Fastest Laps Run: 199
Second in Laps in the Top 15: 1972
Second in Laps Led: 224
Sauter's Texas Motor Speedway NCWTS Performance Profile:
| | | | | | |
| --- | --- | --- | --- | --- | --- |
| Date | Started | Finished | Laps | Status | Led |
| 06/2005 | 33 | 11 | 167/167 | Running | 0 |
| 06/2009 | 1 | 6 | 167/167 | Running | 42 |
| 11/2009 | 6 | 6 | 147/147 | Running | 0 |
| 06/2010 | 9 | 2 | 169/169 | Running | 0 |
| 11/2010 | 7 | 2 | 147/147 | Running | 31 |
| 06/2011 | 5 | 22 | 168/168 | Running | 56 |
| 11/2011 | 12 | 7 | 148/148 | Running | 15 |
| 06/2012 | 20 | 1 | 167/167 | Running | 41 |
| 11/2012 | 13 | 1 | 147/147 | Running | 28 |
| 06/2013 | 1 | 7 | 167/167 | Running | 11 |
| 11/2013 | 8 | 2 | 147/147 | Running | 0 |
| 06/2014 | 4 | 7 | 167/167 | Running | 0 |
| 11/2014 | 12 | 16 | 152/152 | Running | 0 |
Johnny Sauter's 2014 Highlights:
Finished fourth in the NCWTS driver point standings
Sixth consecutive full-time season driving for ThorSport Racing
Earned a win at Michigan International Speedway in Brooklyn, extending his win streak to six consecutive seasons
Earned eight top-five and 16 top-10 finishes
154 laps led
Average finish: 9.3
Sauter's Career Truck Series Stats:
158 starts since 2003
10 wins
58 top-five finishes
91 top-10 finishes
Five poles
23,879 laps completed
1159 laps led
Average start: 10.8
Average finish: 10.8
Race Information:
Date: Friday, June 5, 2015
Time: 9 p.m. ET on FOX Sports 1
Track Details: 1.5-mile oval
Distance: 167 laps/250.5 miles
Team Website: www.ThorSport.com
Driver Website: www.Johnny-Sauter.com
Sponsor Website: http://www.NextantAerospace.com www.Curb.com
Twitter: @ThorSportRacing, @JohnnySauter