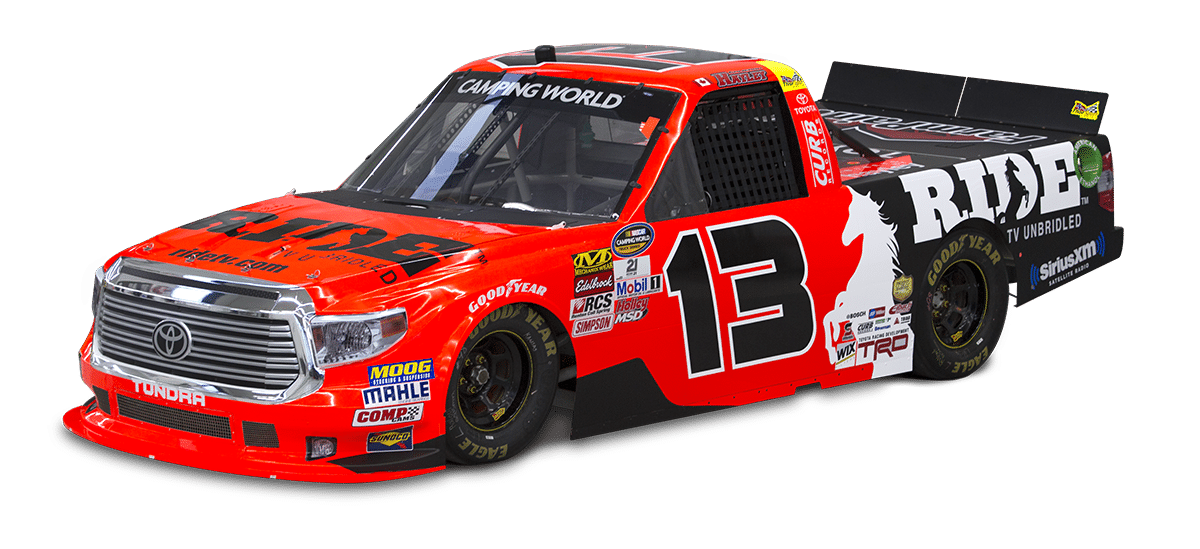 Sandusky, Ohio (August 17, 2016) – ThorSport Racing is honored to announce a partnership with Ride Television Network, Inc. (RIDE TV), a 24-hour, high-definition, television network, dedicated to providing quality entertainment to equestrian and agriculture enthusiasts. The Fort Worth, Texas network, which delivers programming to those that enjoy and care about anything and everything horse related, will be featured on the No. 13 Toyota Tundra driven by second-year NASCAR Camping World Truck Series (NCWTS) driver, Cameron Hayley, beginning at Bristol and for select races in 2016 and beyond.   
"ThorSport Racing is honored to partner with RIDE TV, the nation's first equestrian lifestyle network," said Matthew LaNeve, VP of Marketing at ThorSport Racing. "We will feature their brand, partners, and programs on TSR's Toyota Tundra's in 2016 and beyond. We are confident this partnership will help us equate 'horsepower' both on and off the race track to the millions of loyal NASCAR fans."
RIDE TV allows you to channel your passion for the horse lifestyle. The 24-hour network airs a mix of reality shows, equine event coverage, inspiring documentaries, cooking demonstrations, children's programs, and more. Their unique programming features celebrities, champions, and the personalities at the heart of America's horse culture. RIDE TV is covering all breeds, all disciplines, all the time.
"RIDE TV is very excited to partner with ThorSport Racing" said RIDE TV President, Craig Morris. "We are the new leader in equine-related television content, so it only makes sense to hitch our wagon with other leaders in their respective industry. Having RIDE TV (branded on a NASCAR national series) plastered across the hood of a 200mph truck was not in our original plan, but it just goes to show you that you can find horse people everywhere, and everywhere is where we want to be!" 
The equestrian lifestyle channel will make their debut onboard the No. 13 RIDE TV Toyota Tundra of Hayley in the UNOH 200 at Bristol Motor Speedway on Wednesday, August 17. The 200-lap race will be televised on FOX Sports 1, in addition to coverage on MRN, and SiriusXM NASCAR Channel 90 at 8:30pm ET.
Watch RIDE TV on DISH Network Channel 248, or find out how to watch RIDE TV on your local cable operator by visiting www.RIDETV.com. You can also follow RIDE TV on Facebook at Facebook.com/ridetvnetwork or on Twitter @RideTV.
About Ride Television Network, Inc.
Ride Television Network, Inc. is a privately held corporation based in Fort Worth, Texas. The company was formed in 2011 for the purpose of launching a 24-hour, high definition, television network. RIDE TV launched on October 1, 2014 in the United States and is now available internationally. The network features high-quality television programming showcasing both English and Western disciplines and lifestyles and includes live events, reality shows, talk shows, children's programming, documentaries and more. For more information about RIDE TV, please visit www.ridetv.com
About ThorSport Racing:
ThorSport Racing, based in Sandusky, Ohio, is the longest-tenured NASCAR Camping World Truck Series team. ThorSport Racing, which has competed in the NCWTS since 1996, will run the No. 88 Menards Toyota Tundra driven by two-time NCWTS drivers' champion Matt Crafton, the No. 13 RIDE TV Toyota Tundra driven by Cameron Hayley, the No. 41 Alpha Energy Solutions Toyota Tundra driven by Ben Rhodes, and the No. 98 Safelite/Curb Records Toyota Tundra driven by Rico Abreu in 2016. For more information visit www.ThorSport.com