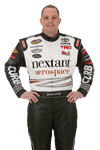 Sandusky, Ohio (February 11, 2015) – Cleveland, Ohio-based Nextant Aerospace, a Directional Aviation Capital company and the world leader in business aircraft remanufacturing, soared into the NASCAR Camping World Truck Series (NCWTS) in 2014 as the primary sponsor of Johnny Sauter and ThorSport Racing.
In 2015, Nextant Aerospace will continue their presence on the No. 98 Toyota Tundra driven by perennial championship contender, Johnny Sauter, as well as associate sponsorship throughout 2015. The partnership, which is in its second season, is due to take flight for its first primary race of the season at Atlanta (Ga.) Motor Speedway later this month.
"I'm honored to represent Nextant Aerospace for the second consecutive year," said Johnny Sauter, driver of the No. 98 Nextant Aerospace Toyota Tundra. "They joined ThorSport Racing in 2014 and are just as passionate about innovative technology, and keeping ahead of the competition as I am about driving. The will to win drives us every day and I look forward to testing those limits with them again this season."
Nextant Aerospace and ThorSport Racing are proud of their shared Ohio heritage. For ThorSport Racing, its geographical location, far from the hub of NASCAR in North Carolina, makes the organization's NCWTS success, which includes two championships, 15 wins, 12 poles, 132 top-five, and 278 top-10 finishes, all the more significant. To make its competitive efforts more efficient, ThorSport Racing acquired a Nextant 400XTi to support racing logistics.
"The partnership just made perfect sense to us," said team owner, Duke Thorson. "ThorSport Racing and Nextant Aerospace are two Ohio-based companies that are focused on building business and winning in their respective industries. Through this partnership, we acquired a Nextant jet and I couldn't be happier with their product – the superior speed, value and comfort is world class. Together we will continue to build brand identity for Nextant Aerospace in the motorsports world while continuing to aim for excellence on the race track."
Both companies have a reputation as entrepreneurial organizations whose independent thinking and pioneering attitude differentiate them from the competition. Together they intend to reinforce each other's brands, performance and sales.
"The partnership with ThorSport Racing was more than just a transaction," said Nextant President, Sean McGeough. "We are both passionate about producing a quality product and taking it to the front of the field. Johnny showed us he could do that with his win at Michigan in 2014 and we look forward to another successful year in 2015."
Sauter will launch his seventh full-time season in the NCWTS with ThorSport Racing in 2015. The 2009 NCWTS Rookie of the Year driver has amassed 10 wins, five poles, 56 top-five and 86 top-10 finishes in 152 starts and will be a strong contender for the one thing that has eluded his career; a NCWTS championship.
In addition to Atlanta Motor Speedway, Nextant Aerospace will also adorn Sauter's No. 98 Toyota Tundra at Kansas Speedway in Kansas City (May), Texas Motor Speedway in Fort Worth (June), Gateway Motorsports Park in Madison, Ill. (June), Iowa Speedway in Newton (June), Kentucky Speedway in Sparta (July), Eldora Speedway in Rossburg, Ohio (July), Pocono (Pa.) Raceway (August), Michigan International Speedway in Brooklyn (August), Canadian Tire Motorsports Park in Bowmanville, Ontario, Canada (August), Chicagoland Speedway in Joliet (Sept.), Las Vegas (Nev.) Motor Speedway (Oct.), Phoenix (Ariz.) International Raceway (Nov.), and the season-finale at Homestead-Miami (Fla.) Speedway (Oct.).
For more on ThorSport Racing visit: ThorSport.com, or follow us on Facebook or tweet with us @ThorSportRacing
For more on Nextant Aerospace visit: NextantAerospace.com, or follow them on Facebook or tweet with them @NextantAero
About Nextant Aerospace
Nextant's pioneering process for remanufacturing business jets is now recognized as an established technical and commercial success worldwide with significant sales in every major operator category and class-leading levels of comfort, performance, and reliability at a purchase price half that of comparable aircraft. The revolutionary 400XTi light jet features Williams FJ44-3AP engines and the Rockwell Collins Pro Line 21(tm) integrated flight deck. The same winning combination is expected to repeat this success with the Nextant G90XT turboprop powered by next-generation GE H75-100 engines and an enhanced Garmin G1000 integrated flight deck. Founded in 2007, Nextant is a Directional Aviation company based in Cleveland, Ohio. For more information, visit www.NextantAerospace.com, like us on Facebook, follow us on Twitter @NextantAero or join us on LinkedIn.
About Directional Aviation Capital
Directional Aviation Capital is a private investment firm whose singular focus is private business aviation. Combining strategic aviation ownership, unmatched experience and revolutionary vision, Directional continues to innovate and reshape private aviation. Directional's unique industry expertise enables them to quickly understand business aviation companies and provide the financing and operational strategy needed to take advantage of evolving market opportunities. For more information, visit www.DirectionalAviation.com.
About ThorSport Racing
ThorSport Racing, based in a state-of-the-art 100,000-square-foot facility in Sandusky, Ohio, is the longest-tenured NASCAR Camping World Truck Series team. ThorSport, which has competed in the NCWTS since 1996, will run the No. 88 Menards Toyota Tundra driven by two-time NCWTS drivers' champion Matt Crafton, the No. 98 Nextant Aerospace/Smokey Mountain Herbal Snuff/Curb Records Toyota Tundra driven by Johnny Sauter, and the No. 13 Cabinets by Hayley Toyota Tundra driven by Sunoco Rookie of the Year contender, Cameron Hayley in 2015.