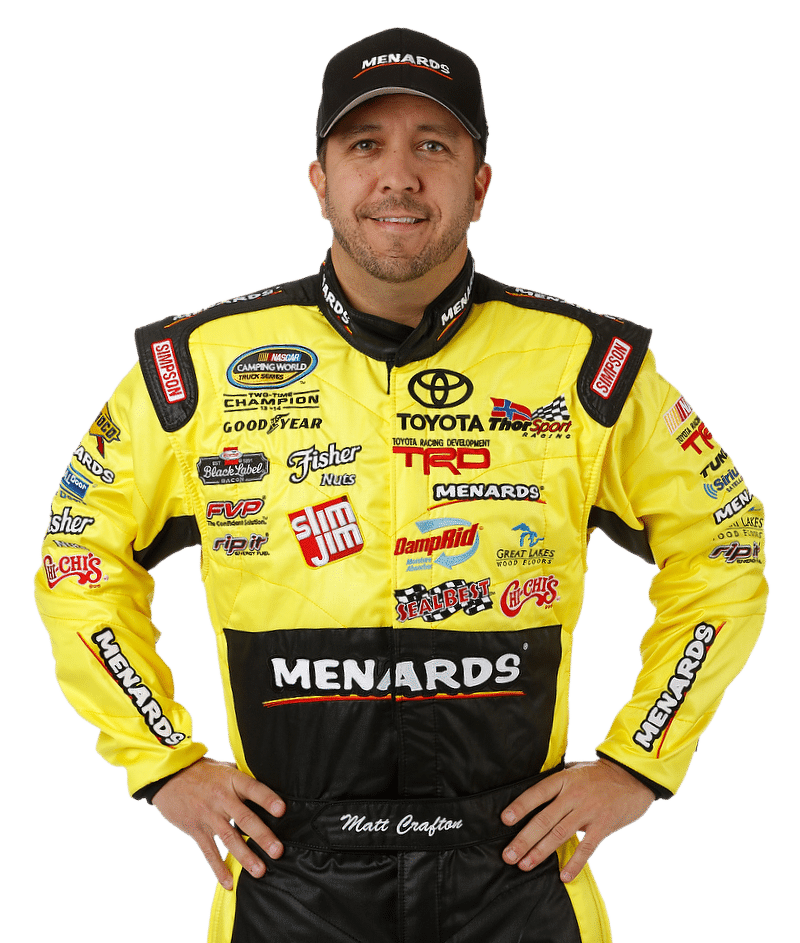 Team Information:
Started: 17th
Finished: 1st
Laps: 134/134
Laps Led: 47
Status: Running
Driver Points: 1st
Owner Points: 1st
Matt Crafton Race Recap:
Matt Crafton, driver of the No. 88 Damp Rid/Menards Toyota Tundra, won Saturday afternoon's rain-postponed NC Education Lottery 200 at Charlotte Motor Speedway. The win marked the ThorSport Racing driver's 13th career NASCAR Camping World Truck Series (NCWTS) victory in 367 starts, and his second win in 14 starts at the 1.5-mile oval in Concord, NC. Crafton's feat was also the first time the series veteran has won back-to-back races in 16 full-time seasons in the NCWTS, winning at Dover International Speedway just one week ago. The Menards driver is now the only driver to claim two wins in the 2016 NCWTS season, locking the two-time champion into the series new chase, which kicks off at New Hampshire Motor Speedway on September 24.
Starting from the 17th position, when qualifying was cancelled due to weather, and the field was set based on the rule book – practice times from Thursday evening – Crafton took the led at lap 80 of 134, and went on to lead the 32-truck field twice for a race-high 47 laps, and won the 14th annual NCWTS event at CMS. Crew chief, Carl "Junior" Joiner brought the No. 88 Menards Toyota Tundra down pit road three times during the 201-mile race at laps 24, and 68, under caution for four tires and fuel, and at lap 123 under green for fuel only. As green flag pit stops cycled through in the final 10 laps, Crafton battled former teammate, Johnny Sauter, for the lead, as Sauter tried to stretch his fuel mileage in the final laps. However, with two laps remaining, Crafton passed, and pulled away from Sauter to win the NC Education Lottery 200. After two wins, three top-five and five top-10 finishes in 2016, Crafton leads the NCWTS point standings by 12 over second-place Timothy Peters.
Quote:
Were you surprised with how strong your truck was in the last half of the race?
"The crazy part about it, we didn't make a whole lot of changes. They made all the changes last night – two nights ago Junior (Carl Joiner, crew chief) and I went to dinner and sat until 11:00, and thought of a ton of things. We had a list of about 20 or so things, and I think he changed 15 or more of those things. We got about halfway through the changes yesterday that he was telling me that he did, and I was like, 'I'm good, I don't need to know anything else you did to it.' I knew we were off at Dover in practice, but this was the worst we've been in a long time during practice. They wholesaled this thing, and from lap one on I knew it was game time. The first pit stop I slid through the box – just had a goofy pit box there – and had another one on the second stop, but this Menards Toyota Tundra was right there at the end."
What does it mean to have beat Kyle Busch today?
"It was definitely very, very good to be able to beat him. He's won a lot of races here and anybody who can beat Kyle Busch in one of these Truck races, you're doing something. And I definitely know that we beat him today."
Did you know this was the first time you've won back-to-back races?
"Actually I did know that because somebody just brought that to my attention last week, and said can you do it. Last year we came really close, we went to Atlanta and then we were second at Martinsville and got beat on a green-white-checkered finish, and it feels very good to have a back-to-back wins."
Notes:
Rain cancelled two of the three scheduled practice sessions on Thursday afternoon at Charlotte Motor Speedway (CMS) due to rain. Following the one-hour final practice session, Matt Crafton, driver of the No. 88 Damp Rid/Menards Toyota Tundra was 17th fastest of 36 trucks.

Qualifying for the 14th annual event was cancelled on Friday afternoon due to weather. The 32-truck field was set based on the rule book – practice speeds – and Crafton rolled off from the 17th position for the 134-lap event.

Making his 14th career start at CMS, Crafton started 17th, led the field twice for 47 laps, and finished first.

Crafton led a race-high 47 laps en route to the sixth consecutive national series NASCAR win for Toyota – dating back to the NCWTS win by William Byron at Kansas.

In 14 starts at CMS, Crafton has led 100 laps en route to two wins, six top-five and 11 top-10 finishes.

In 2016, Crafton has one pole (Atlanta), two wins, and has led 261 laps en route to three top-five, and five top-10 finishes

In 367 career NCWTS starts, Crafton has led 1950 laps en route to 12 poles, 13 wins, 92 top-five and 215 top-10 finishes

Crafton's ThorSport Racing teammates finished 15th (Hayley), 17th (Rhodes), and 20th (Abreu)

Up next: The Rattlesnake 200 on Friday, June 10 at Texas Motor Speedway