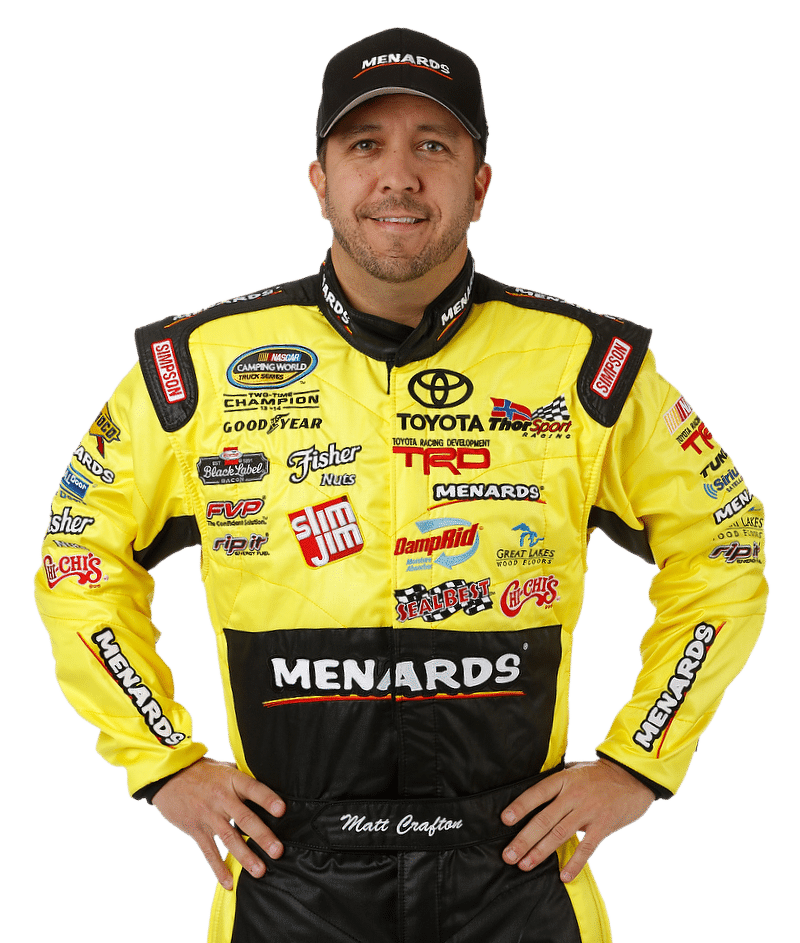 Team Information:
Started: 4th
Finished: 2nd
Laps: 167/167
Laps Led: 133
Status: Running
Driver Points: 1st (+18)
Owner Points: 1st
Matt Crafton Race Recap:
Matt Crafton, driver of the No. 88 Ideal Door/Menards Toyota Tundra, proved to be the class of the field in Friday night's NASCAR Camping World Truck Series (NCWTS) Rattlesnake 400 at Texas Motor Speedway. Leading the 32-truck field five times, for a race-high 133 of 167 laps, the two-time champion came up five laps short in making it three in a row in 2016.
The No. 88 team showed speed throughout the weekend – leading the first of two practice sessions on Thursday evening, and the first round of NCWTS qualifying on Friday afternoon. Starting from the fourth position for the 167-lap event, Crafton didn't waste any time getting to the top spot. The ThorSport Racing driver took the lead from former teammate, Johnny Sauter on lap one, leading the field for the first 12 circuits until a cut tire forced the Menards driver into the wall in Turn 3 on lap 12. Crew chief Carl "Junior" Joiner brought the No. 88 machine to pit road twice, under caution, for four tires, fuel, and to repair the right-side fender. When racing resumed on lap 15, Crafton was scored in the 21st position.
In the proceeding laps, Crafton proved why he's an intermediate track icon, and that he was the truck to beat. Just 20 laps later, Crafton passed the 19 truck for the lead, and never looked back – leading 123 of the ensuing 128 laps. With no caution clock in play, the final 43 laps were caution-free, and as the long run continued, Crafton began to battle a Toyota Tundra that had "zero drive off," and on lap 163 of 167, William Byron passed the No. 88 machine for the race lead. Crafton would fall to third behind rookie teammate, Rico Abreu initially, but Abreu would make contact with the wall, allowing Crafton to cross the stripe in the second position behind race winner, Byron. The solid run marked Crafton's 12th top-five finish in 31 starts at TMS, and his fourth top-five finish in seven race in 2016.
Quote:
"If I could have done it any differently, I would have. We just lost all drive off the corner for whatever reason there. We ran so hard at the beginning of that run, and it had zero drive off. It says a lot about this team – to look at the right side of this Tundra, and how beat up this thing is. We led the most laps, and should of, could of, won this race. It's all about these guys, and never giving up."
Notes:
The NASCAR Camping World Truck Series had two practice sessions on Thursday afternoon in preparation for Friday night's Rattlesnake 400 at Texas Motor Speedway (TMS). Crafton was first, and fifth, respectively in both sessions.

Making his 31st career start at TMS, Crafton started fourth, led the field five times for a race-high 133 laps, and finished second.

In 31 starts at TMS, Crafton has led 233 laps en route to two wins, seven top-five and 12 top-10 finishes.

In seven starts in 2016, Crafton has one pole (Atlanta), two wins, and has led 394 laps en route to four top-five, and six top-10 finishes.

Crafton continues to lead the NCWTS driver point standings with a 18 point lead over second place.

In 368 career NCWTS starts, Crafton has led 2083 laps en route to 12 poles, 13 wins, 93 top-five and 216 top-10 finishes

Crafton's ThorSport Racing teammates finished ninth (Abreu), 11th (Rhodes), and 18th (Hayley).

Up Next: The Speediatrics 200 on Saturday, June 17, 2016 at Iowa Speedway