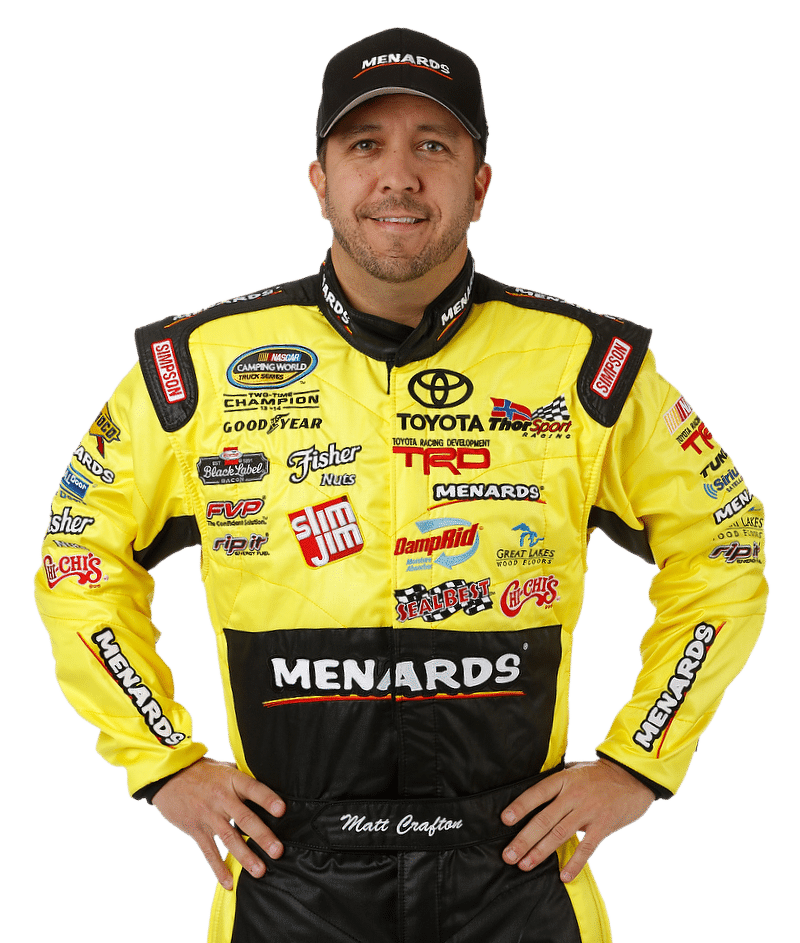 Team Information:
Crew Chief: Carl "Junior" Joiner
Manufacturer: Toyota
Engine: Triad Racing Technologies
2016 NCWTS Driver Point Standings: 1st
2016 NCWTS Owner Point Standings: 1st
Sounding Off – Matt Crafton:
You've won the last two spring races at Texas. What makes the track so different from the spring vs. the fall?  
"I love going to Texas (Motor Speedway), the spring race especially, because its so much warmer – it's just hot and slippery. You have to lift, you have to modulate the throttle a lot more, you're not just running around the first five laps wide open. Aero doesn't play as big of a role; you can search around. You get so much tire fall off, and it makes for such a great race, because you have to move around and search for new grip. It puts on such a great show for the fans."
As the track surface ages, how far up do you have to go to search for grip?
"Especially in Turns 3 and 4, you can run right up against the wall, above the seam. It's pretty hairy above that seam getting into Turns 3 and 4. In Turns 1 and 2, when you get up that high, there's that bump even on the bottom, but it's so pronounced – it's huge up top. I've never been able to make my truck work at the top of 1 and 2. You can run the middle of the race track and make some headway, but besides that I run the middle and the top of 3 and 4, but if you can make it work around the bottom, you can really wear em' out."
News & Notes:
Chassis Chatter… The No. 88 ThorSport Racing team will unload chassis No. 54 for Friday night's Rattlesnake 400 at Texas Motor Speedway (TMS). This chassis was built new in 2016, and has been utilized twice already this season, most recently at Charlotte Motor Speedway, starting 17th, and finishing first, and at Kansas Speedway, starting 13th, and finishing second.
Birthday Candles… Crafton will celebrate his 40th birthday on Saturday, June 11.
Intermediate Icon… No current NASCAR Camping World Truck Series (NCWTS) driver is better at Intermediate tracks than Crafton. Dating back to 2014, Crafton has finished in the top-10 in 18 of the last 20 races at ovals measuring 1.5 or 1.54 miles. Included in that stretch are seven wins, and four runner-up finishes.
Texas-Sized Stats… Among active series drivers, Crafton has the most starts (30), the most top-five finishes (11), the most top-10 finishes (19), the most poles (3), the most laps completed (4585), and the most lead lap finishes (21), than any other NCWTS driver entered in the 37th annual event at TMS.
Chase Status… Following his 13th career NCWTS win at Charlotte Motor Speedway two weeks ago, Crafton is the only NCWTS driver in 2016 to have two wins this season, all but locking the two-time champion into the series chase, which kicks off at New Hampshire Motor Speedway on September 24.
In The Loop – 2016… According to NASCAR's Loop Data statistics, Crafton ranks first in the following categories; Average Running Position (5.96), Driver Rating (115.4), Fastest Drivers Late in a Run, Fastest Laps Run (128), Green Flag Speed, Laps in the Top-15 (926), and Laps Led (264), and Mile Leaders (364.54).
Texas Rewind – 2015 … The ThorSport Racing driver started second, led seven times for a race-high 77 laps, and won the WinStar World Casino 400k at TMS.
Race Rewind – Charlotte… Crafton started 17th when qualifying was cancelled due to weather, led a race-high 47 laps en route to his second win at Charlotte Motor Speedway. Making it back-to-back wins for Crafton in 2016.
Major Milestone…The Tulare, California native extended the NCWTS record for consecutive starts to 367 in the NC Education Lottery 200 at Charlotte Motor Speedway, passing four-time NCWTS champion Ron Hornaday, Jr with 360 starts in the 2015 NCWTS season finale at Homestead-Miami (Fla.) Speedway. Crafton made his series debut at Auto Club Speedway in November 2000, and enters his 16th full-time season in the NCWTS, and his 15th full-time season with ThorSport Racing in 2016.
Crafton's Texas Stats:
30 starts since 2001

4585 of 4726 laps completed (97.0%)

270 laps led

Wins: 2 (Spring, 2014 & Spring, 2015)

11 top-five finishes

19 top-10 finishes

Poles: 3

Average start: 13.5

Average finish: 9.7
Crafton's 2016 NCWTS Stats:
Starts: 6

Wins: 2

Top-5 Finishes: 3

Top-10 Finishes: 5

Poles: 1 (Atlanta)

Laps Led: 261

Laps Completed: 970 of 989 (98.1%)

Start: 8.7

Average Finish: 8.5
Crafton's Career NCWTS Stats:
Starts: 367 since 2000

13 wins

92 top-five finishes

215 top-10 finishes

12 poles

038 laps completed

1950 laps led

Average start: 12.8

Average finish: 11.4