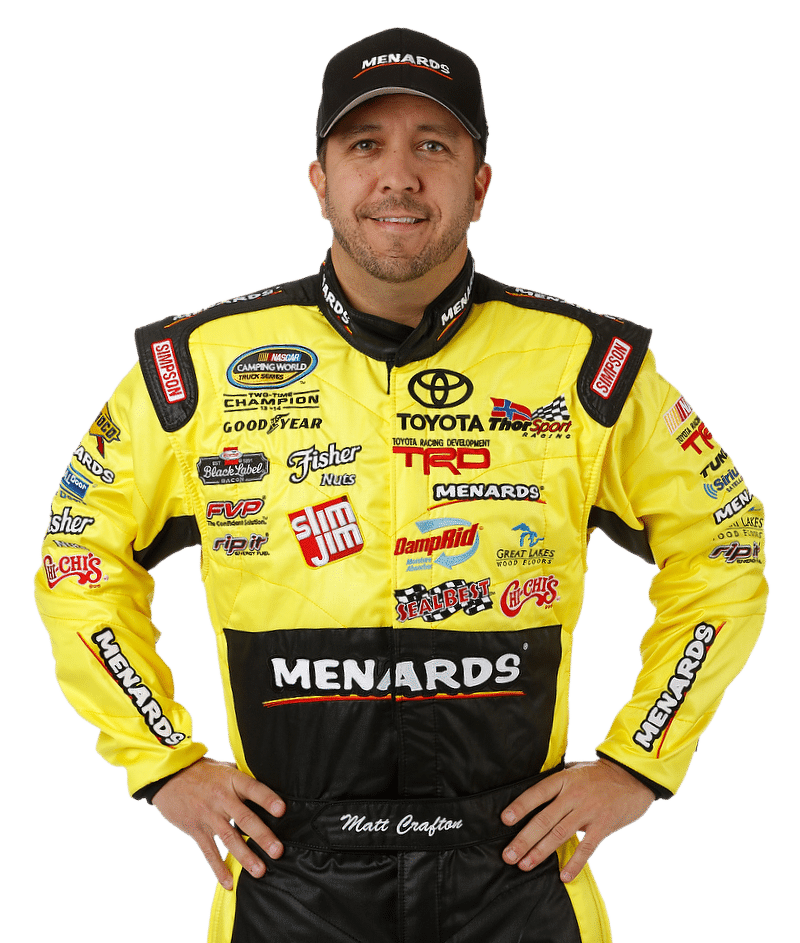 Team Information:
Crew Chief: Carl "Junior" Joiner
Manufacturer: Toyota
Engine: Triad Racing Technologies
2016 NCWTS Driver Point Standings: 2nd
2016 NCWTS Owner Point Standings: 2nd
2016 Chase Standings: 2nd
Sounding Off – Matt Crafton:
"I always love going to New Hampshire Motor Speedway. You need speed for the long straightaways, but breaking, and getting through, and off the tight paperclip-shaped corners, is where you win or lose – it's a lot like Phoenix. We just need to get a win there this weekend. We've been good in the past – third in 2014 and second last year. We just need one spot better this year. Especially since it's the first race of the Chase. We were able to win early in the first round, so doing it this weekend would take some pressure off for the next two races. This Chase puts an emphasis on winning, especially from this point on."
News & Notes:
Chassis Chatter… The No. 88 ThorSport Racing team will unload chassis No. 63 for Saturday's UNOH 175 at New Hampshire Motor Speedway. This chassis is brand new for 2016, and will make its debut at "The Magic Mile."\
Granite State Stats… Among active NASCAR Camping World Truck Series (NCWTS) drivers, Crafton has the Most Starts (13), is tied with the Most Top-Five Finishes (4), has the Most Top-10 Finishes (8), has completed the Most Laps (2432), and has the Most Lead Lap Finishes (10).
In The Loop – Loudon… According to NASCAR's Loop Data Statistics, Crafton ranks third in Average Running Position (7.85), fourth in Driver Rating (104.2), second in Fastest Laps Run (92), second in Green Flag Passes (223), and first in Laps in the Top 15 (1571) entering this weekend's event.
The Chase is On… Two-time NCWTS Champion, Matt Crafton is one of eight drivers to make the inaugural Chase, and is currently ranked second in the 2016 Chase standings.
In The Loop – 2016… According to NASCAR's Loop Data statistics, Crafton ranks first in the following categories; Average Running Position (7.83), Fastest Laps Run (225), Laps in the Top-15 (2105), and Laps Led (425). The ThorSport Racing driver ranks second in Driver Rating (102.7).
Loudon Rewind – 2015 … Crafton started 10th, and finished a track-best second in the 2015 NCWTS race at Loudon.
Race Rewind – Chicago… Making his eighth NCWTS start at Chicagoland Speedway, Crafton started 13th, ran as high as third, and settled for a 27th-place finish due to damage suffered in a late-race accident on lap 113 of 150.
Major Milestone… The Tulare, California native extended the NCWTS record for consecutive starts to 377 in the American Ethanol E15 225 at Chicagoland Speedway, passing four-time NCWTS champion Ron Hornaday, Jr with 360 starts in the 2015 NCWTS season finale at Homestead-Miami (Fla.) Speedway. Crafton made his series debut at Auto Club Speedway in November 2000, and enters his 16th full-time season in the NCWTS, and his 15th full-time season with ThorSport Racing in 2016.
Crafton's Loudon NCWTS Stats:
13 starts since 2001

2432 of 2507 laps completed (97.0%)

50 laps led

One pole: 2005

Top-5 Finishes: 4

Top-10 Finishes: 8

Best Finish: 2nd (2015)

Average start: 13.8

Average finish: 10.1
Crafton's 2016 NCWTS Stats:
Starts: 16

Wins: 2

Top-5 Finishes: 5

Top-10 Finishes: 11

Poles: 1 (Atlanta)

Laps Led: 421

Laps Completed: 2192 of 2393 (91.6%)

Avg. Start: 11.1

Average Finish: 11.8
Crafton's Career NCWTS Stats:
Starts: 377 since 2000

13 wins

Top-5 Finishes: 94

Top-10 Finishes: 221

12 poles

58,260 laps completed

2110 laps led

Average start: 12.8

Average finish: 11.5
Race Information:
Date: Saturday, September 24, 2016
Time: 1:00pm ET on FOX Sports 1, MRN Radio & SiriusXM Channel 90
Track: 1.028-mile oval
Distance: 175 laps/185.15 miles