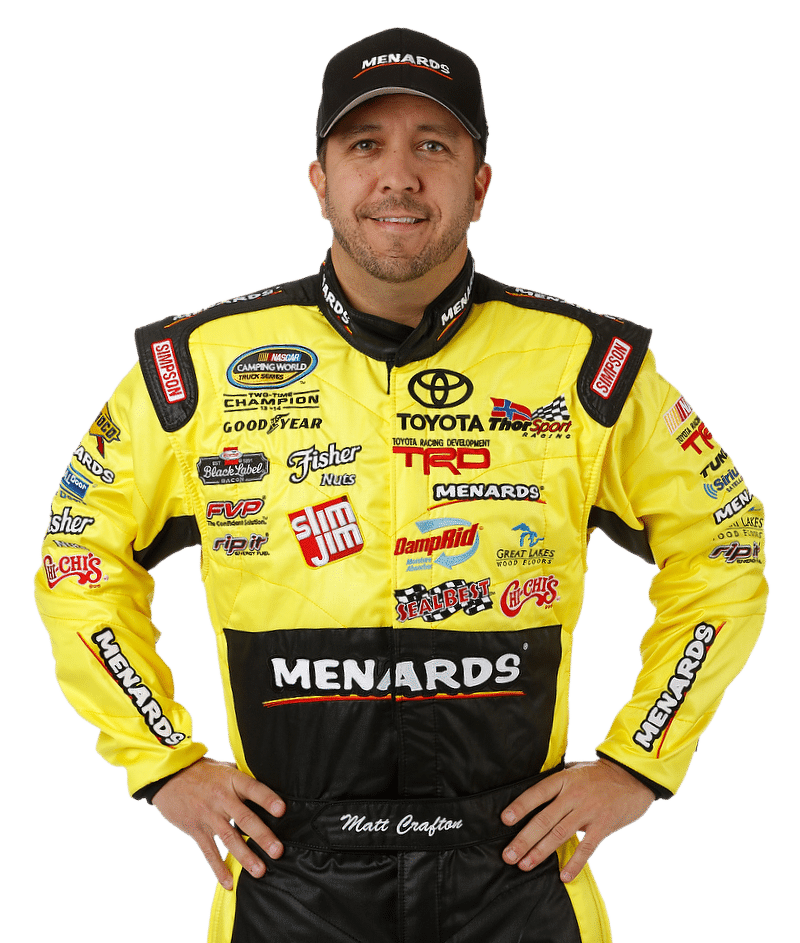 Team Information:
Started: 14th
Finished: 27th
Laps: 148/160
Laps Led: 0
Status: Accident
Driver Points: 2nd (-1)
Owner Points: 2nd
Matt Crafton Race Recap:
Matt Crafton, driver of the No. 88 Fisher Nuts/Menards Toyota Tundra, started 14th in Saturday night's NASCAR Camping World Truck Series (NCWTS) Drivin' for Linemen 200 at Gateway Motorsports Park (GMP), when qualifying was cancelled, and the 32-truck field was set based on the NASCAR rule book – a combination of both practice speeds.
Crafton, who has 13 starts at GMP, worked his way into the top-10 by lap 10, and the top-five by lap 70. The ThorSport Racing driver even maintained a second-place position through lap 110, until making his third and final pit stop of the night at lap 114, under caution, for four tires and fuel. A slow stop, for trouble on the left-front, forced Crafton to lose valuable track position for the lap 118 restart. Restarting 12th, the two-time champion was unhappy with the balance of his Toyota Tundra in traffic, and maintained a position inside the top-15 for the ensuing 30 laps, until being involved in a lap 148 accident with six other trucks, which ultimately brought out the eighth caution, and second red flag. Due to extensive damage to the Menards Toyota Tundra, Crafton would settle for a 27th-place finish behind race winner, Christopher Bell.
Notes:
The NASCAR Camping World Truck Series (NCWTS) had two practice sessions on Saturday morning in preparation for Saturday night's Drivin' for Linemen 200 at Gateway Motorsports Park (GMP). Crafton was 12th, and 13th, respectively in both sessions.

Making his 13th career start at GMP, Crafton started 14th, ran as high as second, but was involved in a late-race accident on lap 150 of 160, relegating the two-time 2016 NCWTS winner to a 27th-place finish.

In 13 starts at GMP, Crafton has led 233 laps en route to two wins, seven top-five, and 13 top-10 finishes.

In nine starts in 2016, Crafton has one pole (Atlanta), two wins, and has led 394 laps en route to four top-five, and seven top-10 finishes.

Crafton falls to second in the NCWTS driver point standings with a one-point deficit to second place.

In 370 career NCWTS starts, Crafton has led 2083 laps en route to 12 poles, 13 wins, 93 top-five and 217 top-10 finishes.

Crafton's ThorSport Racing teammates finished second (Rhodes), 14th (Abreu), and 24th (Hayley).

Up Next: The Buckle Up In Your Truck 225 at Kentucky Speedway on Thursday, July 7 at 8:30pm ET.