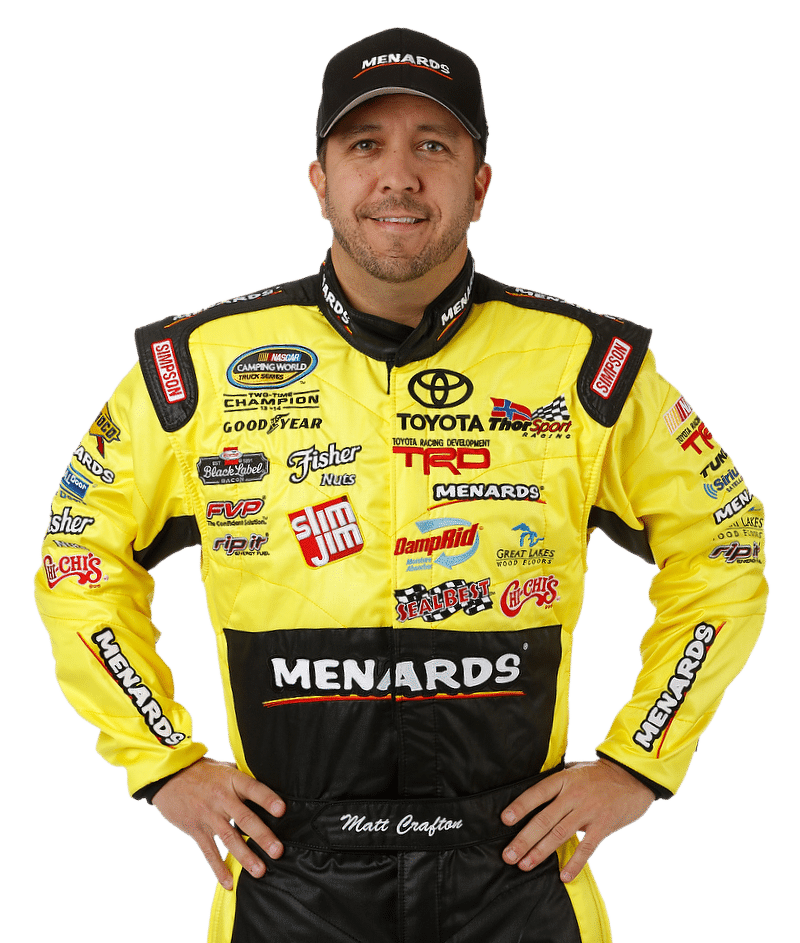 Team Information:
Crew Chief: Carl "Junior" Joiner
Manufacturer: Toyota
Engine: Triad Racing Technologies
2016 NCWTS Driver Point Standings: 4th
2016 NCWTS Owner Point Standings: 4th
2016 Chase Standings: 2nd
Sounding Off – Matt Crafton:
What makes Chicagoland Speedway so unique compared to some of the other mile-and-a-half tracks that the Truck Series runs on?
"It's widened out a lot, and it widened out fairly quick. There are multiple grooves, and the bottom's fast, without a doubt. When the tires start to fall off, you can run all the way against the fence. This race usually puts on a great show, and hopefully it does the same thing again this year."
News & Notes:
Chassis Chatter… The No. 88 ThorSport Racing team will unload chassis No. 56 for Friday night's American Ethanol E15 225 at Chicagoland Speedway. This chassis is brand new for 2016, and will make its debut on Friday night in the "Windy City."
Intermediate Track Stats… No current NASCAR Camping World Truck Series (NCWTS) driver is better at Intermediate tracks than Crafton. Dating back to 2014, Crafton has finished in the top-10 in 20 of the last 22 races at ovals measuring 1.5 or 1.54 miles. Included in that stretch are seven wins, and five runner-up finishes.
In The Loop – Chicago… According to NASCAR's Loop Data Statistics, Crafton ranks eighth in Average Running Position (8.111), first in Closer, eighth in Driver Rating (101.9), second in Fastest Laps Run (51), first in Green Flag Passes (265), and first in Laps in the Top 15 (1003), entering this weekend's event.
Chase Status – One To Go… Crafton is currently fourth in the 2016 NCWTS driver point standings after 15 races this season, but second in the NCWTS Chase grid. As one of three drivers with multiple wins in 2016, the two-time NCWTS champion is all but guaranteed a spot in the eight driver Chase which kicks off at New Hampshire Motor Speedway in Loudon on September 24.
In The Loop – 2016… According to NASCAR's Loop Data statistics, Crafton ranks first in the following categories; Fastest Laps Run (221), Laps in the Top-15 (1995), and Laps Led (425). The ThorSport Racing driver ranks second in Average Running Position (7.81), Driver Rating (104.3), and Green Flag Speed (5.545).
Chicago Rewind – 2015 … Starting second, when qualifying was cancelled due to weather, the two-time champion was plagued with a multitude of mishaps throughout the 150-lap event, and settled for a 14th-place finish.
Race Rewind – Canada… Making his fourth NCWTS start at CTMP, Crafton started from the rear of the field, due to changing brakes on his No. 88 machine following qualifying, led the field once for four laps, and finished fourth. The solid result was his second top-five finish at the 2.459-mile road course.
Major Milestone…The Tulare, California native extended the NCWTS record for consecutive starts to 376 in the NCWTS 250 at Canadian Tire Motorsports Park, passing four-time NCWTS champion Ron Hornaday, Jr with 360 starts in the 2015 NCWTS season finale at Homestead-Miami (Fla.) Speedway. Crafton made his series debut at Auto Club Speedway in November 2000, and enters his 16th full-time season in the NCWTS, and his 15th full-time season with ThorSport Racing in 2016.
Crafton's Chicago NCWTS Stats:
7 starts since 2009

1050 of 1054 laps completed (99.6%)

37 laps led

One pole: 2009

Top-5 Finishes: 3

Top-10 Finishes: 5

Best Finish: 2nd (2014)

Average start: 8.1

Average finish: 7.4
Crafton's 2016 NCWTS Stats:
Starts: 15

Wins: 2

Top-5 Finishes: 5

Top-10 Finishes: 11

Poles: 1 (Atlanta)

Laps Led: 421

Laps Completed: 2081 of 2242 (92.8%)

Start: 11.0

Average Finish: 10.7
Crafton's Career NCWTS Stats:
Starts: 376 since 2000

13 wins

Top-5 Finishes: 94

Top-10 Finishes: 221

12 poles

58,149 laps completed

2110 laps led

Average start: 12.8

Average finish: 11.5
Race Information:
Date: Friday, September 16, 2016
Time: 8:30pm ET on FOX Sports 1, MRN Radio & SiriusXM Channel 90
Track: 1.5-mile Tri-Oval
Distance: 150 laps/225 miles
About Fisher® Nuts:
Fisher® Nuts will make its 2015 debut with Matt Crafton on board the No. 88 Toyota Tundra at AMS. Fisher® Nuts is a brand owned by John B. Sanfilippo & Son, Inc. (NASDAQ: JBSS), a company founded in 1922 that's a leading processor, marketer and distributor of baking nuts, snack nuts and nut-based products that are sold in multiple distribution channels. Its products can be found under the Fisher®, Orchard Valley Harvest™ and Sunshine Country® brand names and a variety of private labels. For more information visit: www.FisherNuts.com