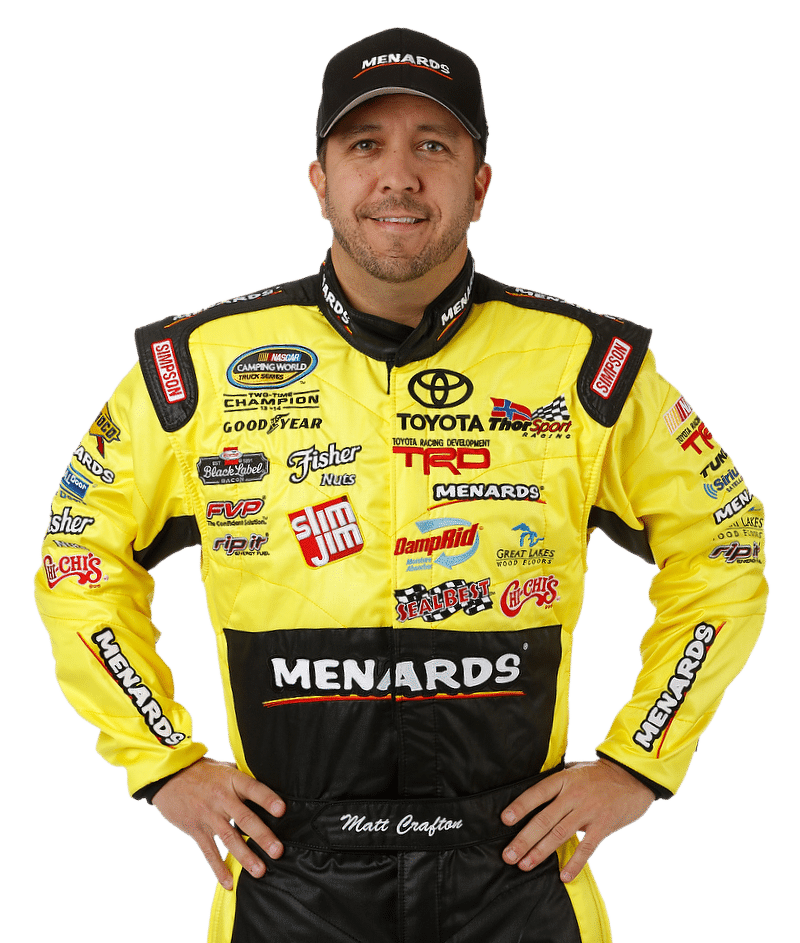 Team Information:
Crew Chief: Carl "Junior" Joiner
Manufacturer: Toyota
Engine: Triad Racing Technologies
2016 NCWTS Driver Point Standings: 5th
2016 NCWTS Owner Point Standings: 5th
2016 Chase Standings: 2nd
Sounding Off – Matt Crafton:
You finished second at Canadian Tire Motorsports Park in 2015. In general, do you like road racing?
"Oh, I love to road race. It's a blast, and I have a lot of fun doing it. I think we need one more on the schedule, to be totally honest. There are a lot of us (teams) that actually have a specialty road course truck, and we just run it one time a year. It just goes and sits in the basement after that. There's a ton of really cool road courses that we could go run, and we don't, it's a shame."
What makes Canadian Tire Motorsports Park challenging? A lot of high speed corners, a lot of elevation changes, what's the most difficult part for you?
"The elevation changes without a doubt. There's a ton. I mean huge elevation changes, and at the other side of the elevation change, it's a corner. So there's a couple spots where the elevation's like, 'wow.' I mean, it grab's your attention each and every lap there, and there's not much room for error, that's for sure."
News & Notes:
Chassis Chatter… The No. 88 ThorSport Racing team will unload chassis No. 46 for Sunday's NCWTS 250 at Canadian Tire Motorsports Park (CTMP). This chassis will make its debut this season.
Headed Home… Scott Simmons, the Menards Toyota Tundra Tire Specialist, calls Canada home. The Cambridge, Ontario native, who grew up racing go-karts and mini stocks at the age of 15, is in his second year with ThorSport Racing, and the No. 88 team.
Canada Stats… Crafton will make his fourth career NCWTS start at CTMP on Sunday. In fact, the two-time series Champion has more starts (3) than any other active series drivers at the 2.459-mile road course, and has completed the most laps (192).
In The Loop – Canada… According to NASCAR's Loop Data Statistics, Crafton ranks fourth in Average Running Position (8.7), fourth in Driver Rating (93.9), and first in Laps in the Top 15 (181) entering this weekend's event.
Chase Status – Two To Go… Crafton is currently fifth in the 2016 NCWTS driver point standings after 14 races this season, but second in the NCWTS Chase. As one of two drivers with multiple wins in 2016, the two-time NCWTS champion is all but guaranteed a spot in the eight driver Chase which kicks off at New Hampshire Motor Speedway in Loudon on September 24.
In The Loop – 2016… According to NASCAR's Loop Data statistics, Crafton ranks first in the following categories; Fastest Laps Run (219), Laps in the Top-15 (1935), and Laps Led (421). The ThorSport Racing driver ranks second in Average Running Position (7.75), and Driver Rating (104.2).
Canada Rewind – 2015 … Crafton started third, led the field once for one lap, and finished second.
Race Rewind – Michigan… Making his 15th career start at Michigan International Speedway, Crafton qualified second, led the field four times for 23 laps, and finished seventh.
Major Milestone…The Tulare, California native extended the NCWTS record for consecutive starts to 375 in the Careers for Veterans 200 at Michigan International Speedway, passing four-time NCWTS champion Ron Hornaday, Jr with 360 starts in the 2015 NCWTS season finale at Homestead-Miami (Fla.) Speedway. Crafton made his series debut at Auto Club Speedway in November 2000, and enters his 16th full-time season in the NCWTS, and his 15th full-time season with ThorSport Racing in 2016.
Crafton's Canada NCWTS Stats:
3 starts since 2013

192 of 192 laps completed (100%)

1 lap led (2015)

Top-5 Finishes: 1

Top-10 Finishes: 3

Best Start: 3rd (2015)

Best Finish: 2nd (2015)

Average start: 8.0

Average finish: 6.0
Crafton's 2016 NCWTS Stats:
Starts: 14

Wins: 2

Top-5 Finishes: 4

Top-10 Finishes: 10

Poles: 1 (Atlanta)

Laps Led: 417

Laps Completed: 2015 of 2176 (92.6%)

Start: 10.6

Average Finish: 11.2
Crafton's Career NCWTS Stats:
Starts: 375 since 2000

13 wins

Top-5 Finishes: 93

Top-10 Finishes: 220

12 poles

58,083 laps completed

2106 laps led

Average start: 12.8

Average finish: 11.5
Race Information:
Date: Sunday, September 4, 2016
Time: 2:30pm ET on FOX Sports 1, and MRN Radio
Track: 2.459-mile road course
Distance: 64 laps/157.37 miles
About Rip It Energy Fuel:
With 15 awesome flavors to choose from, Rip It® is fueling the REAL needs and REAL tastes of energy drinkers everywhere. In an office, on the job, on a mountain, riding waves, doin' flips, doin' tricks, jammin' all night, crammin' all night, whatever your life calls for, Rip It® is there to fuel you. For more information visit: www.RipItEnergy.com