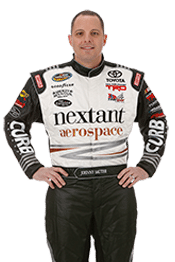 Team Information:
2015 Driver Point Standings: 3rd (+30)
2015 Owner Point Standings: 3rd
Crew Chief: Doug George
Sandusky, Ohio (June 15, 2015) –  Johnny Sauter, driver of the No. 98 Nextant Aerospace/Curb Records Toyota Tundra, has been on an upswing the last two NASCAR Camping World Truck Series (NCWTS) races. With two top-five finishes in the last two races at Texas Motor Speedway in Fort Worth and Gateway (Ill.) Motorsports Park, the ThorSport Racing driver finds himself gaining ground on the competition. Now third in the NCWTS driver point standings, Sauter is a mere 18 points behind second-place and 30 points behind teammate and point leader, Matt Crafton.
As the series embarks on the ninth race of the season at Iowa Speedway in Newton, Sauter, a short-track racing "shoe" looks to continue his string of top-five finishes in 2015. In eight starts at Iowa Speedway, Sauter has six top-five's. In fact, the ThorSport Racing driver leads all active NCWTS drivers with the most top-five finishes (6), making him the "cream of the crop" at the 7/8-mile track.
Sounding Off – Johnny Sauter:
"When we first started going to Iowa (Speedway), I don't remember using a lot of brake, it was more of a momentum type race track.  Anymore, it's a handling race track and I consider it pretty rough from what it was five years ago. The groove has widened out tremendously, and you see people running all over the race track. It's a short track. It races to me a lot like Richmond does, and I've been pretty successful at Richmond. I've had six top-five finishes at Iowa, no wins, but it's a cool race track, great atmosphere, and I just like the place.
News & Notes:
Chassis Chatter… The No. 98 ThorSport Racing team will unload chassis No. 39 for Friday night's American Ethanol 200 at Iowa Speedway. This chassis was last raced at Kansas Speedway in Kansas City. Sauter started seventh and finished third.
2015 Season Review… In eight NCWTS starts in 2015, Sauter has completed 1321 of 1321 (100%) laps attempted, and has led four laps en route to four top-five and seven top-10 finishes.
Onboard the 98 Tundra… The ThorSport Racing driver will have a dashboard camera on his No. 98 Nextant Aerospace Toyota Tundra at Iowa Speedway.
Previous Race Recap… Starting fourth, Sauter had an Average Running Position of 3.9 throughout the 160-lap race at Gateway Motorsports Park, leading his first laps of 2015, and finishing third.
Sauter's NCWTS Stats at Iowa Speedway:
8 starts since 2009
1615 of 1617 laps completed (99.9%)
24 laps led
Six top-five finishes
Best start: Fourth (2012)
Best finish: Second (2010)
Average start: 9.6
Average finish: 6.5
According to NASCAR's Loop Data Statistics, Sauter ranks:

Fifth in Average Running Position: 7.76
First among Closers, 13 positions gained
Fifth in Driver Rating: 102.6
Second among Fastest Laps Run: 87
Second among Laps in the Top 15: 1427
Sauter's Iowa Speedway NCWTS Performance Profile:
| | | | | | |
| --- | --- | --- | --- | --- | --- |
| Date | Started | Finished | Laps | Status | Led |
| 2009 | 6 | 5 | 200/200 | Running | 0 |
| 2010 | 5 | 2 | 205/205 | Running | 4 |
| 2011 | 6 | 4 | 200/200 | Running | 8 |
| 2012-11 | 5 | 4 | 200/200 | Running | 0 |
| 2012-15 | 4 | 4 | 200/200 | Running | 12 |
| 2013-9 | 8 | 11 | 200/200 | Running | 0 |
| 2013-15 | 25 | 4 | 212/212 | Running | 0 |
| 2014 | 18 | 18 | 198/200 | Running | 0 |
Johnny Sauter's 2014 Highlights:
Finished fourth in the NCWTS driver point standings
Sixth consecutive full-time season driving for ThorSport Racing
Earned a win at Michigan International Speedway in Brooklyn, extending his win streak to six consecutive seasons
Earned eight top-five and 16 top-10 finishes
154 laps led
Average finish: 9.3
Sauter's Career Truck Series Stats:
160 starts since 2003
10 wins
60 top-five finishes
93 top-10 finishes
Five poles
24,206 laps completed
1163 laps led
Average start: 10.7
Average finish: 10.8