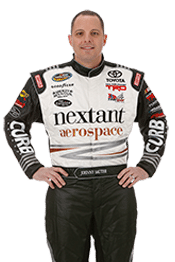 Stats:
Started: 9th
Finished: 6th
Laps: 64/64
Status: Running
Driver Points: 4th
Owner Points: 4th
Bowmanville, Ontario (August 31, 2015) – Johnny Sauter, driver of the No. 98 Nextant Aerospace/Curb Records Toyota Tundra, started a track-best ninth and finished a track-best sixth in Sunday's NASCAR Camping World Truck Series (NCWTS) 250 at Canadian Tire Motorsport Park (CTMP) in Bowmanville, Ontario, Canada. Making his third start at the 10-turn, 2.459-mile road course, the ThorSport Racing driver ran as high as second and as low as 21st, but maintained an average running position of 6.48 throughout the 64-lap event, and brought home his second top-10 finish, finishing sixth. The solid run was the Necedah, Wisc. native's 11th top-10 finish in 15 starts this season.
In the lone NCWTS road course race on the 2015 schedule, crew chief, Doug George brought the No. 98 Tundra to pit road twice at laps 12, and 38, respectively, both under green. During the first stop, George made the rare call for two rear tires, and fuel, to aid in rear grip. On the final stop of the afternoon, at lap 38, Sauter came to pit road for four tires, and fuel. Complaining of being, "really tight in the left-handers, and loose on exit'," the ThorSport Racing driver was able to work his way through traffic, following green-flag pit stops, and contend for a position inside the top-five over the final 20-lap stint.
The NCWTS 250 would be slowed five times for 13 laps, setting the 32-truck field up for a green-white-checker flag finish. Sauter, who restarted fifth at lap 62 of 64, would lose a position on the final restart, and settle into the sixth position, which is where he crossed the stripe behind race winner, Erik Jones.
Quote:
"I felt like we had a pretty good Nextant Aerospace/Curb Records Toyota Tundra today. I started off really tight through the left-handers, and loose on exit. Doug (George, crew chief) made the call for two rear tires on the first stop, to aid in rear grip, so we were able to maintain track position, and contend inside the top-10 all day, and have a shot there at the end. That's all you can ask for. Track position was key – if you got out front you could dominate. All-in-all a good day for this ThorSport Racing team, this is the best we've ever been at a road course. This place is such a wild card race for me, I'm not a road course racer, but I felt like we had some improvements this year, from last, and a sixth-place finish is respectable."
Notes:
Johnny Sauter started ninth and finished sixth in Sunday's NCWTS 250 at Canadian Tire Motorsports Park

Sauter's sixth-place finish was his second top-10 in three starts at the 10-turn, 2.459-mile road course

In 2015, Sauter has five top-five and 11 top-10 finishes

The ThorSport Racing driver maintained a 4th-place position in the 2015 NCWTS driver point standings following the event

In 167 career NCWTS starts, Sauter has 10 wins, 61 top-five and 97 top-10 finishes

Erik Jones won the third-annual NCWTS 250 at CTMP followed by Matt Crafton (second), Ben Kennedy (third), Daniel Hemric (fourth), and Alex Tagliani (fifth). ThorSport Racing teammates, Matt Crafton finished second,

and Cameron Hayley finished seventh

Up next: The NCWTS will take two weeks off before heading to Chicagoland Speedway for the American Ethanol 225 on Friday, September 18