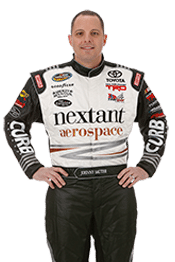 Stats:
Started: 5th
Finished: 12th
Laps: 145/145
Status: Running
Driver Points: 4th (-58)
Owner Points: 6th
Sparta, KY (July 10, 2015) – Weather threw a wrench in Thursday's initial schedule for the NASCAR Camping World Truck Series (NCWTS) UNOH 225 at Kentucky Speedway in Sparta, washing out both practice and qualifying for the 150-lap event. NASCAR would line-up the 31-truck field based on the rule book (2015 owner points standings) and Johnny Sauter, driver of the No 98 Nextant Aerospace Toyota Tundra, would start from the fifth position.
Coming to pit road for four tires, fuel and an air pressure adjustment during the competition caution on lap 22, crew chief Doug George tried to help the ThorSport Racing driver with a "tight" Toyota Tundra. However, trying to play the pit strategy card early on, when the third caution flag was waved on lap 45, George made the call for just two tires and fuel, propelling Sauter to a third-place position for the lap 48 restart. Unfortunately, two tires upset the balance of the No. 98 machine, miring the veteran driver deeper within the field.
Making two more pit stops on laps 97 and 127, respectively, for four tires, fuel and major trackbar adjustments, Sauter found himself in prime position for a solid finish for the final 10 lap shootout. However, the originally scheduled 150-lap race was wreck-shortened to 145 laps when Ben Kennedy's Toyota Tundra damaged the catchfence and NASCAR was forced to call the race five laps short of its scheduled distance. Sauter would settle for a 12th-place finish in his ninth start at the 1.5-mile track.
Quote:
"I really can't complain about tonight's race, especially for the circumstances we were under. With rain canceling all on-track activity today, we had no idea what to expect. Our Nextant Aerospace Toyota Tundra was good all night, the handling just got away from us when we took two tires on an earlier stop. We definitely had a fast truck at the end and were capable of going home with a top-10 finish, but the cautions didn't fly in our favor and that's how it goes sometimes. I'm happy with the result and look forward to Eldora in a couple weeks."
Notes:
Johnny Sauter finished 12th in Thursday night's UNOH 225 at Kentucky Speedway
Running as high as third and as low as 18th, the Nextant Aerospace driver maintained an Average Running Position of 9.8 throughout the 145-lap event
In 2015, Sauter has four top-five and seven top-10 finishes in the season's first 10 races
The ThorSport Racing driver maintained his 4th place position in the 2015 NCWTS driver point standings following the 10th race of the season
ThorSport Racing teammate Matt Crafton won the 5th annual event followed by Erik Jones (second), Ryan Blaney (third), Daniel Suarez (fourth) and Timothy Peters (fifth). ThorSport Racing teammate Cameron Hayley finished 9th.
In 162 career NCWTS starts, Sauter has 10 wins, 60 top-five and 93 top-10 finishes
Up next: 1-800-Carcash Mud Summer Classic at Eldora Speedway on Wednesday, July 21