Gearing up with Grant Enfinger:
The last time you were at Martinsville Speedway, was the week after your first career win at Talladega in 2016, but you were working on a truck. How will it feel to have a driver's suit on this weekend when you get back there?
"It's a blessing to know I have a full-time schedule this season. It was definitely tough, as a racer, to go through what we did last year. To be in the mindset that you are in the driver's seat one weekend, and then a mechanic the next, was tough. I'm fortunate to be with a great organization like ThorSport Racing this season for all 23 races, and it takes the support of great partners like Jive Communications, Champion Power Equipment and RIDE TV to make it work. I'm pumped up about Martinsville this weekend though. I'm a short-track racer at heart, and I love this type of track. Jeff Hensley, our crew chief, is from about ten minutes up the road from Martinsville Speedway, so I know this one is circled on his list as well."
News & Notes: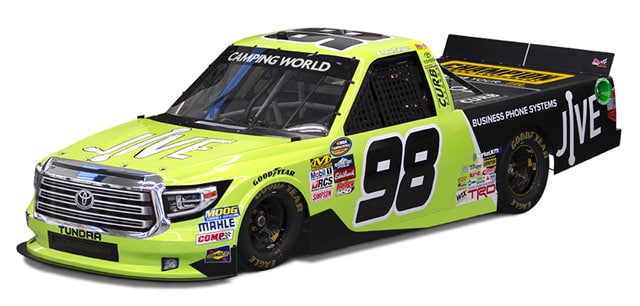 Chassis Chatter… The No. 98 ThorSport Racing team will unload chassis No. 43 for Saturday's Alpha Energy Solutions 250 at Martinsville (Va.) Speedway. This is the same chassis teammate Matt Crafton piloted to one win (Martinsville-2), and three top-two finishes at both Martinsville Speedway events and Gateway Motorsports Park in St. Louis, in 2015. Additionally, Crafton earned one top-10 finish at Martinsville-1 in 2016 with this particular chassis.
Martinsville Minute… Grant Enfinger made his Martinsville Speedway debut in 2011. The Jive Communications driver started 29th and finished 20th.
Calling the Shots… Jeff Hensley, crew chief for the No. 98 Jive Communications Toyota Tundra is from Ridgeway, Va., which is 10 miles from Martinsville Speedway. Hensley, who has been in the NASCAR Camping World Truck Series (NCWTS) since 2004 has called the shots for 26 races at the .526-mile track and his success includes two wins (2007 sweep), five top-five and 11 top-10 finishes.
Race Rewind – Atlanta… Making his second start at Atlanta (Ga.) Motor Speedway (AMS) in the NCWTS, Enfinger started 14th, led the field once for four laps, and finished eighth in the 130 lap event.
Rookie Stripe: Following his first top-10 finish of the season at AMS, Enfinger is currently tied for second in the 2017 Sunoco Rookie of the Year standings after two of 23 races this season.
Martinsville Stages… The Alpha Energy Solutions 250 will feature three stages (Stage 1 – 70 laps, Stage 2 – 70 laps, Final Stage – 110 laps), with approximately a five-minute break in between.
Catch Grant at Martinsville… Enfinger, along with his ThorSport Racing teammates, will participate in the series autograph session from 5:00-5:45pm on Friday, March 31 at Martinsville Speedway.
Enfinger's Career NCWTS stats:
Starts: 16 since 2010

First Full-time Season: 2017

Poles: 1 (Daytona, 2016)

Wins: 1 (Talladega, 2016)

Top-5 Finishes: 2

Top-10 Finishes: 6

Laps Completed: 1884

Laps Led: 54

First Start: Talladega (2010)

Start: 12.8

Finish: 13.9
Team Information:
2017 Driver Point Standings: 9th
2017 Owner Point Standings: 12th
Sunoco Rookie of the Year Contender
Race Information:
Date: Saturday, April 1
Time: 3:00pm ET on FOX Sports 1
Track: .526-mile oval
Distance: 250 laps/131.5-miles