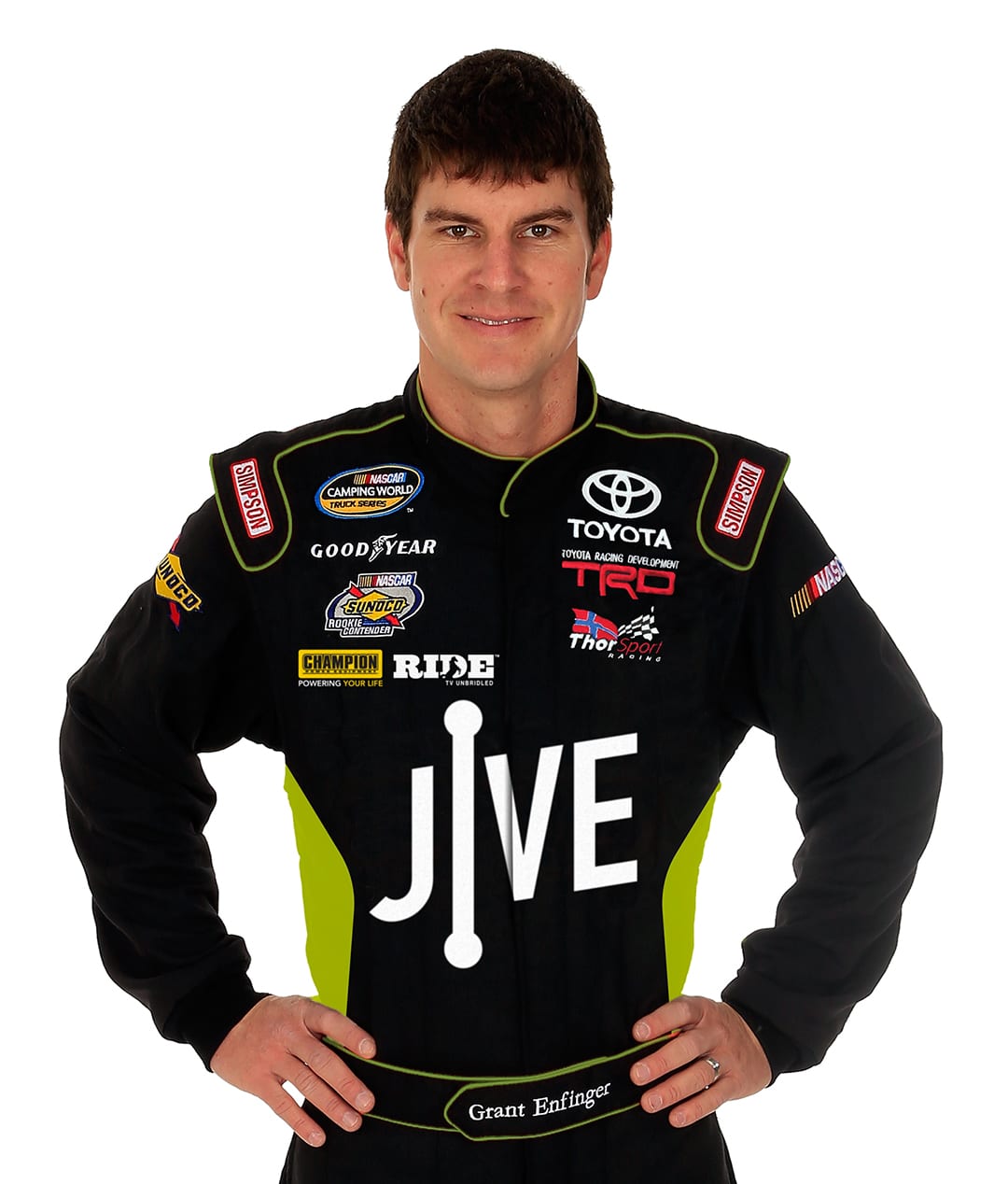 Team Information:
Crew Chief: Jeff Hensley
Manufacturer: Toyota
Engine: Triad Racing Technologies
Sunoco Rookie of the Year Contender
Sounding-Off: Grant Enfinger:
You've come from small time racing in Alabama and have been able to continue finding sponsors to support you throughout your career. What's the significance of having a full-time ride with ThorSport Racing in 2017?  
"I am very excited to be at ThorSport Racing for the 2017 NASCAR Camping World Truck Series season. The sponsorship aspect is incredibly tough in all motorsports. I have been very fortunate to have a great group of people and sponsors that want to support me and my efforts to go racing. This year we have a great group of partners that are supporting us, some new partners, like Curb Records and Mike Curb, RIDE TV and Jive Communications and then some of my partners have been with me for a long time like Champion Power Equipment. I've done the racing thing with no sponsors or support, and it was incredibly tough. I am just thankful to be given the opportunity to be with a great team like ThorSport Racing to compete full-time this year."
Big changes were announced in the off season regarding the race format in. How do you feel that will effect the racing in 2017?
"I am looking forward to the 2017 season with the new race format. I think the new format will be a little bit more difficult in the truck series, since our races are shorter than the XFINITY and Monster Energy NASCAR Cup Series. However, I do believe that there will be more time for the crew chiefs and engineers to come up with better strategies in between each segment, which should make the racing more competitive. I'm really interested to see how the format plays out, and I'm hoping to benefit from winning some races throughout the year. Daytona would be a great place to start."
News & Notes:
Chassis Chatter… The No. 98 ThorSport Racing team will unload chassis No. 60 for Friday night's NextEra Energy Resources 250 at Daytona International Speedway (DIS). This chassis was built new in 2017 and will make its debut under the lights Friday night.
New Driver, New Crew Chief… Jeff Hensley, a veteran in NASCAR, will be the crew chief of the No. 98 Toyota Tundra in 2017. Hensley has countless wins, top fives, top-10's and poles in both the NASCAR Camping World Truck Series (NCWTS) and the NASCAR XFINITY Series. In 2014, Johnny Sauter and Hensley visited victory lane while racing under the ThorSport Racing banner, while 2015 brought much success with Cameron Haley, including four top-five's and 13 top-10 finishes.
Continuing Education… Grant is part of an elite group of drivers who have received a four-year college degree. In 2007, Grant graduated from the University of South Alabama Mitchell School of Business with a marketing degree.
Restrictor Plate Icon… Grant is no rookie when it comes to winning at restrictor plate tracks. Currently the Sunoco Rookie of the Year contender has three wins at restrictor plate tracks in the NCWTS and ARCA Racing Series including 123 laps led. The ThorSport Racing driver had back-to-back victories in the ARCA Racing Series in 2014 and 2015 at DIS, and claimed his first NCWTS win at Talladega (Al.) Superspeedway in 2016.
Fastest Man In Town… Enfinger, a Fairhope, AL native, is the defending pole winner for Friday night's 100-lap NCWTS event at DIS. In fact, the 32-year old driver has two superspeedway poles – Talladega (Al.) Superspeedway (2014) in the ARCA Racing Series, and DIS (2016) in the NCWTS.
Catch Grant at Daytona… Grant, along with his TSR teammates, will be at Toyota Pit Pass, outside the track in the Fan Zone, on Friday, Feb. 24 at 1:30pm. In addition, Grant will will be hosting a Twitter Q&A on Friday afternoon at 2:15pm, via the ThorSport Racing Twitter page, and the ThorSport Racing driver will attend the series autograph session from 3-3:45pm in the infield Fan Zone.
Enfinger's NCWTS Stats:
14 starts since 2010
Wins: 1 (Talladega, 2016)
Poles: 1 (Daytona, 2016)
Top-Five Finishes: 2
Top-10 Finishes: 5
Laps Led: 50
Average Start: 12.9
Average Finish: 14.2
Race Information:
Date: Friday, February 24, 2017
Time: 7:30pm ET on FOX Sports 1
Track: 2.5-mile oval
Distance: 100 laps/250 miles