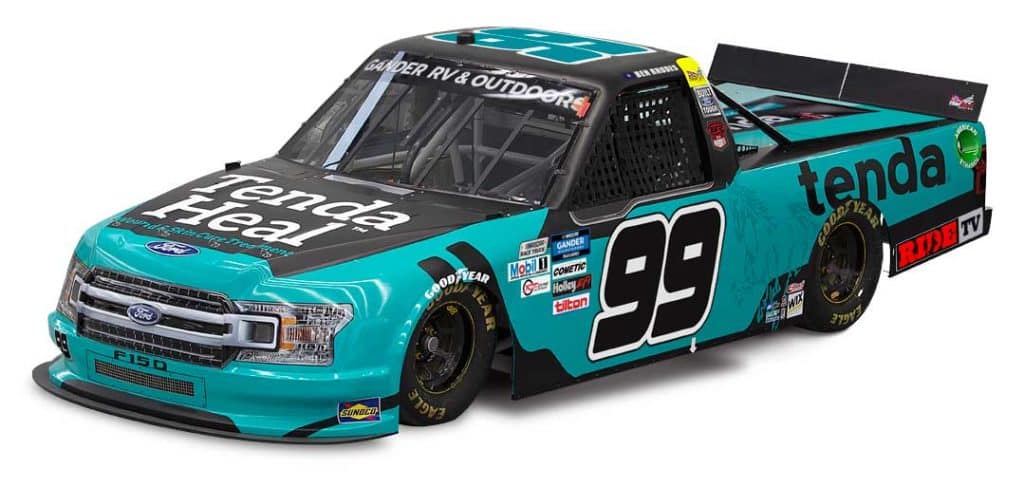 Team Info
Crew Chief: Matt Noyce
Spotter: TJ Majors
Driver Point Standings: 6th
Owner Point Standings: 6th
Playoff Points: 14th
2020 Season Stats
Starts: 19
Wins: 1
Poles: 0
Laps led: 100
Top-five Finishes: 8
Top-10 Finishes: 12
Average Start: 7.5
Average Finish: 9.5
Kansas Stats
Starts: 6
Wins: 0
Poles: 0
Laps led: 36
Top-five Finishes: 2
Top-10 Finishes: 3
Average Start: 8.8
Average Finish: 12.2
July 24th Race Finish: 7th
July 25th Race Finish: 5th
News and Notes:
Starting Position: Rhodes will roll off from the second starting position for Saturday's elimination race at Kansas Speedway. The starting lineup is based on a new competition-based performance metrics system: weighted lap 15 percent, driver finish from previous race 25 percent, owner points 25 percent, driver points, 35 percent.
Series Career Stats: In 115 career Gander Trucks starts, his success includes 733 laps led en route to three wins, five poles, 32 top-five and, 58 top-10 finishes.
Playoff Picture: Ben Rhodes currently sits in sixth on the playoff grid to kick off the next round of the Gander Trucks Playoffs. He's three points below the Round of 4 cut line following a fourth-place finish at Talladega Superspeedway on Oct. 3.
Tenda Horse Products, LLC, has been serving the performance horse industry for over 45 years with a primary goal of developing and manufacturing safe and effective products to promote and improve overall health, soundness, performance and overall well-being of equine athletes. For more information, visit: TendaHorse.com, or find them on Facebook, Twitter, and Instagram.