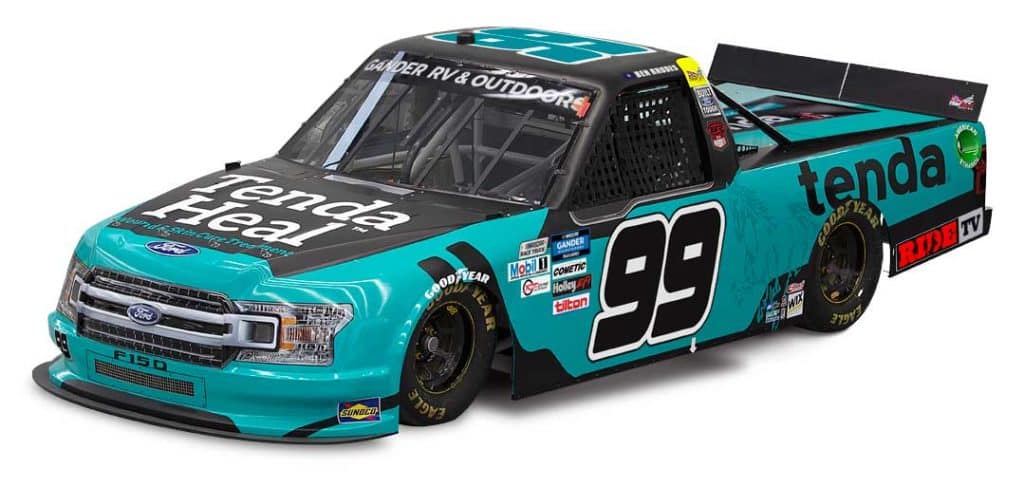 Team Info
Crew Chief: Matt Noyce
Spotter: TJ Majors
Driver Point Standings: 4th
Owner Point Standings: 4th
Projected Playoff Rank: 7th
2020 Season Stats
Starts: 14
Wins: 0
Poles: 0
Laps led: 30
Top-five Finishes: 5
Top-10 Finishes: 9
Average Start: 8.1
Average Finish: 9.7
Series Career Stats
Starts: 110
Wins: 2
Poles: 5
Laps led: 663
Top-five Finishes: 29
Top-10 Finishes: 55
Average Start: 9.3
Average Finish: 12.0
News and Notes:
Starting Position: Rhodes will roll off from the fifth starting position for Sunday's South Carolina Education Lottery 200 at Darlington Raceway. The starting lineup is based on a new competition-based performance metrics system: weighted lap 15 percent, driver finish from previous race 25 percent, owner points 25 percent, driver points, 35 percent.
Darlington Stats: Rhodes is set to make his Gander Trucks Darlington debut Sunday afternoon.
Playoffs: With only two races remaining and five spots available for the postseason, Rhodes can clinch a spot in the Playoffs with a win alone. If there is a new winner he needs to be 56 points above the fourth winless driver in standings needing 41 points at Darlington. If there is a repeat winner, Rhodes could clinch by being 56 points above the 5th winless driver in the standings needing 37 points at Darlington.
Tenda Horse Products, LLC, has been serving the performance horse industry for over 45 years with a primary goal of developing and manufacturing safe and effective products to promote and improve the overall health, soundness, performance and overall well-being of equine athletes. For more information, visit: TendaHorse.com, or find them on Facebook, Twitter, and Instagram.