Chatting with Ben Rhodes…
Has it sunk in yet that you are a NASCAR Camping World Truck Series winner? What does this feat mean to you, especially given the challenges you've faced this season? 
"The win has finally sunk in, although it still feels like a dream. I know the win means so much to everyone on our team given the adversity we had to overcome. This was the first win not only for me, but every single person on my team. It feels like we have finally gotten past that barrier. I know after the win got away from us at Kansas, earlier this year, it was on everyone's mind, but now we can all breathe easy, relax, and just focus on the remainder of the season."
Talladega is considered a wild card race, but its also the last playoff race before the Round of 6. Do you race Talladega any differently knowing that you are virtually locked-in to the next round?
"Being locked into the Round of 6 is certainly a blessing going into Talladega. It just takes all that unnecessary pressure off me, and the whole team. We have nothing to lose at this race, and essentially everything to gain, in the sense of playoff points and a win. So, I will approach the race with a different mindset, but not necessarily race it any different."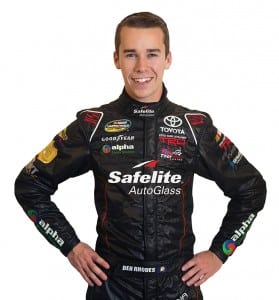 Team Stats:
Driver Point Standings: 2nd
Owner Point Standings: 10th
2017 Playoff Position: 2nd
Notes:
This Week's No. 27 Safelite AutoGlass Toyota Tundra… The No. 27 ThorSport Racing team will unload chassis No. 65 for Saturday's fred's 250 at Talladega Superspeedway. This is the same chassis Ben Rhodes piloted to a 12th-place finish at Daytona International Speedway, earlier this season.
Talladega Stats… Rhodes made his track debut at Talladega Superspeedway in 2016. The ThorSport Racing driver started 25th, and finished 24th due to a crash on lap 59 of 94.
Playoffs Update… Following his career first NASCAR Camping World Truck Series (NCWTS) win at Las Vegas Motor Speedway last month, Rhodes is currently second in the 2017 Playoffs going into Saturday's fred's 250. With the top-six drivers transferring to the Round of 6, following Saturday's 94-lap event, Rhodes is virtually locked-in to the next Round.
2017 Season Stats… In 18 starts this season, the ThorSport Racing driver has earned one pole (Pocono), and led 160 laps en route to one win (Las Vegas), six top-five, and 11 top-10 finishes.
Truck Series Stats… In 45 NCWTS races, Rhodes has two poles, and has led 215 laps en route to one win, nine top-five, and 19 top-10 finishes.
Catch Ben at Talladega… Rhodes will join his ThorSport Racing teammates for an autograph session on Friday, October 13 from 3:00-3:45pm CT at the Legends Hospitality Village at Talladega Superspeedway.