Sounding Off – Ben Rhodes:
What did you learn from racing at Martinsville in the Spring and Fall last season? "The difference in speed from a 12th-place truck and a first-place truck is very small and makes for some crazy racing and I think the new points system will make it even crazier. Last year in the spring, I saw how important it is to qualify up front for that reason, but getting the balance right is very hard to do at Martinsville. The corners are so tight it makes it tough to make adjustments that help all the way around. Martinsville also seems to go through a pretty big 'mood swing' throughout the weekend and from the spring race, to the fall race. It's definitely a track for an experienced driver and team."
You've had three weeks off since the series last raced in Atlanta. What have you been doing to stay busy?
"It may have been three weeks away from the race track, but the team and myself have been very busy. I went up to the shop every week, and spent some time with my guys. Last week my teammates and I went out to Torrance, California to visit the Toyota Headquarters for their Toyota Motorsports Day, but I would have to say the coolest thing I did was go visit the Safelite SuperCenter in Louisville, Ky. I was able to meet a lot of the Safelite technicians, learn more about their brand, and they even allowed me to crack a windshield, just to show me how the repair process works. It was fun to get schooled on such an amazing company."
News & Notes: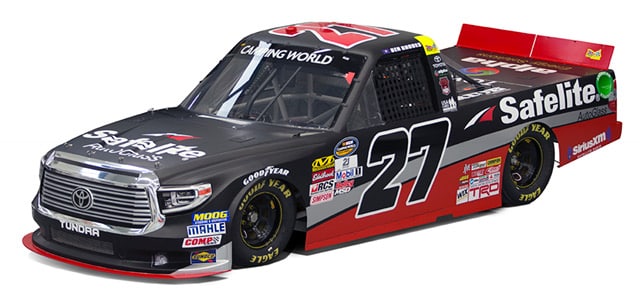 Chassis Information…The No. 27 ThorSport Racing team will utilize chassis No. 11 for Saturday's Alpha Energy Solutions 250 at Martinsville (Va.) Speedway. This is the same chassis that Johnny Sauter piloted at at both Martinsville races in 2015, and Cameron Hayley piloted at Martinsville-1 and Gateway Motorsports Park in St. Louis in 2016. In four starts, the chassis has had one top-five and three top-10 finishes.
Martinsville Minute… 2016 Martinsville-1 pole winner, Ben Rhodes has three starts to his credit at the .526-mile paperclip since 2014. His success includes one pole (April, 2016), 42 laps led (April, 2016), and one top-10 finish (March, 2014).
Take me back – Martinsville-1, 2016… The ThorSport Racing driver earned his first career NASCAR Camping World Truck Series pole, and finished 16th in the 250 lap event due to pit road troubles and contact with another competitor late in the 250-lap event.
Martinsville Stages… The Alpha Energy Solutions 250 will feature three stages (Stage 1 – 70 laps, Stage 2 – 70 laps, Final Stage – 110 laps), with approximately a five-minute break in between.
Rearview Mirror – Atlanta… The Safelite AutoGlass driver started 15th, ran as high as second, and finished fourth, a track-best in the 130-lap event.
First in Quality, First in Service, First for You… In conjunction with the entitlement sponsorship of the Alpha Energy Solutions 250 on Saturday, the race sponsor, along with Safelite AutoGlass, will have over 500 guests in the grandstands and in a suite during the 250-lap event to support Rhodes and his No. 27 ThorSport Racing team.
Catch Ben in Martinsville… Rhodes, along with his TSR teammates, will participate in the series autograph session from 5:00-5:45pm on Friday, March 31 and will make an appearance at the Alpha Energy Solutions/ Safelite AutoGlass co-branded display in the Fan Zone from 9:45-10:30am on Saturday, April 1 at Martinsville Speedway. The display will feature a Safelite AutoGlass Service van, demonstration videos, cornhole, prizes and a No. 27 Toyota Tundra show truck. For more information or to view Ben's complete Martinsville schedule visit: BenRhodes.com.
Rhodes Career Martinsville Stats:
Starts: 3, since 2014

Poles: 1 (2016)

Laps Completed: 711 of 711 (100%)

Laps Led: 42

Top-Five Finishes: 0

Top-10 Finishes: 1 (2016)

Average Start: 9.0

Average Finish: 14.3
Rhodes Career NCWTS stats:
Starts: 28 since 2014

First Full-time Season: 2016

Poles: 1 (Martinsville-1, 2016)

Top-5 Finishes: 3

Top-10 Finishes: 8

Laps Completed: 4013

Laps Led: 75

First Start: Martinsville-1, 2014 (8th)

Best Finish: 2nd; Gateway

Start: 9.5

Finish: 15.1
Team Information:
2017 Driver's Point Standings: 3rd
2017 Owner's Point Standings: 3rd
Race Information:
Date: Saturday, April 1 on FOX Sports 1
Time: 3:00pm ET
Track: .526-mile oval
Distance: 250 laps/131.5-miles