Chatting with Ben Rhodes…
"I love Vegas. I think its a really fun race track and it has one of the best turnouts of fans – they're awesome – and they get to interact with us up close in the garages, the facilities are top-notch. There's good racing, a good line, it's smooth, it's fast, it's just a really good race track. It's a favorite of mine because it's just so different than the other mile-and-a-half tracks we go to."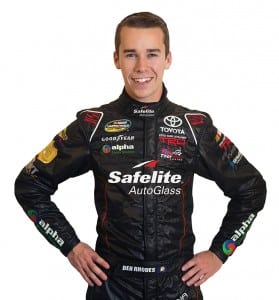 Team Stats:
Driver Point Standings: 4th
Owner Point Standings: 11th
2017 Playoff Position: 4th
This Week's No. 27 Safelite AutoGlass Toyota Tundra… The No. 27 ThorSport Racing team will unload chassis No. 37 at Las Vegas Motor Speedway (LVMS). This is the same chassis Ben Rhodes piloted at Dover International Speedway (4th), and Michigan International Speedway (11th), earlier this season.
Sin City Stats… Rhodes made his track debut at LVMS in 2016. The ThorSport Racing driver started eighth and finished 12th.
Playoffs Update… Following a seventh-place finish at New Hampshire Motor Speedway, Rhodes gained three positions in the Playoff standings, and now sits fourth, with two races remaining in the first Round of 8. The top-6 drivers will transfer to the Round of 6 following Talladega Superspeedway on Saturday, October 14.
2017 Season Stats… In 17 starts this season, the ThorSport Racing driver has earned one pole (Pocono), and led 140 laps en route to five top-five, and 10 top-10 finishes.
Truck Series Stats… In 44 NASCAR Camping World Truck Series starts, Rhodes has two poles, and has led 195 laps en route to eight top-five, and 18 top-10 finishes.
Catch Ben at Las Vegas… Rhodes will join his ThorSport Racing teammates for an autograph session on Saturday, September 30 from 1:00-1:45 p.m. CT in the Neon Garage.