Sounding Off – Ben Rhodes:
You started from the front row and finished second in your track debut at Gateway one year ago. Do you think this is the weekend where you can finally get that win?
"We have been knocking down the door for a win the whole year, so it's only a matter of time. Since I have a good track record at Gateway, it looks like it could be a great weekend for us. This year we will put ourselves in a better position with pit strategy, and build on the speed we've had. Gateway is a close track to home for me, so winning with the family there would be an awesome feeling."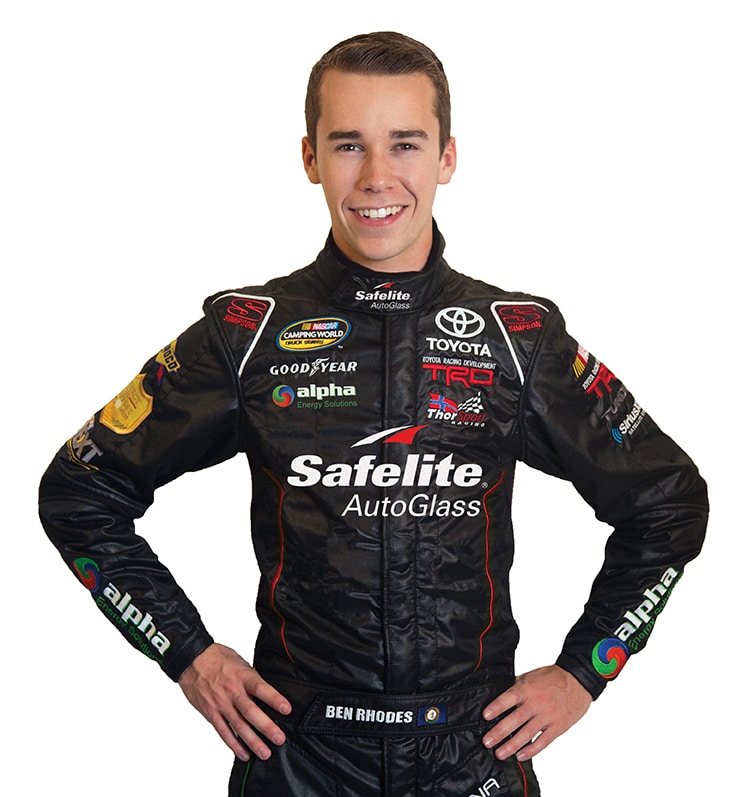 Team Stats:
Driver Point Standings: 5th
Owner Point Standings: 6th
News & Notes:
Chassis Information…The No. 27 ThorSport Racing (TSR) team will utilize chassis No. 11 for Saturday night's Drivin' for Linemen 200 at Gateway Motorsports Park (GMP) in St. Louis. This is the same chassis that Rhodes piloted earlier this season at Martinsville (Va.) Speedway.
"Show Me" State Stats… In his track debut at GMP in 2016, the ThorSport Racing driver started first, led four laps, and finished a career-best second.
NASCAR Salutes… In conjunction with the NASCAR Salutes initiative in June, Gateway Motorsports Park, NASCAR and Camping World will salute Scott Air Force Base's 100th anniversary on Saturday, hosting service men and women stationed at the base. The first 10,000 fans will receive American flags for a special recognition of our service members prior to the race, and all NCWTS entries will run a special Scott Air Force Base decal this weekend. Additionally, Rhodes will lead a garage tour on Saturday afternoon for select military members and their families.
In the Loop – Gateway… According to NASCAR's Loop Data Statistics, Rhodes has an Average Running Position of 5.49, a Driver Rating of 108.0, and has spent 100 percent of laps run in the Top-15 entering the 17th annual event at the 1.25-mile track.
In the Loop – 2017… According to NASCAR's Loop Data statistics, Rhodes ranks fourth in the following categories after seven races this season; Average Running Position (8.17), Driver Rating (98.7), Fastest Laps Run (75), and Laps Led (116). The ThorSport Racing driver ranks sixth overall in Laps in the Top-15 (907).
Rearview Mirror – Texas… Making his third start at Texas Motor Speedway in Fort Worth, Rhodes started a track-best seventh, ran as high as fourth, and finished a track-best fifth in the 167-lap event. The top-five result was the Safelite AutoGlass drivers second consecutive top-five finish of the 2017 season.
Catch Ben at Gateway… Rhodes will participate in the NCWTS autograph session on Saturday, June 17 from 2-2:45pm CT under tent near the scoring pylon – right outside of the NCWTS garage.
Rhodes Career NCWTS stats:
Starts: 34 since 2014

First Full-time Season: 2016

First Start: Martinsville-1, 2014 (8th)

Poles: 1 (Martinsville-1, 2016)

Top-5 Finishes: 6

Top-10 Finishes: 12

Laps Completed: 5053

Laps Led: 171

Best Finish: 2nd; Gateway

Start: 9.5

Finish: 14.3
Gateway Stages:
Stage 1 – 35 laps (concludes at lap 35)

Stage 2 – 35 laps (concludes at lap 70)

Stage 3 – 90 laps (concludes at lap 160)
Race Information:
Date: Saturday, June 17
Time: 8:30pm ET on FOX Sports 1, SiriusXM & MRN
Track: 1.25-mile oval
Distance: 160 Laps, 200 Miles
Race Hashtags: #DrivinForLinemen200 & #NASCARSalutes