Recap:
Ben Rhodes, driver of the No. 27 Safelite AutoGlass Toyota Tundra, made his third career start at Bristol Motor Speedway (BMS) in Wednesday night's rain-delayed NASCAR Camping World Truck Series (NCWTS) UNOH 200. Starting seventh, Rhodes finished seventh in Stage 1, and fourth in Stage 2, battling a "tight" Toyota Tundra. Restarting the final 84-lap Stage from the third position, Rhodes ran as high as second, battling former champion, Johnny Sauter, but eventually fell to fourth, due to a "loose" handling Toyota Tundra, and a vibration. Crew chief Eddie Troconis would bring Rhodes down pit road for four tires and fuel, during the last caution of the night at lap 196 of 203, in an effort to fix the vibration. The ThorSport Racing driver would restart seventh for the green-white-checker flag restart, and Rhodes would muscle his way to a fifth-place finish behind race winner, Kyle Busch.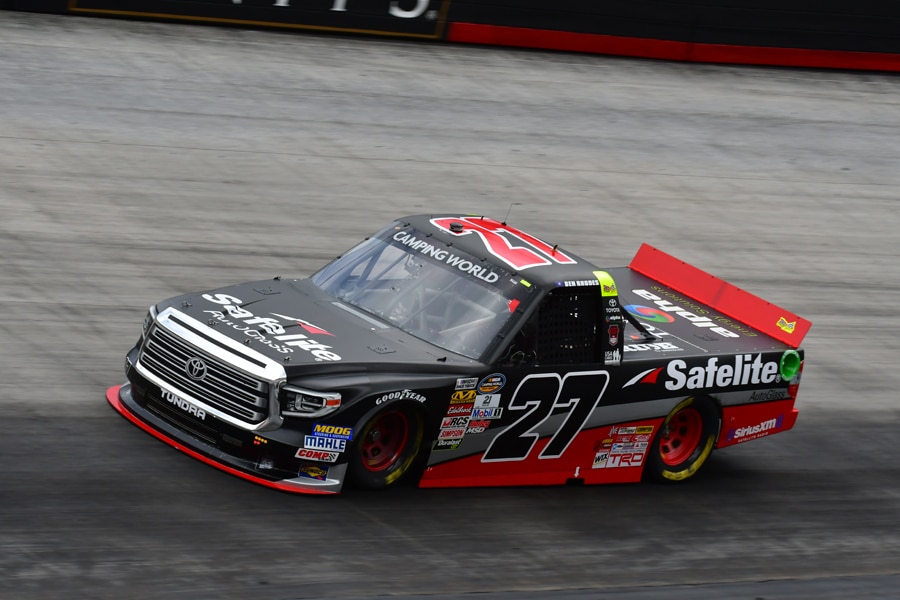 The strong run was Rhodes track-best finish in "Thunder Valley," and his fifth top-five finish this season.
Team Information:
Started: 9th
Finished: 5th
Laps: 203/203
Laps Led: 1
Status: Running
Driver Points: 5th
Owner Points: 5th
2017 Stage Wins: 1
2017 Stage Bonus Points: 124
2017 Playoff Points: 1 (Kentucky)
Quote:
"Our Safelite AutoGlass Toyota Tundra was fast all night tonight. We got pretty far back in the field, and I was actually pretty proud of our team, and how good of a Tundra we had to be able to drive from 14th, to I think fourth, all during a green flag run. You know, unfortunately the balance actually shifted on us. The track changed a lot in that last run. We just got way too free overall. We were able to come in on that last caution and put new tires on it, mostly because we had a vibration again. It seemed to be an issue, we got some bad tires. I don't know what was going on, but we were having a bad vibration, so we came in to make sure that nothing was corded, and went back out there, and ended up fifth – same place we came in. Overall I'm happy. It was a good solid points night. We were running in front of the guys we needed to beat, all night long, so that's a big plus. I know that makes my guys happy, and proud. We're going to take this momentum and just keep moving forward."
Notes:
The NCWTS had two practice sessions on Wednesday morning in preparation for Wednesday night's UNOH 200 at B Ben Rhodes was 15th, and second, respectively, in each session.

Starting from the seventh position, Rhodes led the 32-truck field once, for one lap, finishing seventh in Stage 1, fourth in Stage 2, and fifth in the UNOH 200.

In three starts at BMS, Rhodes has led one lap en route to one top-five, and two top-10 finishes.

Playoff status… With the top-8 drivers moving on, the ThorSport Racing driver is currently in, on points. Rhodes is currently fifth in the NCWTS driver standings, but seeded seventh, with a 26-point cushion, in the Playoff standings.

In 14 starts this season, the ThorSport Racing driver has one pole (Pocono), and has led 122 laps en route to five top-five, and seven top-10 finishes.

In 41 career starts, Rhodes has two poles, and has led 177 laps en route to eight top-five, and 15 top-10 finishes.

Rhodes' ThorSport Racing teammates finished second (Crafton), fourth (Enfinger), and 17th (Coughlin).

Up Next: The NCWTS 250 at Canadian Tire Motorsports Park on Sunday, September 3 at 2:30 p.m. ET on FOX Sports 1.