Sounding Off – Ben Rhodes:
You've got quite a few laps around "Thunder Valley." Are you looking forward to getting back there this week?
"Yeah, I'm really excited to get back to Bristol. We ran really well there last year, up to the point where we had a motor problem, which ended our race prematurely. Up until then though, we were running second, and I felt like we had the opportunity to compete for a win. We're taking a different truck to Bristol this year, and a new setup that we have been working hard on. I feel like if you're not trying to innovate with setup this year, you're going backwards. Everything we've done this year, has been new – never done at ThorSport (Racing) – I think that's shown. We've had a lot more speed this year."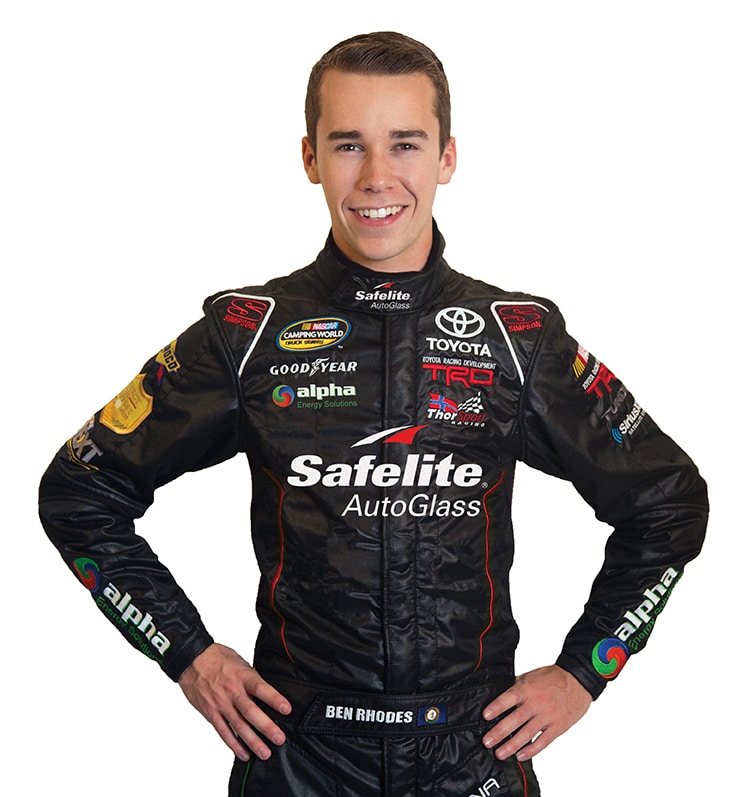 As a driver, what is the stress level like at a place like Bristol?  
"I would say its probably the most active track that we have on the schedule. Everything happens so quickly. You don't get a break on the straightaways, you don't get those extra few seconds to slow down, take a breath, look in your mirror – do the things you would like to do. Your driving by the seat of your pants there. Lap times are so fast at a place like Bristol, that I find myself holding my breath, reminding myself that I need to breathe. It's such a tough track. I do enjoy it, but you really do have to be on your game the whole time – no mistakes – the stress level is definitely high."
News & Notes:
Chassis Information…The No. 27 ThorSport Racing (TSR) team will utilize chassis No. 38 for Wednesday night's UNOH 200 at Bristol Motor Speedway (BMS). This particular chassis will make its 2017 debut in the 200-lap event in "Thunder Valley."
Thunder Valley Stats… The Safelite AutoGlass driver will make his third NASCAR Camping World Truck Series (NCWTS) start at BMS on Wednesday night. Additionally, Rhodes has two starts in the NASCAR K&N Pro Series East at the .533-mile track.
Playoff Status… Ben Rhodes has three races remaining on the 2017 NASCAR Camping World Truck Series (NCWTS) schedule to lock his No. 27 Safelite Tundra into NASCAR's first round of the Playoffs, which kicks-off at New Hampshire Motor Speedway in September. With the top-8 drivers moving on, the TSR driver is currently in, on points. Rhodes is currently sixth in the NCWTS driver standings, but seeded eighth in the Playoff standings.
Take Me Back – Bristol, 2016… Making his second start at BMS in the NCWTS, Rhodes started fourth, a track-best, ran as high as second, and finished 30th, due to an engine problem.
Rearview Mirror – Michigan… Starting from the 14th position, Rhodes finished fourth in Stage 1, fifth in Stage 2, and 11th in the LTi Printing 200 at Michigan International Speedway.
Catch Ben at Bristol… Rhodes, along with his TSR teammates, will participate in the NCWTS autograph session on Wednesday, Aug. 16 from 1:00-1:45 p.m. ET at BMS.
Rhodes NCWTS Bristol Stats:
Starts: 2; since 2014

Laps Completed: 328 of 400 (82.0%)

Laps Led: 0

Top-Five Finishes: 0

Top-10 Finishes: 2

Best Start: 4th (2016)

Best Finish: 9th (2014)
Rhodes Bristol K&N East Stats:
Starts: 2

Poles: 1 (2014)

Top-5 Finishes: 1

Top-10 Finishes: 2

Laps completed: 257 of 257 (100%)

Laps Led: 130 (2014)

Best Finish: 3rd (2014)
Rhodes 2017 NCWTS Stats:
Starts: 13

Poles: 1 (Pocono)

Laps Completed: 1736 of 1968 (88.2%)

Laps Led: 121

Best Start: 5th (Charlotte & Kentucky)

Best Finish: 2nd (Pocono)

Top-5 Finishes: 4

Top-10 Finishes: 6
Rhodes Career NCWTS Stats:
Starts: 40 since 2014

First Full-time Season: 2016

First Start: Martinsville-1, 2014 (8th)

Poles: 2 (Martinsville-1, 2016 and Pocono, 2017)

Top-5 Finishes: 7

Top-10 Finishes: 14

Laps Completed: 5649

Laps Led: 176

Best Finish: 2nd; (Gateway, 2016 and Pocono, 2017)
Bristol Stages:
Stage 1 – 55 laps (concludes at lap 55)

Stage 2 – 55 laps (concludes at lap 110)

Stage 3 – 90 laps (concludes at lap 200)
Broadcast Schedule – Bristol:
Wednesday, Aug. 16
9:00-9:55 a.m. ET – Practice (FS1)

11:00-11:55 a.m. ET – Final Practice (FS1)

4:30 p.m. ET – Qualifying (Starts on FS2, switches to FS1)

8:00 p.m. ET – NCWTS Setup Show (FS1)

8:30 p.m. ET – UNOH 200 (FS1)
Race Information:
Date: Wednesday, August 16, 2017
Time: 8:30 p.m. ET on FOX Sports 1
Track: .533-mile oval
Distance: 200 Laps/106.6 miles
Social: @BMSUpdates #UNOH200