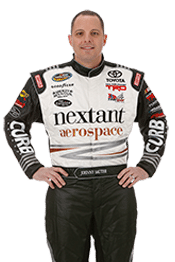 Stats:
Started: 23rd
Finished: 3rd
Laps: 175/175
Status: Running
Driver Points: 4th (-49)
Owner Points: 4th
Loudon, NH (September 26, 2015) – Racking up his seventh top-five finish of the 2015 NASCAR Camping World Truck Series (NCWTS) season, Johnny Sauter, driver of the No. 98 Nextant Aerospace/Curb Records Toyota Tundra, captured a track-best finish of third at New Hampshire Motor Speedway (NHMS) in Loudon, during Saturday afternoon's UNOH 175.
With NCWTS qualifying taking place just hours before the 175-lap event, Sauter spun exiting pit road while making his attempt in round one of the unique three-round qualifying session, The mishap flat-spotted Sauter's rear tires, forcing his crew to change tires on his No. 98 machine, and relinquished the NCWTS veteran to a 23rd-place starting position. However, the Wisconsin native took no time to make his way to the front of the field, reaching the top-10 within the first 30 laps of competition.
Complaining of an "extremely tight" Toyota Tundra, crew chief Doug George called Sauter down pit road under the second caution of the race, at lap 38, for four tires, fuel, and an air pressure adjustment. Continuing to set lap times comparable to the leaders, the ThorSport Racing driver remained in the top-10 until he was called to pit road, under green, for four tires, fuel and a track bar adjustment on lap 113.
Once green flag pit stops cycled through, Sauter found himself battling among the top-five drivers on the track, and in prime position for the last two restarts of the race on the "Magic Mile." Trying to help push his ThorSport Racing teammate, Matt Crafton, to the win on the final restart, Sauter wound up with a third-place finish behind eventual UNOH 175 race winner, Austin Dillon.
Quote:
"First of all I screwed up in qualifying by spinning out leaving pit road, I feel like an idiot for doing that. I'm proud of everybody at ThorSport Racing on our Nextant Aerospace/Curb Records Toyota – that was a solid effort. I knew we had a good truck yesterday after practice, and track position is so important anymore. You can be a couple tenths faster than the guy and catch him, and you just can't do anything with it. We passed a lot of trucks today, and tried to push my teammate for the win there at the end. We both just couldn't get going. Nonetheless, I'm proud of everybody at ThorSport Racing, this is a good run, especially for the hole I put us in after qualifying."
Notes:
In the 500th NCWTS race, Johnny Sauter started 23rd and finished third in the UNOH 175 at New Hampshire Motor Speedway

Sauter's third-place finish was his fourth top-five and fifth top-10 finish in five starts at the 1.058-mile oval

In 2015, Sauter has seven top-five and 13 top-10 finishes

The ThorSport Racing driver maintained a fourth-place position in the 2015 NCWTS driver point standings following the event

In 169 career NCWTS starts, Sauter has 10 wins, 63 top-five and 99 top-10 finishes

Austin Dillon won the 18th annual NCWTS race at New Hampshire Motor Speedway followed by ThorSport Racing teammate Matt Crafton (second), Sauter (third), Timothy Peters (fourth), and John Hunter Nemechek (fifth). ThorSport Racing teammate Cameron Hayley finished 12th

Up next: The Rhino Linings 350 from Las Vegas Motor Speedway on Saturday, October 3, 2015