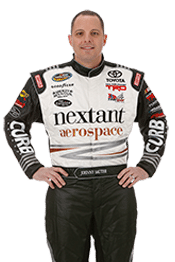 Team Information:
2015 Driver Point Standings: 4th
2015 Owner Point Standings: 5th
Crew Chief: Doug George
Sandusky, Ohio (August 25, 2015) –  Johnny Sauter, driver of the No. 98 Nextant Aerospace/Curb Records Toyota Tundra, has made eight road-course starts across NASCAR's top three divisions since 2005 including, two starts in the NASCAR Sprint Cup Series in 2007, four starts in the NASCAR Xfinity Series in 2005 and 2006, and two starts in the NASCAR Camping World Truck Series (NCWTS) at Canadian Tire Motorsports Park (CTMP) in Bowmanville, Ontario, Canada. While the ThorSport Racing driver has been quoted as "loving road course racing," he classifies himself as being "ok" at making the left and right turns. In fact, Sauter scored a track-best start of 11th and a track-best finish of eighth in 2014, and is one of only seven drivers to compete in both NCWTS races at the 2.459-mile road course.
Sounding Off – Johnny Sauter:
"For whatever reason, handling is a pretty big deal at Canadian Tire (Motorsports Park). Platform control – left and right turns – because the track is so fast. You want to be sure you can keep momentum up, and if it's not turning, you can't keep your momentum up. Pretty fun race track. A lot of fun when you leave Turn 5B, I believe it is, and go up that long straightaway. Your grabbing gears and going up the hill as fast as you can, and then you come up over the top of the hill and you have no clue what's up there. I obviously do now, after racing there the last two years, but you don't really know how hard you can drive it in. It's a good atmosphere. I love road course racing, I would say I'm ok at it, but it's a different kind of challenge. Canadian Tire is a good place."
News & Notes:
Chassis

Chatter…The No. 98 ThorSport Racing team will unload chassis No. 47 for Sunday's NCWTS 250 at Canadian Tire Motorsports Park. This is a road course specific chassis that was last seen at CTMP in 2014. Sauter started 11th and finished eighth.
Canada Stats… Sauter will be making his third start at CTMP on Sunday. In two previous starts, the Nextant Aerospace driver has led four laps en route to one top-10 finish, finishing eighth in 2014.
2015 Season in Review… In 14 NCWTS starts in 2015, Sauter has completed 2188 of 2191 laps attempted (99.9%), and led 53 laps en route to five top-five and 10 top-10 finishes. The ThorSport Racing driver has an Average Start of 11.5 and an Average Finish of 8.9 with a Best Start of fourth at Texas Motor Speedway in Fort Worth and Gateway (Ill.) Motorsports Park, and a Best Finish of third at Kansas Speedway in Kansas City and Gateway.
Previous Race Recap… Sauter started 12th, led seven laps, and settled for a ninth-place finish in the UNOH 200 at Bristol (Tenn.) Motor Speedway.
Sauter's NCWTS Stats at CTMP:
Two starts since 2013

98 of 128 laps completed (76.6%)

4 laps led (2014)

One top-10 finish (2014)

Best start: 11th (2014)

Best finish: 8th (2014)

Average start: 13.5

Average finish: 18.0

According to NASCAR's Loop Data Statistics, Sauter ranks:

11th in Average Running Position (15.7)

11th in Driver Rating (62.7)

Fourth in Laps in the Top 15 (66)
 Johnny Sauter's 2014 Highlights:
Finished fourth in the NCWTS driver point standings

Sixth consecutive full-time season driving for ThorSport Racing

Earned a win at Michigan International Speedway in Brooklyn, extending his win streak to six consecutive seasons

Earned eight top-five and 16 top-10 finishes

154 laps led

Average finish: 9.3
 Sauter's Career Truck Series Stats:
166 starts since 2003

10 wins

61 top-five finishes

96 top-10 finishes

Five poles

25,073 laps completed

1212 laps led

Average start: 10.7

Average finish: 10.8
Race Information:
Date: Sunday, August 30, 2015
Time: 1:30p.m. ET on FOX Sports 1
Track Details: 2.459-mile road course
Distance: 64 laps/157.37 miles