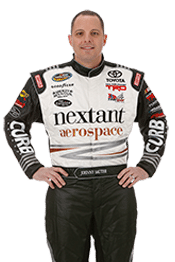 Team Information:
2015 Driver Point Standings: 4th (-48)
2015 Owner Point Standings: 5th
Crew Chief: Doug George
Sandusky, Ohio (June 9, 2015) – Johnny Sauter, driver of the No. 98 Nextant Aerospace/Curb Records Toyota Tundra will make his 160th career NASCAR Camping World Truck Series (NCWTS) start in Saturday's Drivin' for Linemen 200 at Gateway (Ill.) Motorsports Park. The NCWTS veteran finds himself fourth in the series' driver point standings going into the eighth race on the 2015 schedule. With three top-five and six top-10 finishes, Sauter's season has been characterized with highs and lows, but his most recent trip to Texas Motor Speedway in Fort Worth, that included a strong showing in both NCWTS practices, a season-best fourth-place start, and a fourth-place finish, has the Necedah, Wisc. native optimistic about his return trip to Gateway, a track he loves, this weekend.
Making his fourth career start at the unique 1.25-mile track outside St. Louis, the ThorSport Racing driver has completed every lap of competition, has never finished outside the top-five, and leads all active drivers with an average finish of 3.0. In 2014, the short-track racing king from Wisconsin started 13th and muscled his way through the field, with a tight Toyota Tundra, to finish fourth.
For a driver that loves short-track racing, and has the stats to prove it, the eighth stop on the 2015 NCWTS schedule at Gateway Motorsports Park, could be just the place to for Sauter to "arch" his way into victory lane for the first time this season.
Sounding Off – Johnny Sauter:
"I'm a short-track guy and I'll be the first one to admit that I love short-track racing," Sauter said. "Even though Gateway's a mile-and-a-quarter it races like a short track and I think every competitor you talk to would tell you the same thing. Last year we struggled with a tight condition and never really overcame it, which I couldn't explain. We started mid-pack, but we caught a caution at the right time. We were coming down pit road when the caution came out, during green flag stops, and I just kept going, which ended up being the right call. It enabled me to make a stop under the caution and we gained some track position, which was key. We made some pretty big adjustments there and just persevered. We ended up with a good night, but it was pretty eventful, to say the least."
News & Notes:
Chassis Chatter…The No. 98 ThorSport Racing team will unload chassis No. 52 for Saturday's Drivin' for Linemen 200 at Gateway Motorsports Park. This is the same chassis Sauter piloted to a ninth-place finish at Dover (Del.) International Speedway last month.
Milestone Start in St. Louis… Sauter will make his 160th career NCWTS start in Saturday's 160-lap race at Gateway Motorsports Park
Louis Stats… In three starts at Gateway Motorsports Park, Sauter has never finished outside the top-five. The ThorSport Racing driver has an Average Finish of 3.0, leading all active NCWTS drivers.
Previous Race Recap… Sauter started a season-best fourth in last Friday night's race at Texas Motor Speedway in Fort Worth, running as high as third, and finished fourth. The strong run was Sauter's second top-five finish of the 2015 NCWTS season.
Sauter's NCWTS Stats at Gateway:
3 starts since 2009
482 of 482 laps completed (100%)
0 laps led
Three top-five finishes
Three top-10 finishes
Best start: Third (2009)
Best finish: Second (2009)
Average start: 7.0
Average finish: 3.0
According to NASCAR's Loop Data Statistics, Sauter ranks:

Third in Average Running Position: 6.9
Third in Driver Rating: 104.3
First in Fastest Driver Late in a Run
Third in Fastest Laps Run: 13
Third in Laps in the Top 15: 473
Sauter's Gateway Motorsports Park NCWTS Performance Profile:
| | | | | | |
| --- | --- | --- | --- | --- | --- |
| Date | Started | Finished | Laps | Status | Led |
| 2009 | 3 | 2 | 162/162 | Running | 0 |
| 2010 | 5 | 3 | 160/160 | Running | 0 |
| 2014 | 13 | 4 | 160/160 | Running | 0 |
Johnny Sauter's 2014 Highlights:
Finished fourth in the NCWTS driver point standings
Sixth consecutive full-time season driving for ThorSport Racing
Earned a win at Michigan International Speedway in Brooklyn, extending his win streak to six consecutive seasons
Earned eight top-five and 16 top-10 finishes
154 laps led
Average finish: 9.3
Sauter's Career Truck Series Stats:
159 starts since 2003
10 wins
59 top-five finishes
92 top-10 finishes
Five poles
24,046 laps completed
1159 laps led
Average start: 10.7
Average finish: 10.8