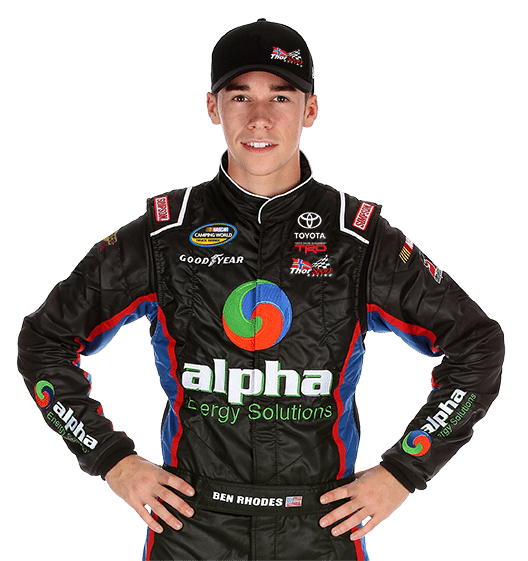 Team Information:
Crew Chief: Kevin Bellicourt
Manufacturer: Toyota
Engine: Triad Racing Technologies
2016 Driver Points: 13th
2016 Owner Points: 14th
Sounding Off – Ben Rhodes:
You've got three starts at Loudon and had some success there in the K&N East Series. Is this a track that suits your driving style? 
"I think New Hampshire Motor Speedway really plays to our strengths. I know my crew chief Kevin Bellicourt has some awesome notes there, and we've both had this race circled on our calendar for quite some time. I like flat tracks because it takes me back to what I grew up racing on, and I feel like it can be a great race for us."
What are your goals for the remainder of the 2016 season now that you are not in the Chase?
"Even though we're not in the chase our goals do not change. We go to each race with a plan to win, but it's racing and stuff happens. So we hope to get a couple wins, and poles, before the season is over."
News & Notes:
Chassis Chatter…The No. 41 ThorSport Racing team will unload chassis No. 49 for Saturday's UNOH 175 at New Hampshire Motor Speedway (NHMS). This is the same chassis Rhodes' earned his career-first NASCAR Camping World Truck Series (NCWTS) pole with at Martinsville, and two top-five finishes earlier this season at both Iowa Speedway (4th), and Gateway Motorsports Park (2nd).
Granite State Stats… Rhodes, who will be making his 21st career NCWTS start on Saturday, has three previous starts at "The Magic Mile." The ThorSport Racing driver has one Xfinity Series start (2015), and two NASCAR K&N Pro Series East starts (2013 & 2014).
Rookie Stripe… Rhodes is currently fourth in the Sunoco Rookie of the Year standings after 16 of 23 races this season.
Race Rewind – Chicago… Making his track debut at Chicagoland Speedway in the NCWTS, Rhodes started seventh, and finished 25th, due to a late-race accident on lap 113 of 151.
Rhodes' Loudon Xfinity Stats:
Starts: 1 (2015)

Started: 14th

Finished: 12th

Completed 199 of 200 (99.5%)

Laps Led: 0
Rhodes Loudon K&N Pro Series East Stats:
Starts: 2 (2013 & 2014)

One pole (2014)

Top-Five Finishes: ` (2013)

Laps Led: 18 (2014)

Laps Completed: 205 of 205 (100%)

Best Finish: 4th

Average Start: 7.0

Average Finish: 13.0
Rhodes' 2016 NCWTS Stats:
Starts: 16

Poles: 1 (Martinsville, 2016)

Top-5 Finishes: 2

Top-10 Finishes: 5

Laps Completed: 2151 of 2393 (89.9%)

Laps Led: 55

Start: 9.0

Finish: 15.4
Rhodes' Career NCWTS stats:
Starts: 20 since 2014

First full-time season: 2016

Poles: 1 (Martinsville, 2016)

Top-5 Finishes: 3

Top-10 Finishes: 8

Laps Completed: 2902

Laps Led: 55

First start: Martinsville, 2014 (8th)

Best finish: 2nd (Gateway, 2016)

Start: 8.9

Finish: 14.6
Race Information:
Date: Saturday, September 24, 2016
Time: 1:00pm ET on FOX Sports 1, MRN Radio & SiriusXM Channel 90
Track: 1.028-mile oval
Distance: 175 laps/185.15 miles